To do Instagram occasionally is one thing, but to up your game and achieve massive Instagram growth is an entirely different endeavor, right? No matter if you are a regular Joe trying to move up and start making money from your IG account, or a business trying to use IG as a marketing channel, the competition is insane.
Once you realize you're competing with so many different players, big and small, for the seconds of your audience's attention, you just feel like throwing a towel and forgetting about it altogether.
But before you give up or resort to some risky practices, make sure you've checked all the legit options first.
We understand the struggle, and we've got your back.
Although it may seem super overwhelming, with the right strategy and a couple of awesome tools, you, too, can achieve optimal Instagram growth in a couple of steps.
Stay tuned for the ultimate step by step Instagram growth strategy, to get a better understanding of 
How to get views on Instagram 
How to get more Instagram likes.
Cover All Aspects of Instagram Growth
Although it seems obvious, it's essential to check and optimize all aspects of Instagram growth strategy. This way, you are making sure you're utilizing all of your options and having a good starting point.
Looking for more Followers?
We're Talking Business
The first thing you should do if you're a business is making sure your profile is switched to a business, in order to get the much-needed additional features available for business accounts.
Not sure how to make the switch. Don't worry; this will take a minute.
Go to your profile
Choose settings in the bottom left corner
Tap "account"
Choose "business."
Piece of cake. Furthermore, you can and should pick a category (or a couple) that best describe your business.
Switching to business comes with a set of cool features, like displaying your contact info (phone number, email address, location) to ease the purchasing process. Cool, right?
First Impressions Last
Make sure your bio perfectly reflects this.
Be sure your profile pic, bio description, branded hashtags, and links are entirely in line with what you're trying to achieve. For a detailed checklist, read our blog post on the topic here: How to Write Good Instagram Bios with Examples, Tips, and Ideas.
Once you're sure you've optimized the basics, it's time to do a content check.
Are You On-Brand?
Are you making sure that all of your Instagram efforts reflect the consistent brand tone, look and feel?
And even beyond Instagram – is your brand consistent across all platforms?
By creating a uniform look and tone across all of your marketing channels, you're increasing your brand awareness and improving your chances of getting discovered and recognized by different audiences.
Check your grid – Make sure your colors, filters, structure, and theme reflect your message. If you feel you need a little bit of help in this regard, we've got your back. Check out our blog post on How to create scroll-stopping images that would take your IG content game to another level.
@satliva's IG profile perfectly reflects their brand (natural skin and hair products). By using nature-inspired colors and simple, beautiful graphics, they are attracting their ideal customers with their branding:
Check your tone – Are you letting your (brand) personality shine in each of your content pieces?
Humorous, goofy, or outright honest captions create relatability, and audiences are much more likely to engage with a brand that knows how to loosen up and have fun. Or a brand that is down to admitting a mistake, or tells a genuine story about a lesson learned. Most of the brands have a tough time loosening up on IG, especially in the beginning. Cause we're taught the corpo language means serious and robotic convo without a hint of human emotion. Well, the IG audience requires quite the opposite approach.
Wendy's are famous for taking part in funny banter on all social media: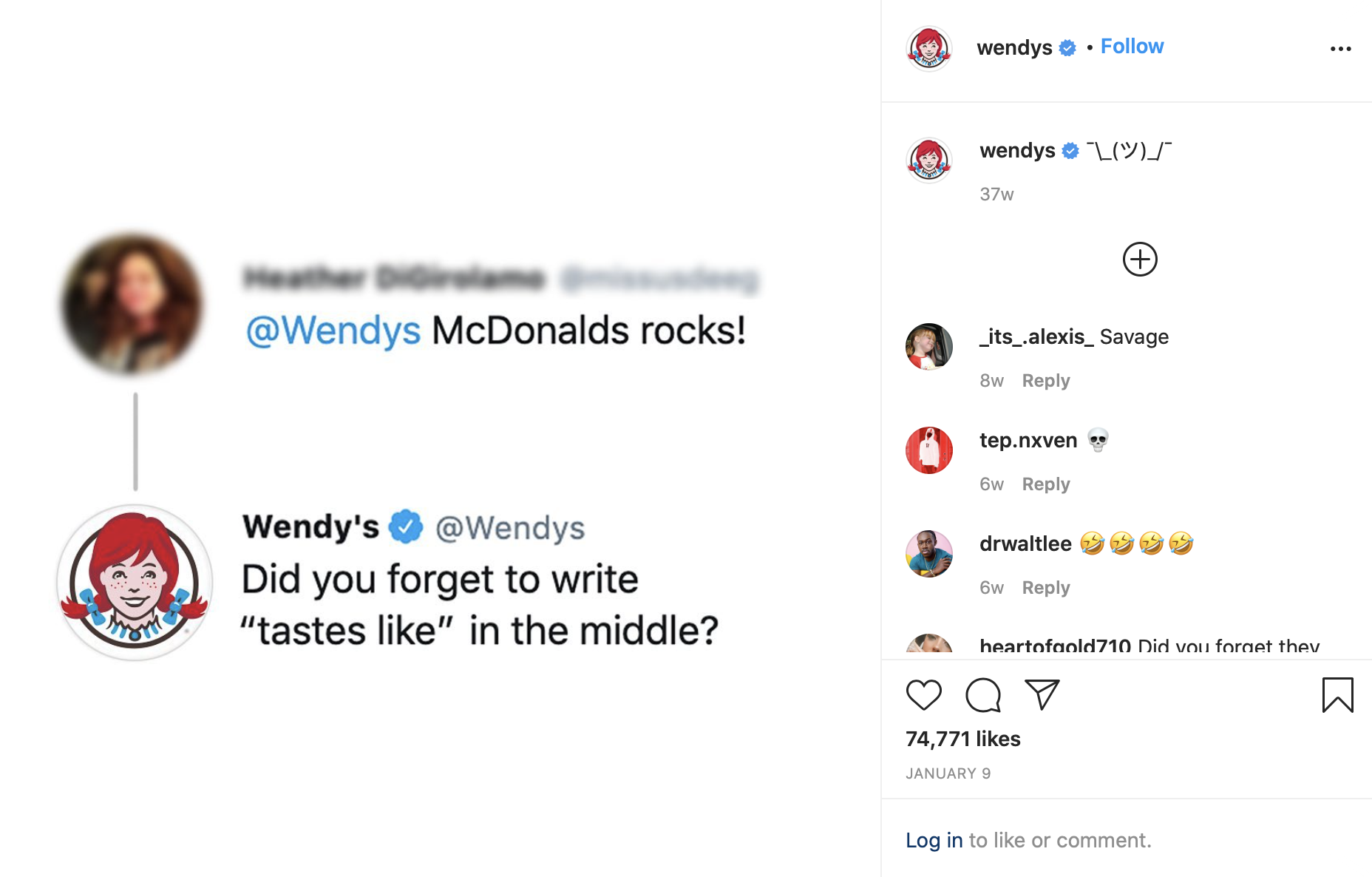 Use emojis to show your funny side and add a bit of flair and variety to your posts. Remember that IG posts with emojis get 48% more engagement.
Learn from the best and never miss an opportunity to show playful character when interacting with your audience.
Are You Mixing Things up?
Check your content for variety. Don't bore your followers by posting promo pics of your products/services only. Add a fun twist. Explore different content types, such as UGC, funny facts that relate to your business category but not necessarily show off your products. Maximize your Instagram growth by showing your creative side and mixing different content types to leave your followers wondering what's next.
Are You Helpful?
Another important check to perform when it comes to your Instagram account growth is making sure your followers are getting something valuable from you.
Don't make the majority of content all about you. Think of ways to help your community with their most important pain points. Let's say you're a nutritionist and/or a dietician. Make it your primary goal to educate your followers on everything food-related. Post interesting facts, cool recipes, or calorie tables and give value, as @dietitian_silky_mahajan does: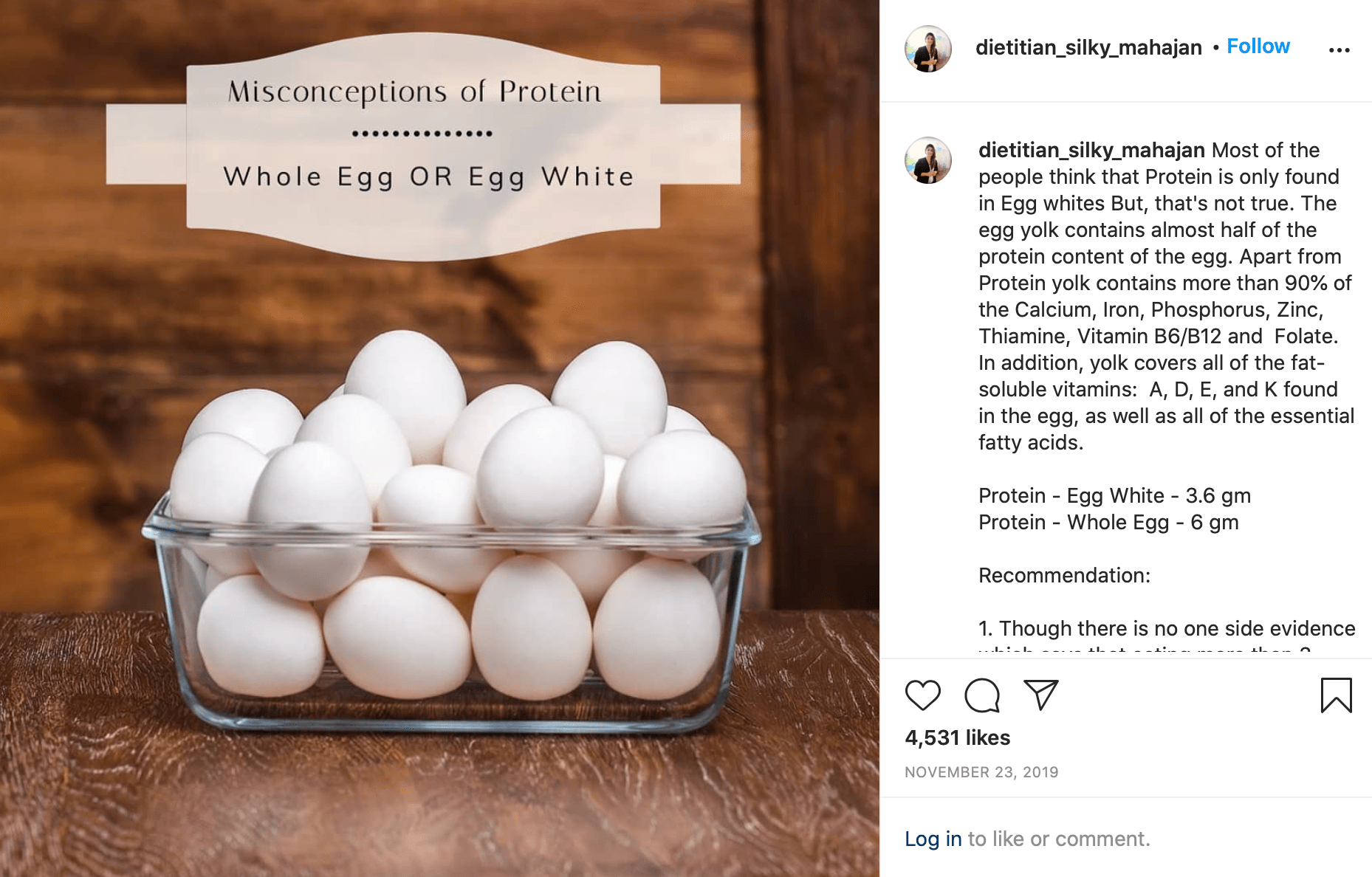 Are You Inspiring?
Evoke emotion and help your followers get motivated to make a change. Think of the main reasons most of us use Instagram in the first place – to get out of our everyday rut and get inspired.
Whether you use inspiring quotes, stories, or videos from the people in your industry, or create your own, people would spend more time on your profile for the inspo.
Take a look at how @craftyourcontent inspires their audience consisting of aspiring and professional writers: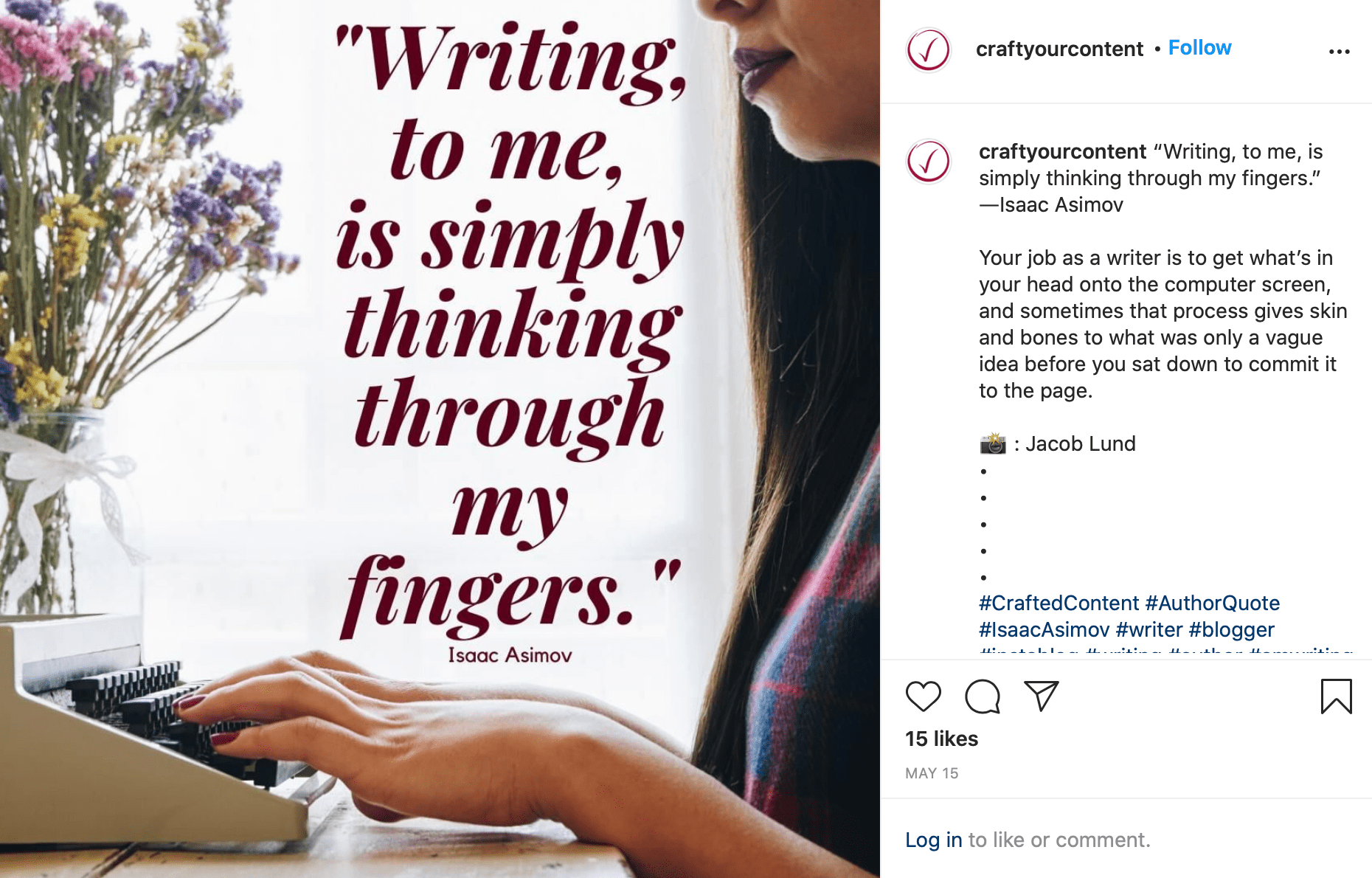 Another effective way of motivating your followers is by telling your brand's narrative. People love a good "coming of age" story and are more likely to trust a business that tells one. Share your beginnings no matter how humble they may be, and create a genuine brand story that inspires your followers.
Have You Got a Rock-Solid Hashtag Strategy?
Hashtags are vital in your Instagram growth because they can make or break your efforts. That's why we can't stress the importance of this strategy enough.
Think of hashtags as the keywords of Instagram. And, as regular keywords, going too general won't do the trick in 2020. The oversaturated Instagram environment will just bury your profile and your posts.
Think of long-tailed hashtags that are a combination of your niche and a more specific category. For example, if you're a fashion brand catering to NY customers, to go with #fashion would be a waste of hashtag quota, as your post would get buried under thousands of posts. But, if you do the #nyfashion or something similar, you'd get more bang for your buck, so to speak, as you'd be competing with less, and you'd be found in more specific searches, by people living in the area.
The hashtag strategy is a strategy after all, and as such, it takes time and some trial and error to be done right. Don't be shy to ask for help. Our super-effective and super-customizable hashtag generator is designed to deliver the most accurate and most effective hashtags for each individual business or influencer. And the best part is, you get it delivered straight to your email, without lifting a finger. Try us out and get your growth-oriented hashtags to work for you.
Are You Making the Most out of Your IG Stories?
Your IG Stories are a super important part of your IG content strategy because they provide so much space for creativity, diversity of the format, and several ways to drive your audiences' purchasing journeys and decisions.
The most important features of your stories include:
The size of your IG Stories.
The CTAs – The swipe up to get your followers to your sales pages.
Location tags – Let your ideal customers find you where you're at by placing location tags on your IG Stories.
Polls – Improve engagement and learn about your audience's needs and preferences.
Questions – Let your audience feel that you care. Improve engagement and find out what they are interested in.
Stickers – Spice things up, show your branding, improve engagement, and most importantly, emphasize a CTA of an IG Story with cool, branded GIFS and stickers. Learn how you can create your own Story stickers in our step by step guide. 
Quizzes – Make it fun and educational. Let your followers engage and learn more about your brand by taking part in a cool quiz.
Chats – Talk about cool customer service? Use Instagram Story chat stickers to invite your customers into a DM group chat to create a more immediate conversation space. You can build relationships by solving problems or answering burning questions.
Reposting – Stories are a useful format to share your older posts that need highlighting. You can repost other things, including your UGC, your partner companies' posts, or posts by other users that somehow relate to your brand message. Make sure to play fair and always ask for permission when reposting.
Highlights – As we mentioned in our blog on debunking IG myths, your Stories can have a longer life than the limited 24-hour. Add your Stories to Highlights to cash in on your efforts and have more Instagram followers learn about and interact with your content and brand. Create categories from your most important stories and improve your growth chances.
Are You Engaging?
When restructuring your IG strategy, put yourself in the shoes of a regular IG user. Would you instead engage with flat, static content, or join an interactive live experience? In most cases, you'd pick the latter option. So, are you providing IG live content to your audience?
Not sure how to go about this? Look what others are doing. Promote your events during a live session, go behind the scenes and showcase your team and the workflow, or do a live Q&A and interact with your following. This way, you're not only improving your brand awareness, reach, and engagement on Instagram, but you're also influencing your potential customers' purchasing decision big time.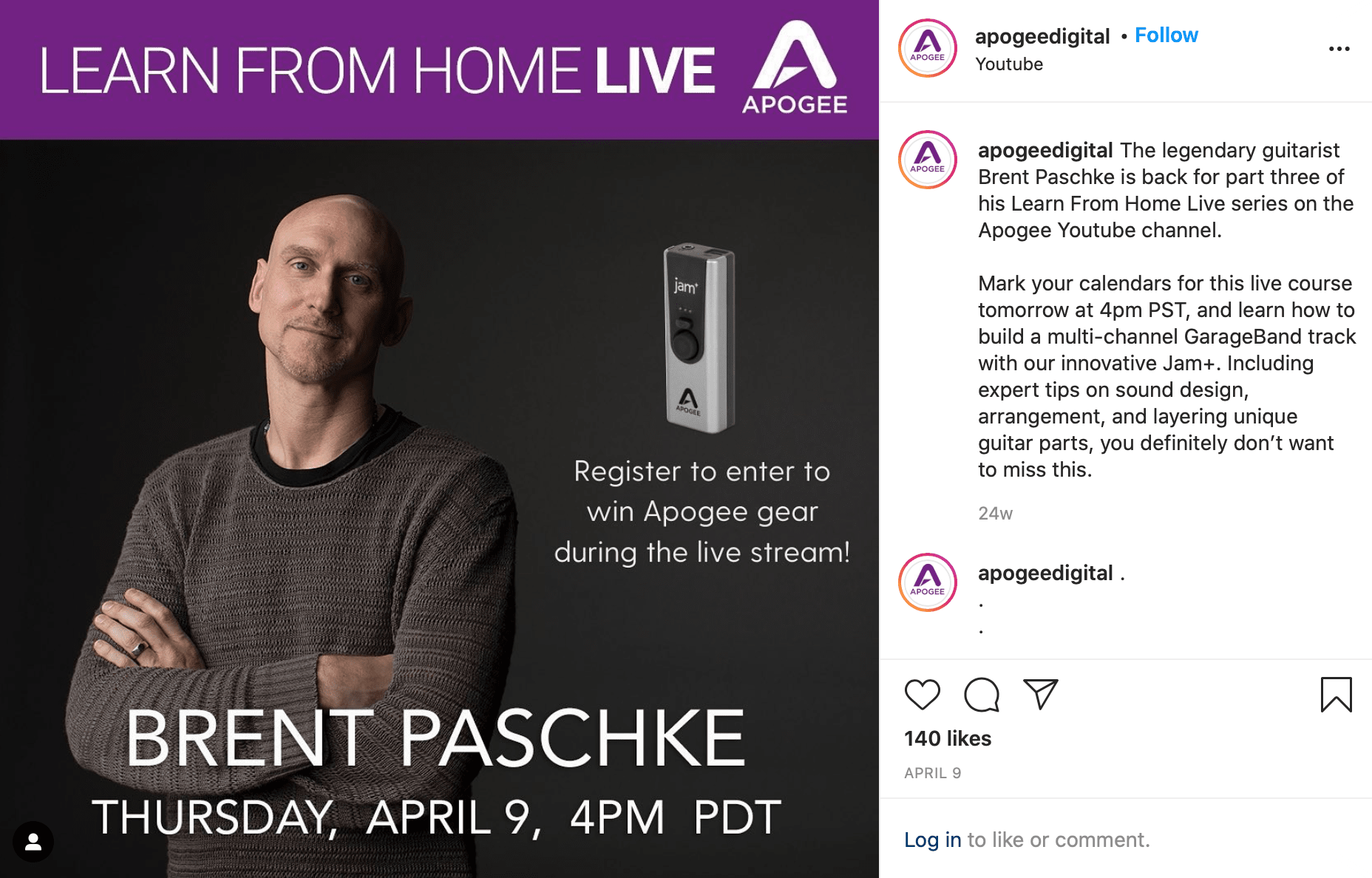 Are You Generous?
There's probably only one thing people love more than getting free stuff, and that is – playing games. Why not make the most of both and include giveaways in your Instagram growth strategy?
Whether working alone or collaborating with an influencer, giveaways are a super-effective means to skyrocket your Instagram organic growth. Make the offer irresistible by gifting multiple products, ask your followers to participate by following, liking, commenting, and/or inviting a friend, set a time-limit, and wait for the numbers to shoot up.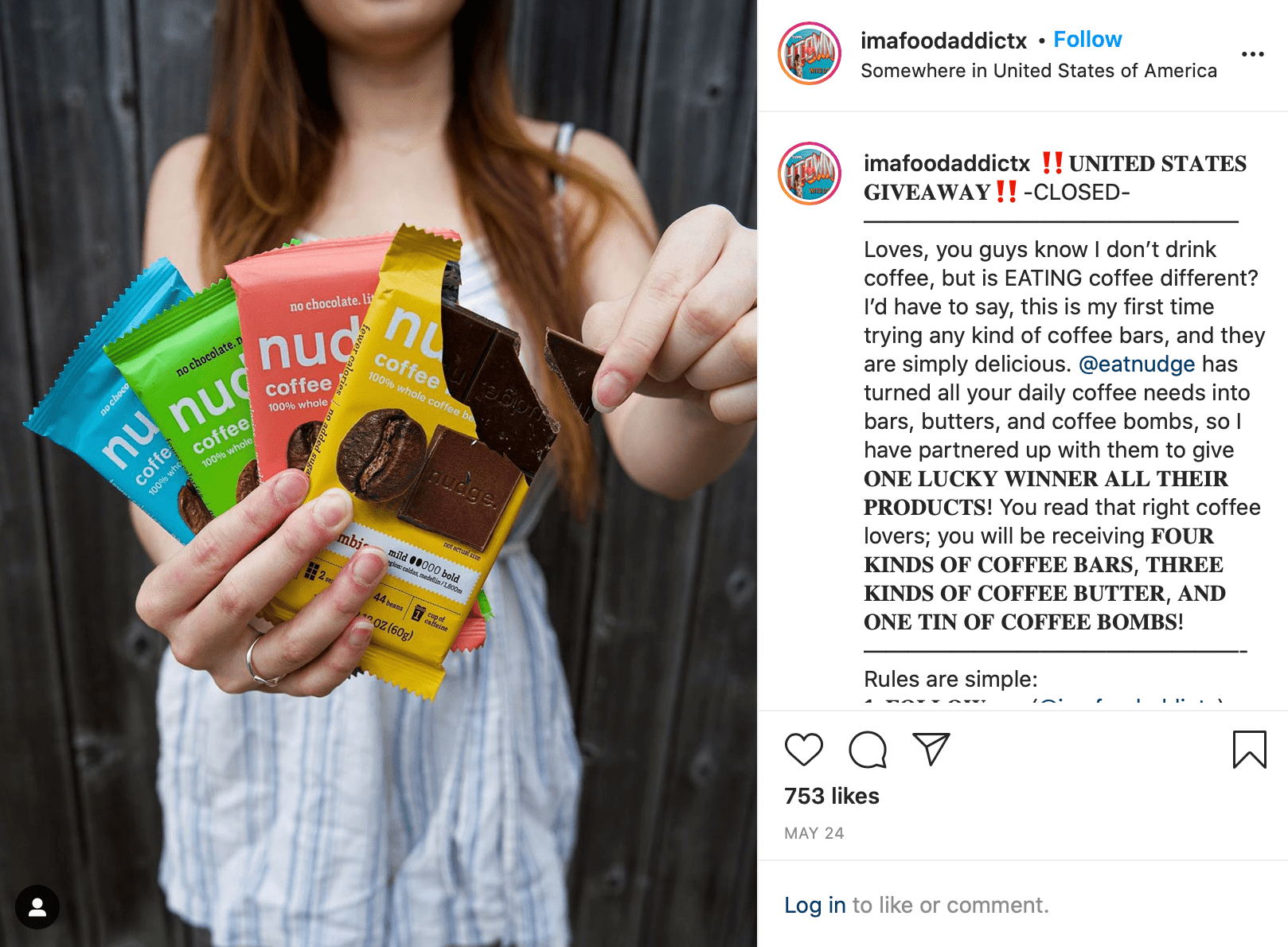 Contests and discount codes are also a part of the gifting strategy. Come up with an exciting game, and award the winner with a really generous prize to encourage even the most reluctant ones to try their luck. Or, offer discount codes as a reward to your most loyal followers that have been most active in the comments.
Are You Selling?
Are you making the streamlined journey from your IG posts to shopping carts?
Don't let your followers look around for the link to the products featured in the post or waiting in comments to hear the details. Because they will wander away from your profile to your competitors pretty quickly. Use shoppable stickers in posts featuring your products, and turn your followers into customers in one click.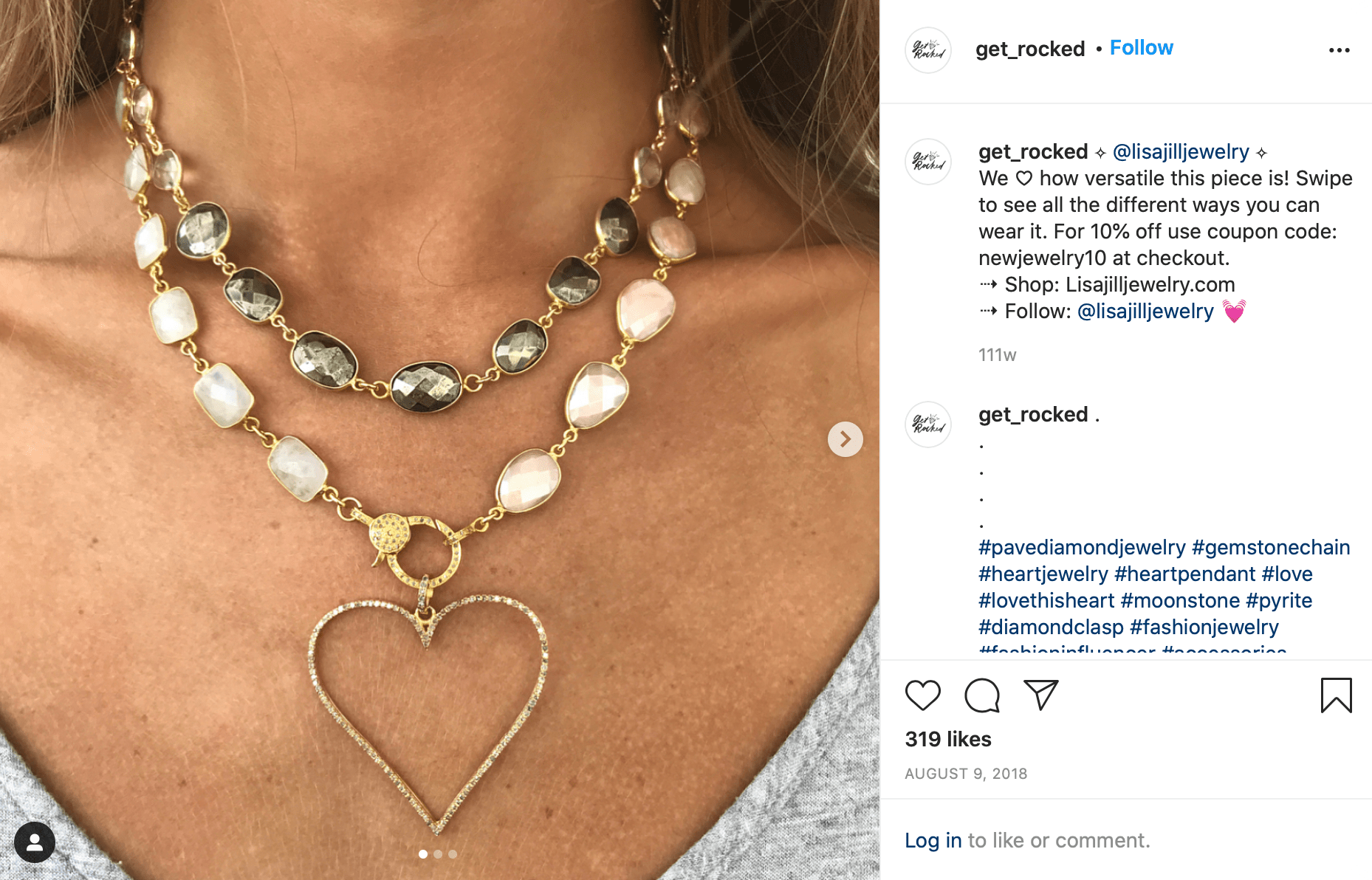 Are You Networking?
Yep, the real-life networking has shifted to IG. And you better keep up.
Instead of centering your entire IG game on promoting your brand, think of building connections.
How? Include mentions in your captions. It even rhymes.
Mention your users, followers; shoutout your competitors' excellent idea; give credit to brands and businesses whose services you use; highlight influencers' creativity. Although it may seem counterintuitive, what you're doing here is building genuine relationships with people/brands that are related to your brand message in any way. It seems as though you're giving free promotion to them, while you're actually popping up in their followers' feed and making them take notice.
Are You Promoting Your Brand?
More specifically, are you exploring all promotion options?
Yes, we're talking IG ads. Even though non-organic, paid ads are a nice way to boost your growth from time to time. We're not advising you to make ads your major and only source of Instagram growth, but from time to time, they could serve the purpose of driving traffic to your website, boosting sales, or brand awareness. Pick a posting format, add branding elements, a clear CTA, and you're good to go.
Looking for more Followers?
Are You On-Trend?
And last, but not least from our Instagram growth tips, are you in on trends?
To make sure you stand a chance in the fast-changing IG game, get in on the trends. Prepare in advance for major holidays and hone in on the hashtag engagement and overall business potential of the specific important dates.
Explore trending world topics, such as COVID-19 at the moment, and structure your content and hashtag strategy around this to use the hashtag traffic to your advantage.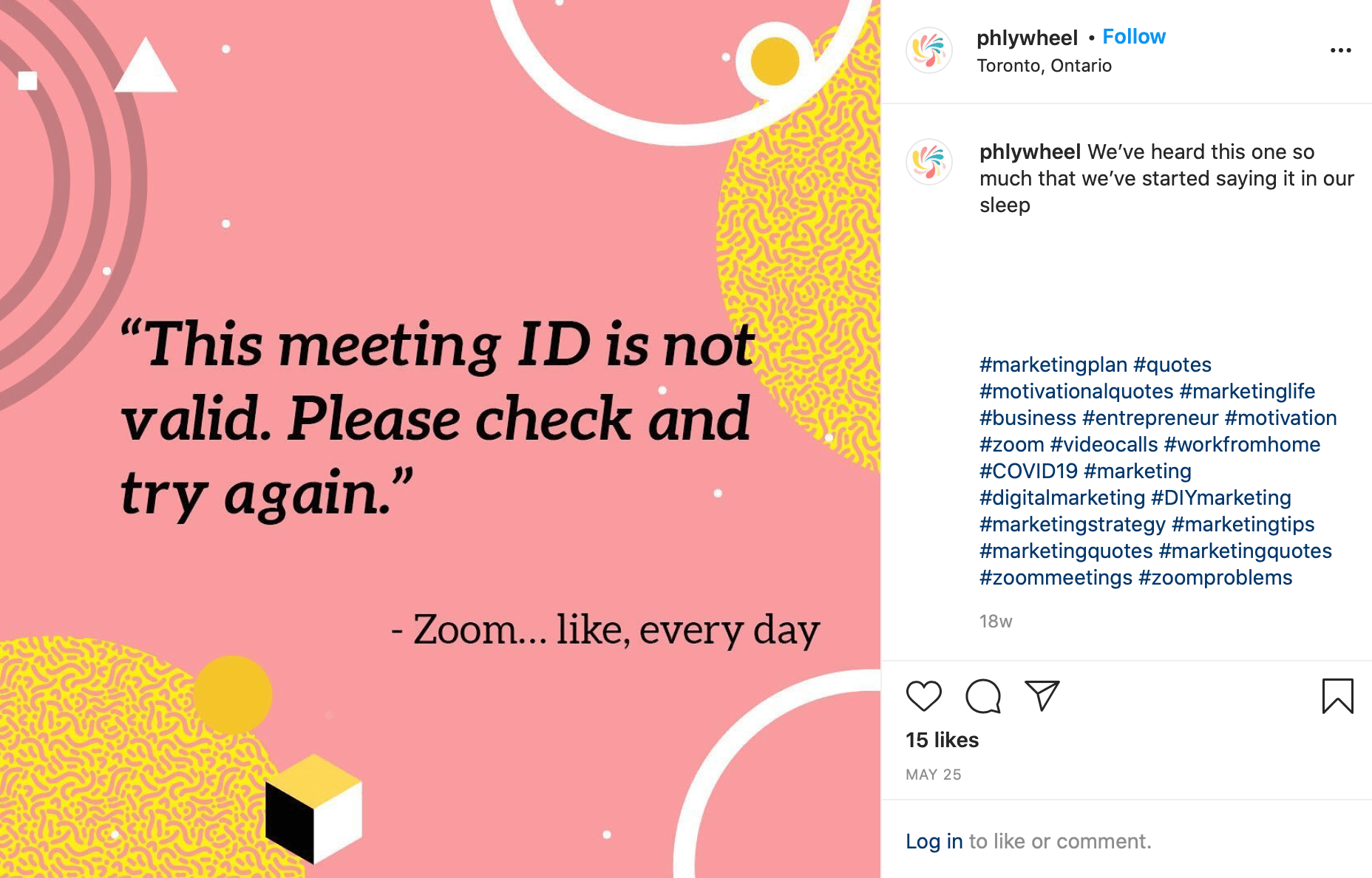 Takeaway
Hopefully, by now, you're able to see where your IG efforts are coming short. Make sure to go through the list a couple of times and test out the ideas mentioned to get the best results.
Feel like you could use additional inspiration? Check out our related reads to get the latest Instagram growth hacks.