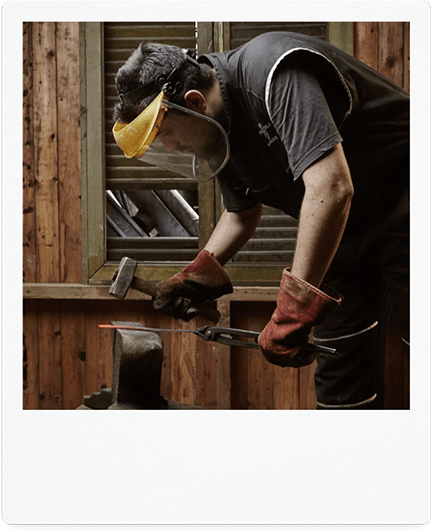 An awesome fusion of old and new! Here's how Green Shield Workshop scaled their digital marketing campaign with a little help from yours truly.
Green Shield Workshop crafts custom pieces of medieval and fantasy armor, weapons and other unique handcrafted items. Their flagship products include armor and weapon sets from popular shows like Game of Thrones and the Witcher fantasy series as well as smaller products like custom beer steins made from hand picked materials.
They run their e-commerce store on Etsy, which constitutes 80% of their revenue. With most of their traffic coming from word of mouth and referrals, the Green Shield team wanted to explore how they can leverage their awesome content on social media and scale their business even further.
Take a look at how their team leveraged our tools to turn their Instagram into their main source of website traffic and revenue.
Green Shield initially subscribed to the Professional plan and after two months decided to upgrade to the Enterprise plan in order to take advantage of the Posting and Hashtag Research.
Website traffic increased by
Website traffic increased by
Green Shield takes great pride in their products, and with good reason. All of their stuff is hand crafted from the highest quality materials, and even the most commonly produced items are unique. Their customers know this and love them for it.
The first order of business was to get an initial audience and create some traction for their posts. That means getting to 10000 followers as soon as possible.
Finding customers for niche markets requires precision and intimate knowledge of your Buyer Persona. And no one knows their customers as well as the Green Shield crew. Don't be fooled by their craft, these guys really know their marketing! They started by targeting profiles following popular fantasy shows, books, related hashtags, as well as the locations of the hottest fairs and areas that consistently get the most online sales.
After trying out a few sets of hashtags, they finally settled with their top performers - automatically suggested by our system, and started seeing the followers trickle in.
Before you knew it, they were seriously considering turning off Instagram notifications because of all the traffic coming to their page.
A word from the Greenshield Team
When we started thinking about Flock, our presence on Instagram was pretty much non existent. Even though we were doing okay on Facebook, the Instagram transition was a much bigger challenge than we thought. With just over 200 Followers, we weren't doing much.
We were putting out the content, but it just wasn't reaching anybody, no matter what hashtags we used or how we tried to spin it. We desperately needed to get that initial audience and traction. Instagram ads were an option, but we felt that we needed something more - that's when we discovered Flock.
A lightweight tool for attracting followers and automating the day-to-day interaction was just what the doctor ordered!
Our main concern was that we would just be getting a bunch of fakes that would only harm our brand. However, it turns out that not only did we get real people, but we got amazingly well targeted Followers. The additional filters and analytics have also been a lifesaver, they make it super easy to fine tune the users you want to engage with.
As a result, we started seeing a lot more engagement on our posts and a huge increase in web clicks from Instagram. Sales started going up, and considering even our smaller items cost more than a full month of subscription time.