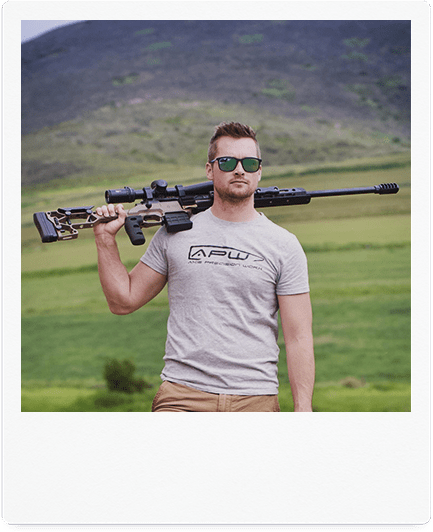 Learn how Flock helped Impact Shooting grow their Instagram account and reach new subscribers for their YouTube channel.
From the get-go, Impact Shooting had a clear objective in mind – they wanted to grow their Instagram following, cross-promote their YouTube channel, and increase website clicks. Their most important goal was to enable their community to seamlessly navigate from their Instagram to the eCommerce website and YouTube channel.
As the subject of shooting may be a bit controversial at times, you don't always necessarily associate it with improvement, growth, or wholesome values and vision. But Piet Malan from Impact Shooting is living proof that there is more to the subject than meets the eye. A devoted family man, professional shooter, educator, and content creator, Piet is on a mission to shift the narrative by sharing his Precision Rifle Shooting expertise.
Having been a part of the world's most prestigious teams and having worked with some of the most well-known brands in the industry, Piet is devoted to continual growth, and he invites his community to join him on his ever-evolving journey. It's an honor to work with such a driven individual. His commitment to growth and improvement is truly inspiring. Take a look at how Piet grew his Instagram following in just two months using our service.
''I contacted the folks at Flock. We set up my account. It was super easy to target the accounts that I wanted to get followers from. The whole onboarding process was absolutely super easy. I went from 4,400 subscribers somewhere in May, it is now July, and we're gonna hit 10,000 subscribers in the next day or so. So, I'm super pumped. It's gonna make it way easier for them to swipe up throughout the Stories to navigate either to a video or eCommerce site that I run. And I highly recommend Flock Social''.
Piet picked up the process from the get-go and was able to set everything up just from a couple of emails exchanged with our onboarding team. He closely followed the instructions and tips and had no problems incorporating them into his usual social media activities.
Website traffic increased by
Website traffic increased by
Increased Instagram following
The initial phase included the analysis of Impact Shooting goals. As the main focus was increasing follower count and website clicks, it was important to define targeting parameters.
The team worked closely with Piet to define targeting parameters that would guarantee success. Profile and hashtag targeting were the features we put the majority of focus on. After analyzing the first targets, we suggested some edits and changes to the initial targets. And this is where we were able to see the real difference. By entering additional location targets, we achieved a steady increase in the number of targeted organic followers. After the first month, the results clearly showed the direction in which things were heading, and we were excited to wait for the first 10k.
Reaching a 10k follower count has allowed Impact Shooting to introduce the Swipe up link in their Stories and take their audience to their eCommerce and YouTube channel. This enabled a shorter customer journey and a significantly faster conversion.
It's a great pleasure to be a part of such an amazing growth story. We're joining Piet in his countdown to 20k.