85% of all internet users in the U.S. watch online video content monthly on any device
54% of consumers want more video content from brands 
The math is clear. As a brand or a business of any size, you need to design a strong video strategy to make it in today's market. Popular social media platforms are in on the trend, and we see new video features and additions rolling out almost monthly. 
Sure, YouTube is the first that pops to mind when we think of video. With 500 hours of content being uploaded to the platform every minute, YouTube dominates the video marketing landscape. 
Until IGTV showed up in 2018 and made quite a splash, allowing users to watch longer-form videos, it became a potential YouTube rival. 
Naturally, businesses and marketers started wondering where to spend their video marketing efforts. 
In the battle of IGTV vs. YouTube, which one should you choose for your specific business needs? 
We'll break it all down in this blog. 
What is the IGTV video
How long can IGTV videos be
How to use IGTV
IGTV vs. YouTube: Best tips to decide which to use for your business
How to use IGTV as a brand
How to get the most out of IGTV as a brand
But, first…
What is the IGTV video?
As YouTube needs no introduction, we'll start by listing some of the essential details on IGTV to help you get a better insight into the platform. 
Yes, it's a separate app that can be used independently or in conjunction with Instagram, which gives creators more freedom plus a seamless integration between platforms. 
As the IGTV previews started appearing in main Instagram feeds, the platform's popularity blew up. For brands, this means getting your audience's attention and a smooth transition to your content without the app download. 
Now, you can preview IGTV videos in your feed. When there's a new video from someone you follow, you can tap from your feed to watch the full video in IGTV. ( @HannahStocking) pic.twitter.com/tkYSchB7E8

— Instagram (@instagram) February 7, 2019
Another cool addition that increased the popularity of IGTV was the introduction of the IGTV series. Users can now record a weekly or monthly series and create a regular schedule. 
Now you can easily watch IGTV series from creators you love and get notified when there are new episodes.
@YaraShahidi @KadeSpice @IngridNilsen pic.twitter.com/0QmpHwpxYw

— Instagram (@instagram) October 22, 2019
How long can IGTV videos be
IGTV allows up to 10-minute-long videos to regular users, while verified users can upload up to an hour-long video. Instagram is working towards bringing no limit video content in the future. For more info on how to get that blue checkmark on Instagram, visit our blog. 
And, now for the part you've been waiting for…
Looking for more Followers?
How to use IGTV
In the early days of IGTV, you'd have first to create an IGTV Channel to start posting to IGTV, but Instagram decided to make things easier for its users. 
All you need is an Instagram account, and you can post IGTV videos straight from the IG app or from the IGTV app. 
We'll show you both options below. 
How to upload IGTV video directly from Instagram
Open your Instagram app
Tap the + button at the bottom-center of your feed
Select the video you want to upload (the minimum length of the video is 60 seconds)
Tap Next
Choose the option Share as Long video. This allows you to share a full-length video to IGTV and show a short preview on your feed 
Tap Continue
Select a cover for your video from one of the frames, or add an image from your gallery to serve as a cover
Tap Next
Add the title and description for the video
Turn on the Post a preview and Make visible on Facebook option (optional)
Tap Post in the upper right corner
And that's it! You've successfully posted an IGTV video from Instagram!
Next up, we'll show you how to do it from the IGTV app. 
How to upload an IGTV video from the IGTV app
Open the IGTV app or choose IGTV at the top right of your Instagram feed
Tap the + button at the top-right
Select the video you want to upload (the minimum length of the video is 60 seconds)
Tap Next
Select a cover for your video from one of the frames, or add an image from your gallery to serve as a cover
Tap Next
Add the title and description for the video
Turn on the Post a preview and Make visible on Facebook option (optional)
Tap Post in the upper right corner
Voila! Your IGTV video is live on your IGTV app.
Let's learn how to post videos to IGTV series and create a full experience our audience can watch regularly. 
How to create IGTV series
Good news – Whether you decide to create IGTV series on your Instagram or your IGTV app, the steps are the same: 
Once you're at the option where you add title and description, choose the Add to series option, which is located below the Description box
Select Create Your First Series
Add the series title and description and tap the blue checkmark button at the top-right 
Check if you selected the series you want your IGTV to be a part of 
Tap Done at the top-right
And that's how you create an IGTV series. 
We'll get into more detail on best tips and practices on IGTV for brands, but now it's time to make a comparison between IGTV and YouTube and help you make a more informed decision on where to focus your video marketing efforts. 
IGTV vs. YouTube: Best tips to decide which to use for your business
If you're tempted to dip your toe in the pool of video marketing possibilities, you'd want to make an informed decision and choose the best option that suits your business needs. 
Here are our best tips to help you decide when it comes to IGTV vs. YouTube. 
Discoverability
When it comes to opportunities of getting discovered by diverse audiences, it's tough to make clear distinctions and make one final verdict. 
The thing is, both IGTV and YouTube rule in their own territories. As a part of Google, YouTube videos show up in Google search as part of the search results. Like SEO for regular browsers, to optimize for better discoverability on YouTube, you can use up to 30 keywords and embed your videos on different online platforms to improve your views.  
This may seem like a massive advantage for YouTube until we consider that IGTV videos are a part of the most popular social media platform – Instagram. They can be found both on IG and IGTV, plus you can find them on the Explore page and particular accounts in a designated tab. 
When we add cross-promotion on Stories, feed, link in the bio, and other channels, plus a strategic set of hashtags, your IGTV game can become an instant success. 
 

 

View this post on Instagram

 
So, it would be fair to say that both IGTV and YouTube are best in their own right when it comes to discoverability. It's a matter of finding out where your audience spends most of their time and doing everything to promote your content to get it discovered faster. But more on that later. 
Video specifics
It's time to get granular about specifics like dimensions and layout. These details can be crucial when it comes to deciding between two platforms because, well, the size sometimes matters. 
In all seriousness, it largely determines the type and volume of content you can film in your videos, which translates to your audience's experience. Doing an IGTV video with 1080 x 1920 pixels' dimensions or an aspect ratio of 9:16 means preparing creative content for mobile on the go users that prefer a more spontaneous and close-up type of video. 
On the other hand, YouTube's 1920 x 1080 pixels' dimensions or a ratio of 16:9 call for a more TV-like experience. It requires more details and longer shots for an audience that enjoys sit-down, longer format videos. 
Again, it's tough to say which one wins in IGTV vs. YouTube's battle when it comes to video formats. It all boils down to who your audience is and what they wish to see. 
Analyze your best performing videos to get more info on what performs best. Your Instagram audience wants longer videos? Don't let them wander off to an entirely different platform. Cater content to their needs and help them stay on your primary marketing channel. 
Engagement
As the single most important metric everyone is after, engagement may be the determining factor when you're deciding where to go for your business video marketing. 
IGTV takes the win here, without a doubt. This is simply how Instagram works and, when done right, your IGTV videos will get those likes, shares, and comments within minutes of posting. Ideal for when you need quick wins and some immediate ROI. You'll have to admit this is the everyday scenario in this day and age.
YouTube, on the contrary, is reserved for success in the long run. You may expect to get higher engagement for some videos, but you'll have to wait much longer for those numbers. If you're an influencer or an established brand name, you can probably benefit from adding a YouTube channel to your list of social media strategy plans. However, for a smaller size business, IGTV provides better and more time-efficient results. 
Influencer collabs
Though YouTube is super influencer-friendly, we can all agree that influencer marketing lives  on Instagram. 
From diverse content formats, quick turnarounds, and immediate ROI, Instagram is an influencer marketing heaven. The majority of brands prefer the fast pace of Instagram influencer deals. The audience is pretty much accustomed to checking Instagram for the latest sponsored Instagram giveaways, contests, and their favorite influencers' product reviews. 
 

 

View this post on Instagram

 
Of course, that doesn't mean there are no opportunities for influencer marketing collaborations on YouTube. However, the longer shelf life of the YouTube videos can better serve for some longer campaigns and general brand awareness strategies. At the same time, IGTV remains a more viable option for top-priority results.
Direct sales
In addition to Stories and feed posts, as of October 2020, IGTV supports direct shopping from the app, making it an easy winner in this category. 
Now you can shop… right on IGTV

It's an easier way to find products you love and support your favorite creators. Available everywhere today. pic.twitter.com/aeV2FEL01m

— Instagram (@instagram) October 5, 2020
The seamless in-app shopping experience allows brands to design and implement a complete strategy from one app. Now you can direct your audience through the entire buyer journey, one IGTV video at a time.
YouTube, on the other hand, doesn't support social selling. It does, however, perform well for eCommerce via links in the video description. This still doesn't come closer to the vast sale opportunities Instagram is offering to modern businesses. 
Optimization features
YouTube is easily running the show when it comes to video analytics options. It supports anything from watch time and click-through rate to average view duration and even re-watches. This should come as no surprise, given it is under the umbrella of Google, and it's geared towards content creator professionals and in-depth marketing analysis. 
In comparison, IGTV is designed with content "shareability" in mind. Naturally, IGTV insights show only the most relevant and immediate engagement metrics such as likes and views, which show up almost immediately. 
Undoubtedly, YouTube provides more data if you're in it for the long run. You can easily track anything and optimize your future video content accordingly. At the same time, IGTV insights perfectly measure the metrics relevant for the success on this platform. 
IGTV vs. YouTube: Final verdict
We're sure you've made your choice by now, depending on your specific marketing goals. 
It's essential to keep in mind that although these comparisons and battles are a great source of sensationalist news, you don't have to pick sides to be able to succeed with video marketing nowadays. You just need to get informed on your audience's needs and create content that meets their expectations.
In most cases, you'd be best if you chose to try both for some time and decide for yourself after some time and a performance review. 
If you decide to place all bets on IGTV, stay with us as we break down how to make the most out of it. Besides listing some cool content ideas, we will let you in on our best tips and tricks on how to leverage IGTV like a pro. 
Next up, we'll list some content ideas for brands that want to use IGTV videos as a part of their regular Instagram strategy.
How to use IGTV as a brand 
As a completely new format, IGTV videos allow users and brands to create a more diversified and more extended video experience for their audience. This is why it's essential to understand its potential as a standalone content format rather than a longer form of IG Stories or feed videos. 
With this in mind, here are some content ideas to explore for your IGTV brand videos or series.
Behind the scenes 
In addition to IG Live, IGTV provides the best opportunity to show your audience how things are done in your company. Show your company culture by filming candid tours of the workplace, add a casual interview, or the production area footage in the mix, and you'll create more character to your business. 
Additionally, you can create an entire series and do a separate video on each topic. 
Your audience will be there for it. Nothing speaks trust better than the real behind the scenes video. And need we remind you that brands we trust are the brands we buy from.
Tutorials 
An amazing way to boost engagement is through useful tutorials. Whatever the line of business you're in, there's an audience that needs just a handy how-to video for your specific service or product. 
 

 

View this post on Instagram

 
If you're a foodie influencer, you can create a series of fun and creative recipes. Artists can do a nice how-to IGTV series on how to use a specific technique. If you have a product line, you can show your customers how to use it and all the different features and purposes. 
Just think of all the different pain points your audience needs solving and start filming. 
Go big and create a branded show
Gather a group of co-workers, influencers, or industry experts and host weekly shows where you can talk about different topics, popular trends, and interesting facts about your niche/product.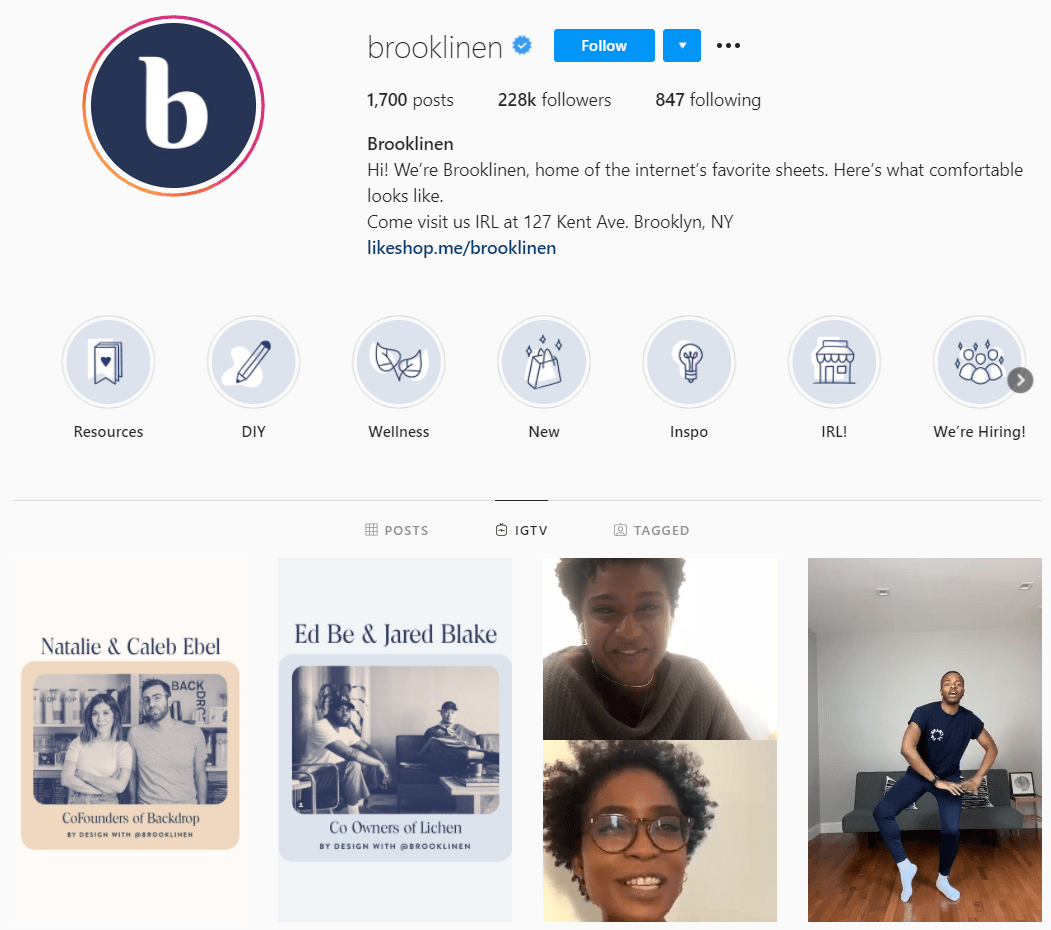 Get creative and come up with fun games and trivia, and create an unforgettable experience for all involved. Lure your audience in by teasing future episodes in your feed and Stories. Include fun Instagram giveaways and contests to double the engagement. It's your show, so you get to make the rules. The sky's the limit when it comes to creative IGTV ideas.
A Q&A is always a good idea
Let your customers' voices be heard. Answer some of their burning questions in a weekly Q&A IGTV session. You can have thematic episodes for different topic categories. 
 

 

View this post on Instagram

 
Invite your followers to submit questions via Story stickers and get rolling. For more diverse content, you can invite various guests and make the sessions even more fun. Should we mention the engagement boost you'll get as a result?
Event coverage
Let your audience feel like they are a part of your brand by taking them with you on some major events. 
This could be anything from a product launch to a conference or a store opening. Report back with a cool IGTV video and make them feel included and informed. Your audience will love the opportunity to get a sneak peek into exciting events and share their impressions in the comments. 
 

 

View this post on Instagram

 
And always remember to keep a consistent brand look across all of your business profiles on all platforms, apps, and channels. This keeps you look professional and adds that element of recognisability. 
How to get the most out of IGTV as a brand
It's time for your best tips on how to leverage IGTV videos and reach those engagement objectives faster. 
Hook them on early in the video
We don't need professional researchers to figure out how an average Instagram scroll session takes place. 'Cause, we are one, and we know well that it takes a truly catchy video to keep users interested to press that Keep watching on IGTV button. 
The strategy is clear – give it all upfront to grab their attention in the first 15 seconds, and you're safe. Otherwise, you're risking losing your potential audience to the infamous short attention span. 
Improve discoverability with relevant hashtags
Unlike YouTube, IGTV still doesn't support the search by video functionality. You can only discover IGTV videos by authors. 
While we're waiting for Instagram to roll out this option, you can improve your chances by adding relevant hashtags in your video descriptions. This way, your videos will show up on the results page of the hashtag you used, which gets your content in front of your targeted audience.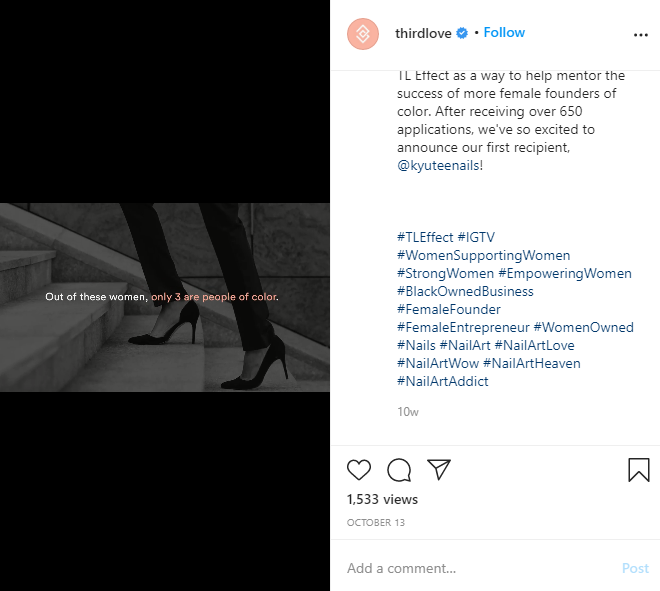 For more on Instagram hashtags and how to make the most of them, check out our blog post – The Ultimate Guide to Instagram Hashtags. 
Make your content silent mode friendly
Sure, many users watching videos directly from the IGTV app would have their sound on, yet you still need to think of the other ways your IGTV content is consumed.
As most feed and Stories videos are sound off by default, you should keep this in mind and provide the best possible user experience. Whenever possible, produce content that makes perfect sense without sound, or add subtitles that make up for the missing sound. Of course, for the videos whose entire point is the funny, exciting or unexpected sound, you can always add the Sound on sticker to remind viewers to turn it on.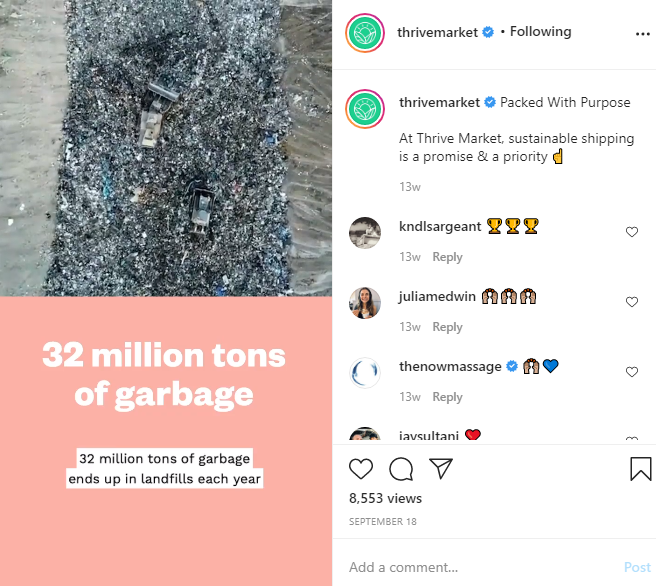 Don't forget to cross-promote
As we mentioned earlier, you don't need an entirely different platform to make it in the video marketing space. You just need to let your audience know where the party's at. And what better way than Instagram itself. 
Post a one-minute video preview to your Instagram feed
Add a short video and a Swipe up link to your IG Stories 
Share your IGTV videos on your Facebook page
In addition to this, you can cross-promote on other social media channels and get even more audience hooked on your IGTV content. 
Add more engagement with these simple tips and get your existing fans the opportunity to enjoy longer videos from their favorite business. 
If you don't have a verified Instagram profile yet, but you have switched to a business account, all it takes for a Swipe up link is that magical 10k followers. We get it; it's not easy getting there organically, especially if you're just getting started. Don't worry; we've got your back. 
Our five-star-rated Instagram growth solution can help you get through to your ideal followers faster and 100% safe. Join Flock Social today and get started on your organic Instagram growth journey.
Looking for more Followers?
Takeaway
As a newcomer on the video scene, IGTV still has a long way to go to become the one-stop-shop for all things video marketing. However, it's even more than a decent contender to YouTube, as it already provides so many better functionalities. 
At the end of the day, it isn't about which is better in general, but it's more about your audience's needs and how you can create a streamlined experience that keeps them on your channel longer. 
We believe IGTV has all it takes to keep your Insta followers hooked. Just be sure to follow some of the best tips and tricks we outlined and film your way to video marketing stardom.