From 2016 onward, Instagram Stories have grown in popularity and even topped feed posts.
The fun and creative format attracts the audience's attention like no other. This is especially beneficial for brands trying to build brand awareness, improve engagement and sales. 
Looking for more Followers?
In fact, brand Stories make up one-third of the most viewed Stories on the platform. 
That's a serious opportunity if we ever saw one. 
To help you cash in on the fantastic Insta Stories potential as a business, we've created a guide on creating a winning IG Stories strategy for your brand. 
The benefits of using Instagram stories for your business
How to use Instagram Stories to boost your engagement
Instagram Story Ideas for your business profile engagement
How to Measure Your Instagram Stories Engagement
The benefits of using Instagram Stories for your business
From brand visibility to lead generation, Instagram Stories are among the essential assets in your Instagram game. 
Improving brand visibility: Due to their colorful design and position at the top of the feed, IG Stories are much less likely to be missed than a regular feed post. This gives you more opportunities to get your audience's attention. 
Direct interaction with your audience: The immediateness and interactive nature of Stories give you a chance to interact with your audience and learn about their needs firsthand through question stickers, polls, and quizzes. 
Instant market research: You can get instant feedback on your new services or product features through carefully designed questions. Talking about a time-saver.
Marketing in real-time – Brands can promote, nurture, sell, and analyze all from one spot and in real-time with Instagram Stories
Conversion channel: By using the strategically placed Swipe Up in your Stories, you can direct your audience-turned-leads further up the sales funnel.
Boosting engagement: A carefully implemented Insta Stories strategy can improve your overall engagement. The more Stories you post, the more opportunities for engagement you're creating. 
How to use Instagram Stories to boost your engagement
Sure, Stories are fun and super engaging, but everyone and their momma are doing them, you may think. So how do you actually make your audience stop tapping forward and engage with your Stories?
Short answer – you make it super enticing. 
For a more in-depth answer, bear with us; we'll break it all down. 
Instagram Story Ideas for your business profile engagement
To help you get started with boosting organic engagement from Instagram Stories for your business account, we're listed some of the most efficient ways to instantly get your audience to take action. 
Ask questions
By using Questions stickers, of course. As one of the most popular Insta Stories stickers, Questions are super powerful interaction catalysts. Especially for brands and influencers whose audiences love having a direct conversation with their favorite people and businesses.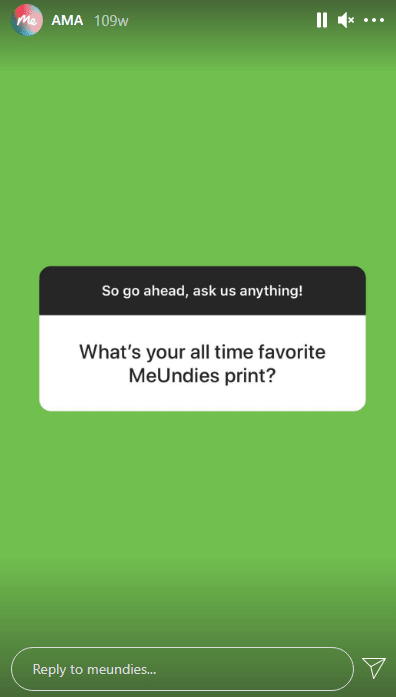 And there's never not a good time to implement this feature. If you're just starting out on Instagram, this could be a fun way for your audience to get to know you. Each time you come out with a new product, feature, or update, you can let your customers in on all the details. 
Use the opportunity to continue the conversation by posting answers in the following Story or in a dedicated Q & A session. 
Create Polls in your Insta-Stories for business strategy
Quick, fun, and super-engaging, Poll stickers are perfect for instant interaction with your Instagram followers. 
You've probably noticed influencers using this sticker for the most random dilemmas, like which flavor of ice cream to get and what shade of nude lipstick to put on. 
As a business, you shouldn't go that random, but keep it fun still. You can ask your followers to help pick the design for your new product, decide on a color scheme for your design project, share their preferable items for different occasions, or share feedback on your new feature.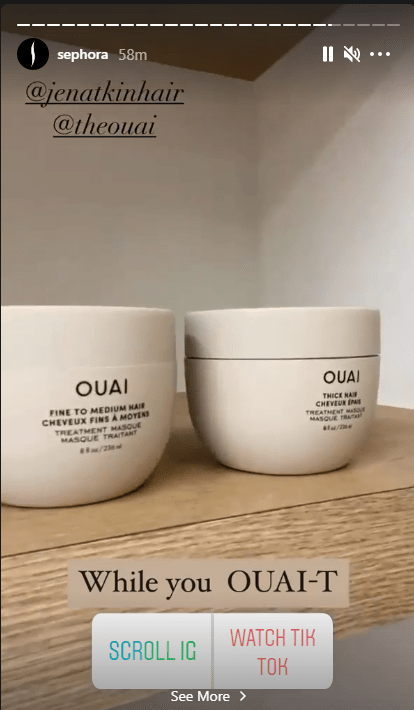 Even a popular hot topic that somehow aligns with your brand can be a cool poll idea. 
In addition to substantially improving interactions, Polls are helping create a tight-knit community around your brand as it gives your audience a sense that their voice is being heard and that their opinion matters to you. 
Quiz your audience 
Test your audience's knowledge in a playful way with Quiz stickers. It's human nature to want to be reassured about their knowledge on any topic. So, play into this trait and get those clicks.
Depending on your niche, this could be anything from a quiz on your company milestones, a fun test on the specific makeup routine, or on how to use a feature in your product or service. You can also pick a popular current topic that is somehow related to your brand values and post an engaging Quiz. 
Solicit feedback with creative Emoji slider sticker
Emoji slider stickers are a cool way to bring more fun into your Instagram Story strategy. And get a ton of useful input and engagement as a nice bonus. 
Instagram users enjoy this interactive game when they are offered to express their opinion in a simple way by dragging the emoji left or right. 
You can play around with almost any emoji and even combine them with other stickers to get more detailed feedback from your audience.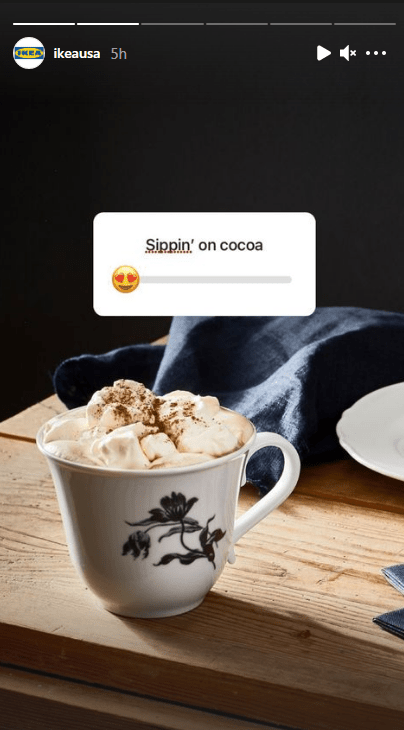 For example, you can ask your followers to rate your latest video, product, or feature and get real-time insight into how others responded. Additionally, you can post a question and an emoji slider to determine the specifics of your users' needs. 
Cash in on exclusivity with Chat stickers
Use Chat stickers to nurture the sense of a close community, reward your most engaging followers, and improve your metrics and your bottom line. 
The chat sticker allows creating a chat forum for 32 participants, creating that element of added value. 
You can create a nice time-limited offer for the first 32 who join the chat, design a special Q & A for your dedicated customers, solicit feedback, or test out the new product line. 
Go Live 
As one of the most effective Story features, Instagram Live offers the best bang for your buck. 
In addition to showing up first in your audiences' Story feeds, Instagram Live will also help you
Get a more favorable position in the IG algorithm. Let's not forget that Instagram offers more opportunities for engagement boost to users utilizing the Live feature.
Improve brand awareness. The more unedited and light-hearted vibe of the Live format the better brand-client relationship you're building. Let your customers in on the more human side of your brand. 
Get direct feedback. Instagram Live chat lets you get real-time feedback on your performance and your overall brand image as you can monitor your audience's comments and reactions.
Plan your Instagram Live when most of your audience is online and do a useful review, a fun Q & A, a guest interview, a tutorial, a live event coverage, or ask an influencer to do a Live Takeover. 
Build hype with Countdown stickers
Add pre-sale, pre-launch, or pre-event Countdown stickers to your Stories to boost engagement and improve sales. 
This is a super powerful way to create a sense of involvement and commitment, plus your followers are getting that feeling of expectation and excitement. 
Ask them to set the reminder for the beginning of the event to be among the first to buy a product, visit the store, or try the service. 
Satisfy their curiosity with Product stickers
If you're selling physical products, Story Product Stickers are a great way to provide more info on the product, boost engagement and sales. 
The streamlined Instagram shopping experience is available for Stories as well, and you can add a Shoppable Instagram Story Stickers to photos and videos. They are super customizable, allowing plenty of room for versatility and personalization. 
Of course, you can always go for a complete branded look and create your own Instagram Story stickers using our tutorial. 
Add a Swipe up
If you've reached that holy grail of Instagram for business, a.k.a. the 10K, make sure to use every opportunity to add the Swipe up link in your Stories. 
Depending on your goals, this can be a link to your eCommerce, a blog post, a new product line, a sale, or a YouTube video.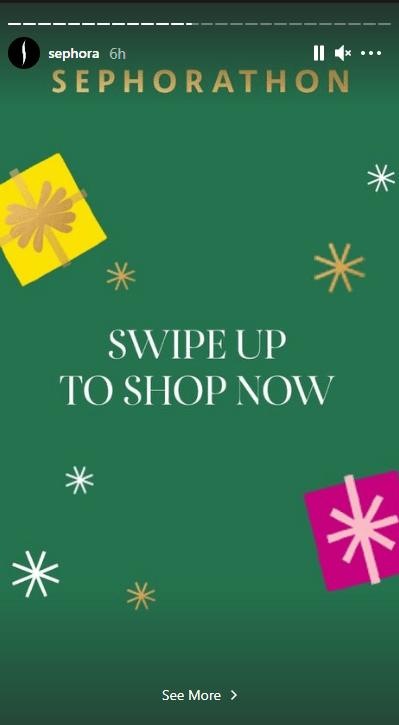 As one of the most important indicators of your engagement, the Swipe up feature is your best shot at Insta success. That's why we have an entire blog post dedicated to this feature, so be sure to check it out. There we also discuss the Insta Stories Highlights feature and how to make it more eye-popping.
How to Measure Your Instagram Stories Engagement
Once you've created and implemented a strong Instagram Story strategy, it's time to see how it stacks up. Having cold hard data is essential to optimize your strategy and learn about your audience's preferences. 
Essentially, there are two important metrics to analyze when it comes to your Stories engagement. 
Swipe-Ups show how many link clicks your Story has received. You can find this metric in your Instagram Insights in the Interactions section. Analyze how many Link clicks your Story receives. If you're not happy with the number, try to add a more prominent Swipe Up sticker or GIF to point your users in the right direction. 
Replies can be found in the same section, under the Link clicks, and they indicate how many DMs your Story has received. Unlike the feed post comments, Story replies are private only to you and show up as regular DMs. 
Pay attention to what type of content drives the conversation and entices your users to respond so that you can focus more on that. Also, keep in mind that the replies might take a negative and angry turn if the topic is controversial. 
Pro-tip for the under 10K accounts: In addition to adding the link in bio, get proactive about building that follower list. Flock Social is your best ally in this challenge as we're dedicated to bringing organic, real, and super-targeted followers fast and completely safe. Get started today and get your IG growth on autopilot.
Looking for more Followers?
Takeaway
Instagram Stories have changed the world of social media for good, and businesses seem to be in on the trend. It's important to keep a solid schedule and always strive for more and better interactive content ideas to keep the conversation going and boost those engagement numbers.