Creative Halloween captions Instagram promotes and encourages its creators to use
A chilly October night, autumn leaves covering the streets, a scary movie playing in the background of a house party and sugar…Lots and lots of sugar in every candy imaginable.
Even though 2020 brought Halloween a little early to town, we are super excited about this pumpkin & horror fest! 
Nowadays, Halloween isn't Halloween without Instagram worthy costumes and outfits that turn heads quicker than in The Exorcist.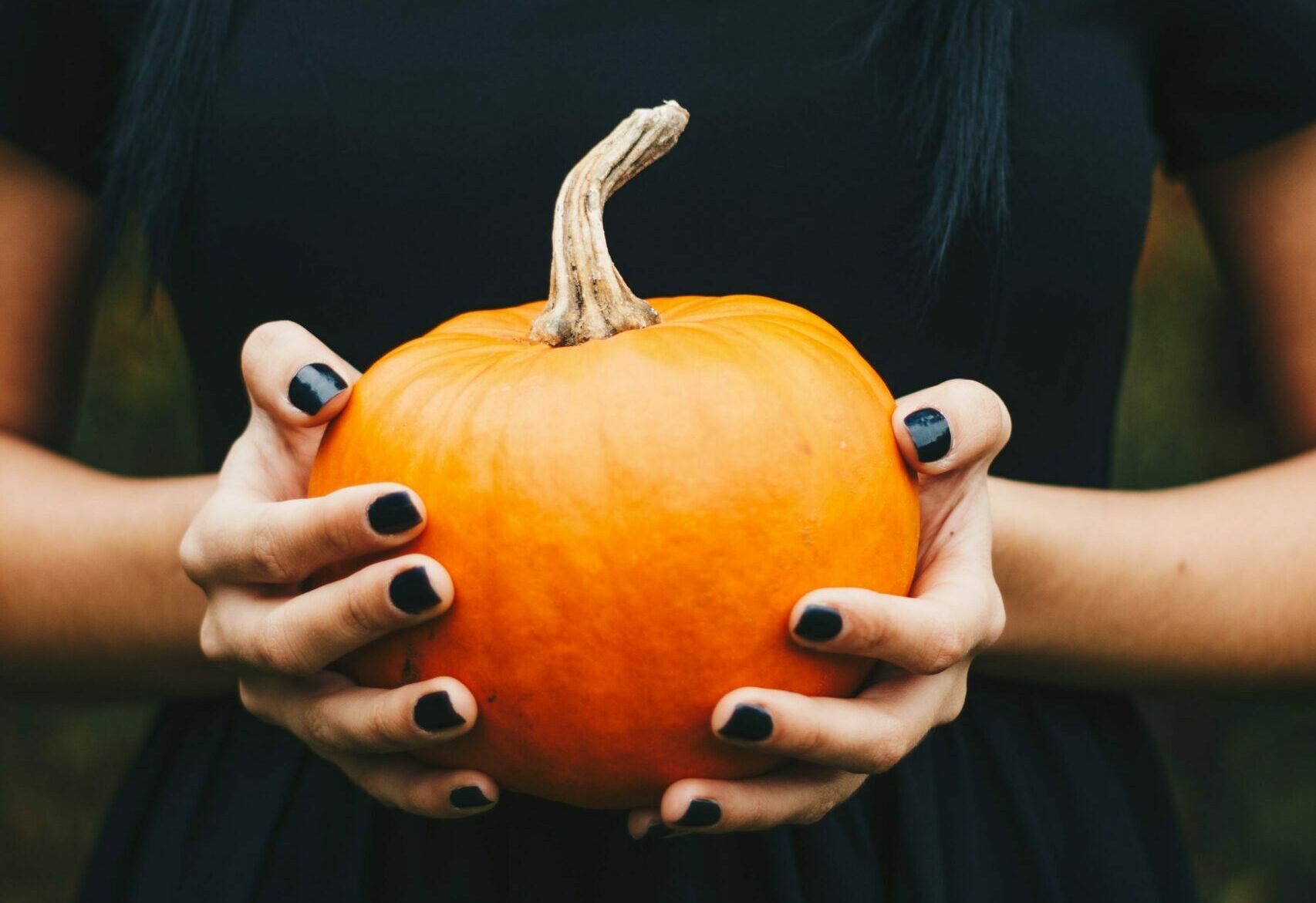 Besides, why do all the hard and creative work with little to no Insta-praise?
If you already picked out who you are going to be this year – allow us to give you a little Adams Family hand and list out cute Halloween captions for Instagram.
All you Instagrammers already know how important great Instagram captions are. So, let's get cooking!
Looking for more Followers?
Clever Halloween Captions From Iconic Films
Every Halloween fanatic has a pretty impressive knowledge of scary movies. Plus, as a society, we've already established the go-to October-themed films everyone and their momma watch when fall is around the corner.
And surprise, surprise – the finest scary movies the film scene has to offer come very handy with Halloween Instagram captions.
But which ones are the most attention-grabbing? It depends on your costume, the vibe you're going for, and the editing, obviously. 
All puns aside, let's just get some classics out of the way.
"You better work, witch" – is Britney on dark-mode.
"All these ghosts and I still can't find a Boo" – the Vine classic we all love and remember. This one is especially relevant if you're either dressed as a ghost or are actually looking for a boo.
"If you think I'm a witch, you should meet my sister" – if you're out on the town with your sister or even cousins, this little Blair Witch Project caption is the best on Halloween night.
And in the name of all Sabrina fans and other witches out there – here are more funny Halloween Instagram captions with W-word puns:
"Resting witch face."
"Bow down witches."
"Basic witch."
"Witch, please."
"What's up, my witches?"
"Witch better have my money."
"Happy Halloween, witches!"
"Witch way to the party?"
"Be witched!"
"Just witchful thinking."
Halloween Captions as Iconic Movie Quotes
Nothing screams "scariest night of the year" like an iconic movie quote or reference. Especially when you use it in a very clever way under your Instagram post. 
Film lovers all over the platform like to see cool and creative film references on Instagram during this dark fall time. Plus, it's super engaging!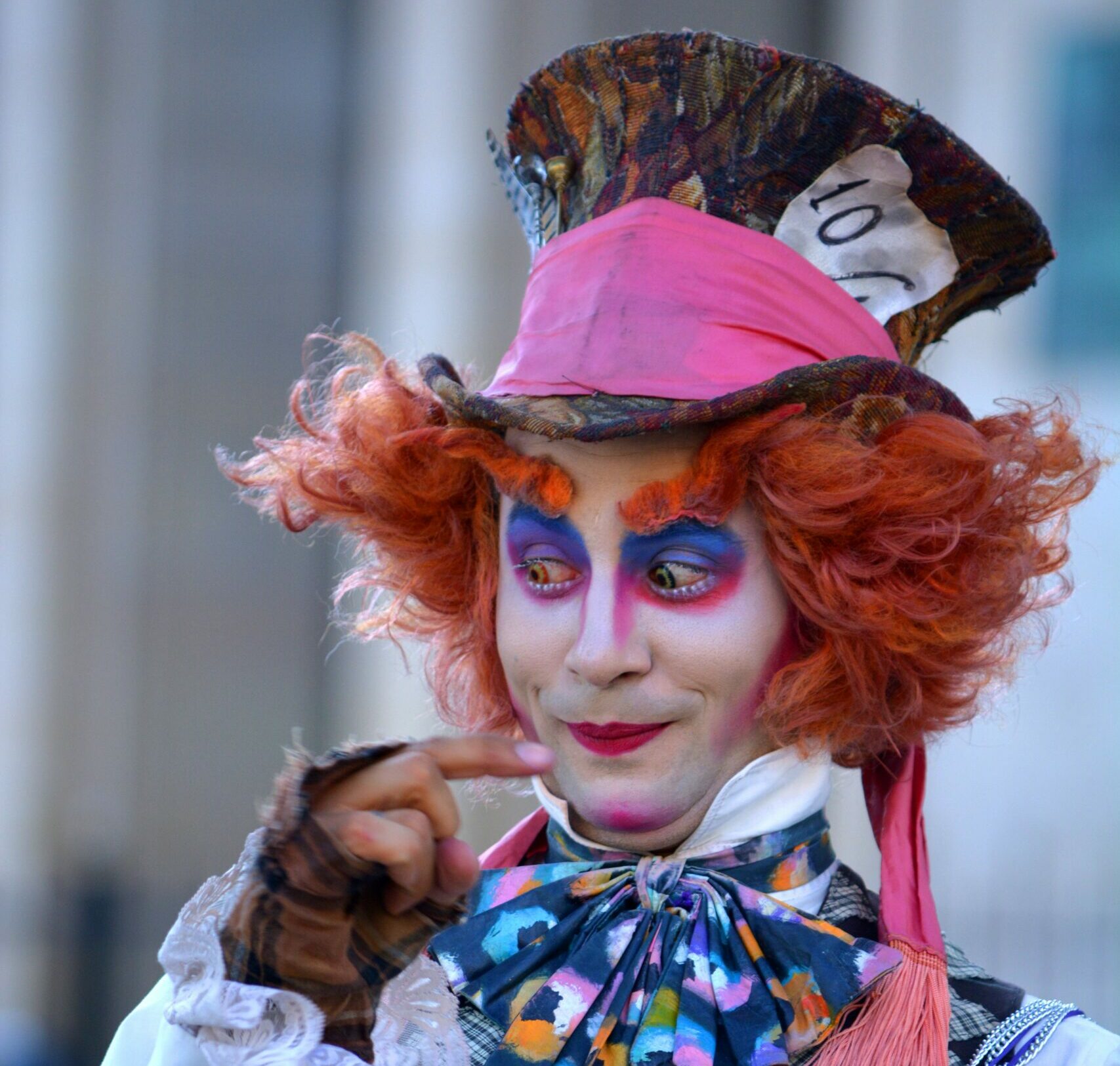 If you use a phrase from a popular film or TV-show, many of your followers who are fans will comment on your post! Throw in a couple of related and Halloween-inspired Instagram hashtags and voila!
Here are just some of the greats:
"Be afraid… Be very afraid." – The Fly
"I'm a ghost with the most, babe." – Beetlejuice
"Isn't the view beautiful? It takes my breath away. Well, it would if I had any." – Emily, Corpse Bride
"I see dead people." – The Sixth Sense
"Vampires pretending to be humans, pretending to be vampires." / "How avant-garde."- Louis and Claudia, Interview with The Vampire
"It's Halloween; everyone's entitled to one good scare." – Sheriff Leigh Brackett, Halloween
"We've all got both light and dark inside us." – Sirius, Harry Potter and the Prisoner of Azkaban
"It's just a bunch of hocus pocus." – Hocus Pocus
"Oh look, another glorious morning. Makes me sick!" – Winifred Sanderson, Hocus Pocus
And many many more! 
It all depends on your costume or favorite film. Plus, the vibe you are trying to create is very important too. Some posts are just more adequate for the darker-themed words of Instagram wisdom.
Also, a lot of these aren't deemed "Halloween-only". You can use such captions and overall aesthetic all throughout October. Between fall festivities and the leaf colors representing this chilly but fuzzy part of the year – it's best to represent all of that through visual platforms like Instagram.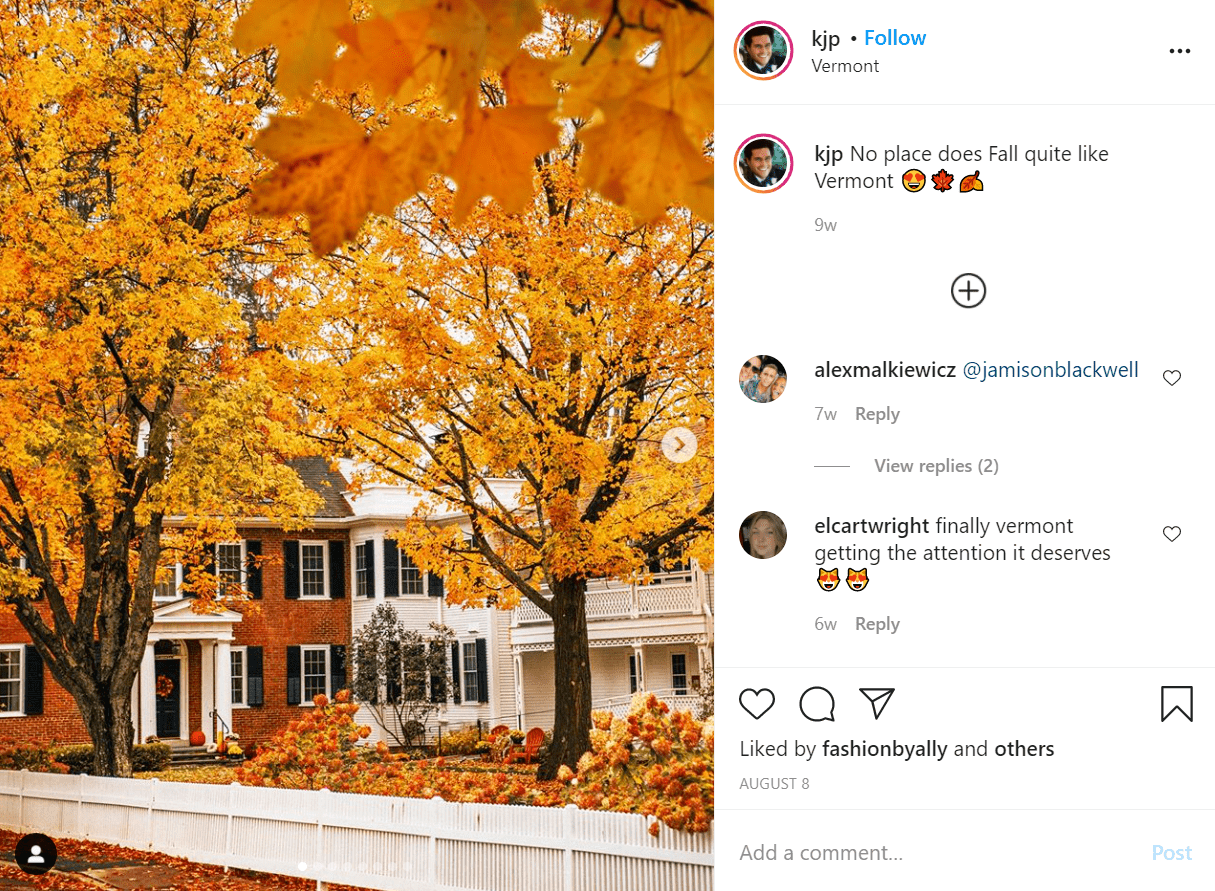 There are many profiles and Instagrammers out there completely dedicated to all things fall! From binge-watching Harry Potter while drinking hot tea to re-decorating their apartments with tiny pumpkins and warm-colored decorative leaves – you'll never get tired of this scenery!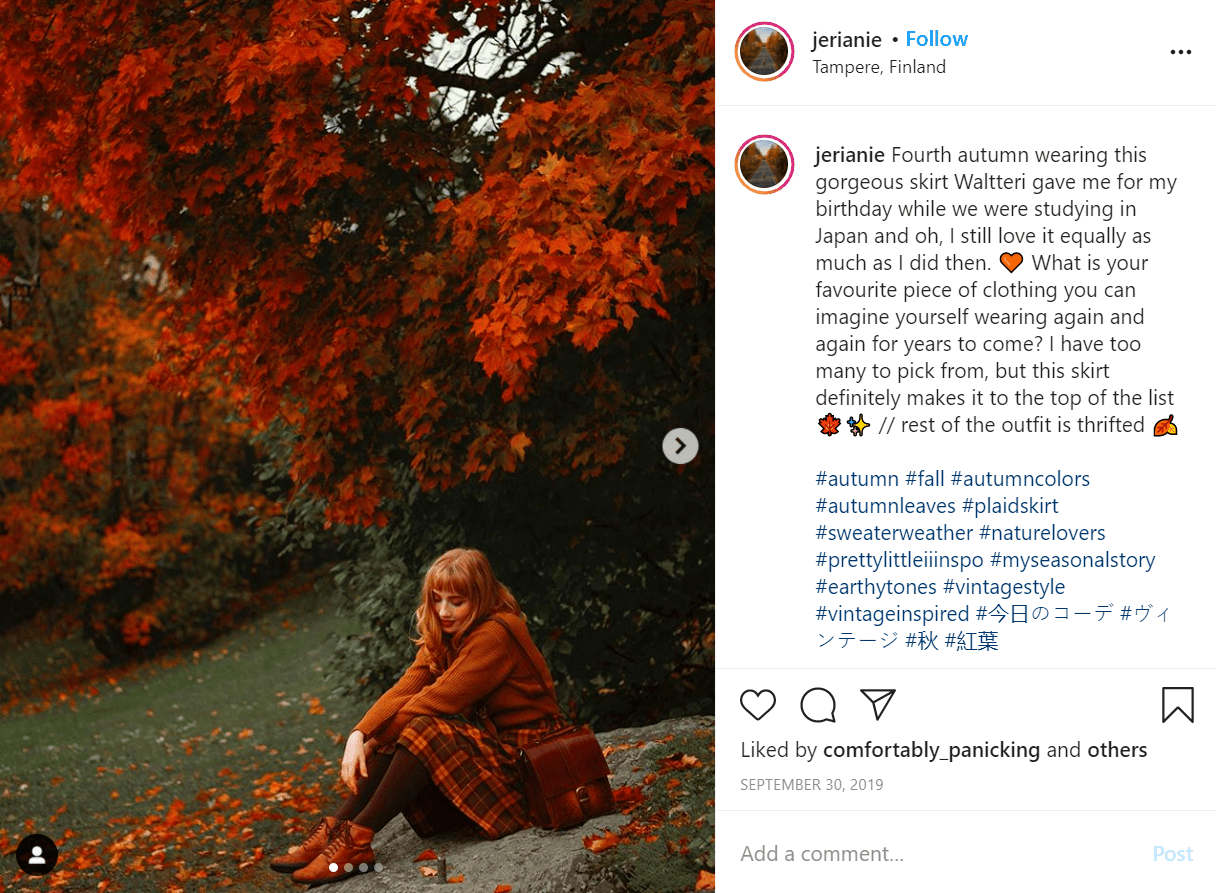 Creative and Cute Halloween Captions For Instagram
Before we continue listing iconic October horror-related Halloween Instagram captions, we would like to dedicate this part of the blog to our artists and Halloween fanatics out there!
This beautifully orange portion of the year is completely dedicated to you! So, let's talk about a Fall/Halloween Instagram feed makeover.
Orange is The New Bio Trend!
 Good Instagram Bios never lack importance on the platform, especially when you have a theme in mind. Since today's theme is Halloween and fall, the caption in your Bio needs to be pimped accordingly. 
Emojis are the real deal here! Thankfully, there are so many choices! Just look at a couple of them.
Angry Face with Horns
Fearful Face
Ogre
Goblin
Ghost
Alien
Smiling Face with Horns
Skull
Skull and Crossbones
Clown Face
And here are some for the fall:
Fallen Leaf
Tangerine
Chestnut
Moon Cake
Pie
Hot Beverage
Cityscape at Dusk
Sunset
Fire
Jack-O-Lantern
Moon Viewing Ceremony
Red Paper Lantern
Mixing some of these with whatever Bio caption you like is great for this season! Especially if you're a huge fan of it. Perhaps some of the movie quotes we've listed are a good match.
The Colors, Feed Aesthetics, and Editing
Remember, your Instagram caption should go hand in hand with your post. So as you can imagine, editing is pretty important. Editing and, of course, taking the picture in the first place.
You want to transfer that cozy fall feeling through your content. Naturally, street pictures of older city buildings accompanied by beautiful color-changing trees is always a good idea. Especially on Instagram Stories! It's so beautiful to have a whole highlight dedicated to this season and holiday! 
Nature and parks in bigger cities are always jaw-dropping during this time of year. Especially if the local shops, cafes, and restaurants are all Halloween decorated. 
As for selfies, try out some cute and cozy fall looks! The biggest makeup gurus are always quick to make videos on their newest look ideas!
Just look at this Halloween themed one! To die for, quite literally.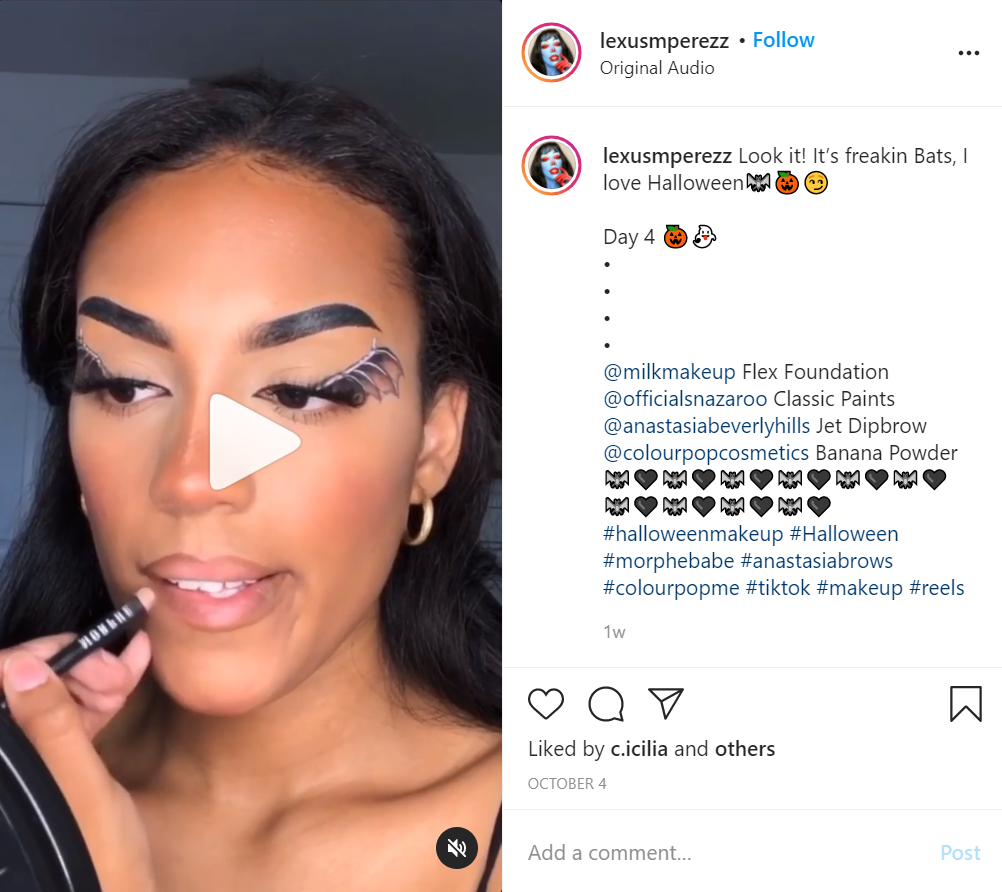 Your Halloween Instagram caption should be a reflection of all the creative ideas you have for your posts! It doesn't matter what the theme is, as long as you are able to transfer your idea to a clever Instagram caption format.
This creative and forward way of Instagram thinking answers one of the biggest questions…How to become an Instagram influencer?! Dedicated content creation is one way to do it and this is a great event to do it on!  
Here are some more creative ways to say it's Halloween!
You're
to me.
'Til
do us part.
Who you gonna
?
busters!
H
ppy H
lloween!
H
wling at the m
n.
I need to be home before midnight…
I'm the
of Halloween.
He's trapped in my
We have a new
in the patch!
Cute captions like these are real attention-grabbers! Especially when you want to either show off your Halloween outfit or are just an October fanatic!
Halloween Captions for Instagram from Songs and Books!
Now for all our bookworms and music heads out there, let's Halloween it up! Choosing iconic lines from the best October-themed content the music and literature industry has to offer. 
Here are a couple of great Instagram caption ideas some of our favorite writers have written:
"I don't know that there are real ghosts and goblins, but there are always more trick-or-treaters than neighborhood kids" – Robert Brault
"Where there is no imagination there is no horror" – Arthur Conan Doyle
"October proved a riot a riot to the senses and climaxed those giddy last weeks before Halloween" – Keith Donohue
"If human beings had genuine courage, they'd wear their costumes every day of the year, not just on Halloween" – Douglas Coupland
Now some of our favorite lines from scary and fall-oriented books!
"I dropped the candies into the children's bags, thinking: You small mortals don't realize the power of your stories – Karen Russell", Vampires in the Lemon Grove
"I'm so glad I live in a world where there are Octobers" – L.M. Montgomery, Anne of Green Gables
"So what?…Ghosts can't hurt anyone. That's what I thought then" – Stephen King, Bag of Bones
"'I was scared,' she said, and then uttered a shaky little laugh. 'I guess you don't know what scared is until one of your kids screams in the dark."  – Stephen King, Christine
Whew, we could dedicate a whole section to Stephen King alone! The true king of Halloween and all things horror!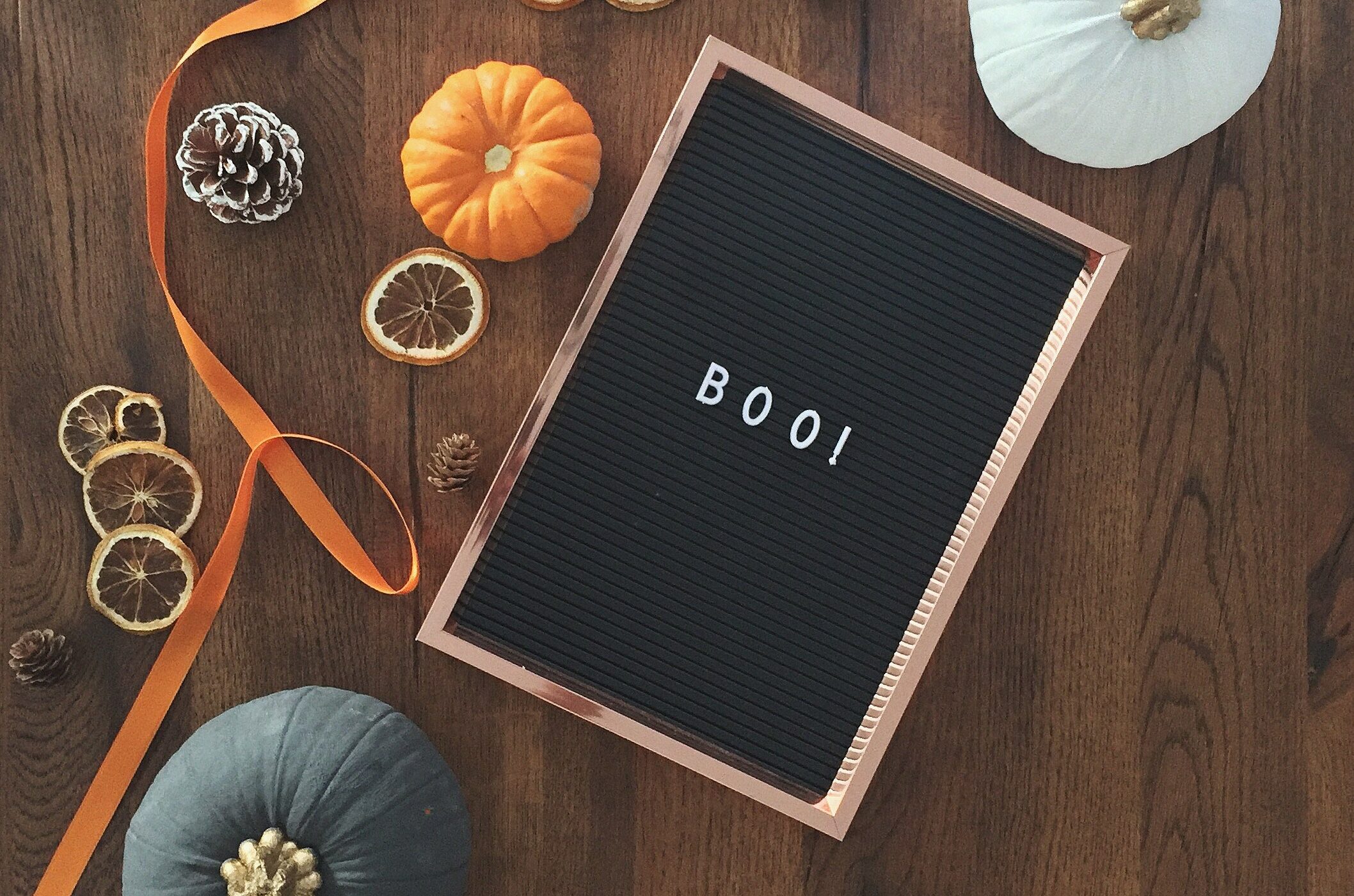 Takeaway
There's a lot of material to choose from in this blog, so we hope some of it will match your choice of costuming for the big night! 
Whether you're going for funny, hot, or scary, make sure you choose a memorable Halloween Instagram caption that's highly engaging! 
Good luck Halloweeners and don't let the bedbugs bite!
Looking for more Followers?