It's the season of love. After all we've been through last year, it's about time we spread some love and positivity.
Whether you're spending it with that special someone, or you're planning on giving more love and compassion to the world in general, it's good to prepare some content ideas in advance.
Looking for more Followers?
Instagram Valentine's Day content ideas
You don't want to miss out on the surge of traffic and engagement that could come your way during the February holiday. So get ready and take some notes on how to give some more love to your Instagram profile this Valentine's Day. 
Here are the 8 last-minute Instagram Valentine's day content ideas to complement your marketing strategy. 
Valentine's Day Instagram Feed
Valentine's Day Instagram Stories
Showcase your limited edition products in a Valentine's Day Instagram post
Host Valentine giveaways 
Spread the love with your IG tribe
Give some love to businesses and organizations you believe in
Put together a last-minute V-Day gift Guide 
Don't forget the special Valentine's Day hashtags 
Takeaway
Valentine's Day Instagram Feed
Instead of planning just one V-Day Instagram post or a Story, why not plan an entire week of Instagram Valentine's Day ideas and turn your feed into a festival of love?
For a week leading up to the holiday, switch your regular colors and feed aesthetic to something more Valentine-like. Add some pinks and reds to your Instagram images, create unique heart-shaped product lines, add cute filters and some smart captions, and prepare to have your Instagram engagement explode. Audiences respond amazingly well to warm colors and seasonal holiday aesthetic, so do your best to deliver this February. 
Get some inspo from @colourpopcosmetics: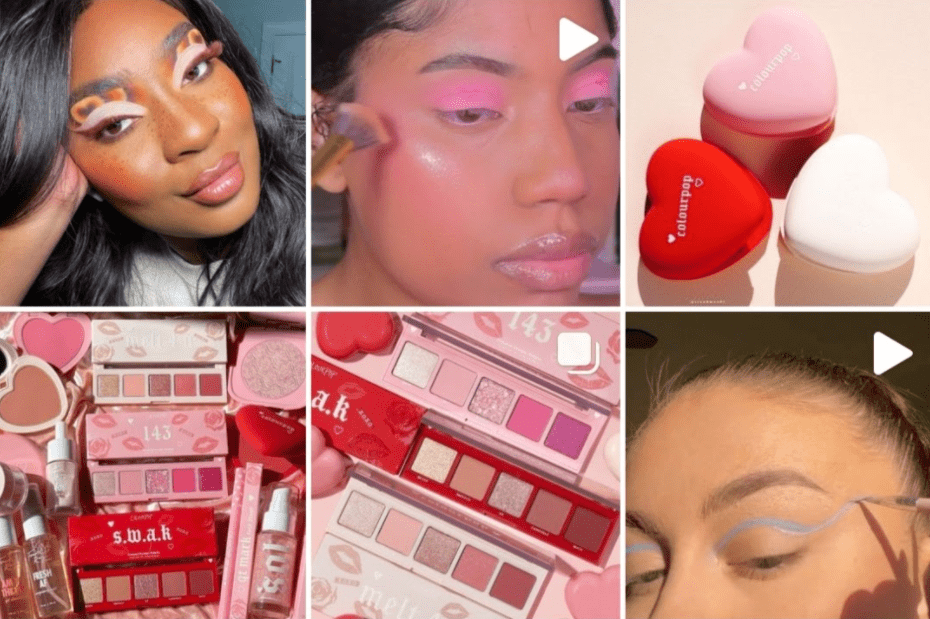 Valentine's Day Instagram Stories
Don't risk your beautiful posts getting buried under a ton of Instagram V-Day content. Find your audiences where they are at – in Stories. 
As the latest stats show, users are actively searching for Stories of the businesses they want to buy from. Capitalize on this by taking a page from the brilliant Target IG Stories example. The brand made a collection of their coolest Valentine's gift ideas and saved them to IG Stories Highlights.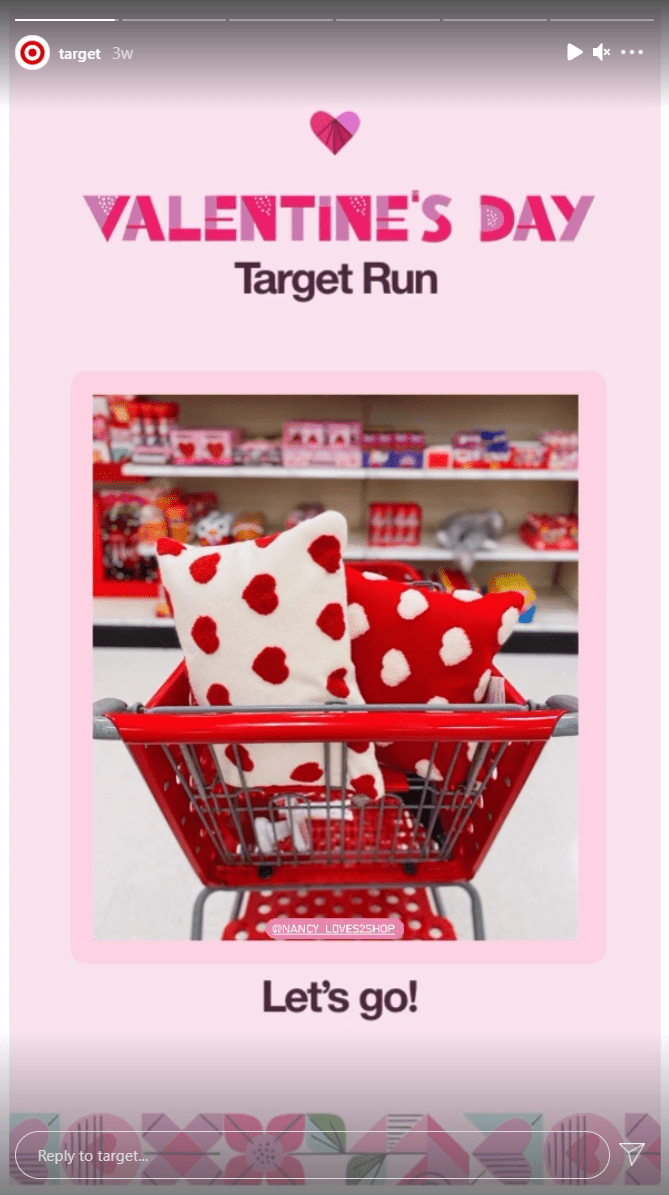 This way, they're making their products discoverable by users searching for some unique gift ideas. Go the extra mile and make the Stories shoppable by adding product tags to make the purchasing decision extra easier for your audience.
Showcase your limited edition products in a Valentine's Day Instagram post
Started planning your holiday product lines earlier? Do a dedicated Instagram post and put your amazing love-inspired products front and center.
What if your business isn't really associated with anything related to Valentine's? No worries, you can still make the most out of the holiday, with a tiny bit of creativity. Add a special offer for your service and show your take on the love-sharing season. 
Host Valentine giveaways 
Surprise your followers with a cool set of gifts designed to make this V-Day that much more special. 
Organize an original giveaway with hard to resist prizes to make even the least-believing of hearts melt and give in. 
Get creative with the criteria. For example, ask the participants to tag the person they believe has the most generous heart and tell a story that best reflects this. Or, create a concept where everyone has to share what they love about themselves. This is a great way to inspire some self-care and develop a more positive self-image. 
 

 

View this post on Instagram

 
Don't forget to check out our guide on How to Run an Instagram Giveaway for more info.
Spread the love with your IG tribe
Though it can sound totally cheesy, a thank you Valentine post to your IG community can maximize your business Instagram efforts enormously when executed the right way. 
There are some rules to keep in mind to not cross the fine line of good taste, so read carefully. 
Be honest – always stay authentic and mention real reasons why you love your audience. This can only work if you really know them and understand their major pain points and aspirations. If not, you better get to work and start researching. 
Use the opportunity to highlight some major milestones you hit together – Think you have nothing special to show for? Even reaching that 10k and receiving the valuable Swipe up option counts as an accomplishment. 
Remember – humor is your friend. Memes, gifs, of screenshots of Tweets can add a dose of light-heartedness and relatability that will instantly act as a bonding agent with your audience.
Give some love to businesses and organizations you believe in
What a better time to shoutout some cool businesses, artists, or creators you believe deserve more attention. It's especially important to spotlight Black and other underrepresented communities' owned businesses throughout February to honor Black History Month. 
 

 

View this post on Instagram

 
Highlight businesses or influencers you've worked with and talk about what makes them so cool and unique. All profit aside, it's important to support businesses, especially in these pandemic-ridden times where most small businesses are struggling to stay afloat.  
Put together a last-minute V-Day Gift Guide 
Collect your shoppable product posts in a nice last-minute gift Guide using the Instagram Guides feature. Showcase your best-selling items and help your followers find the perfect V-Day present. Take a page from Sephora's Instagram playbook: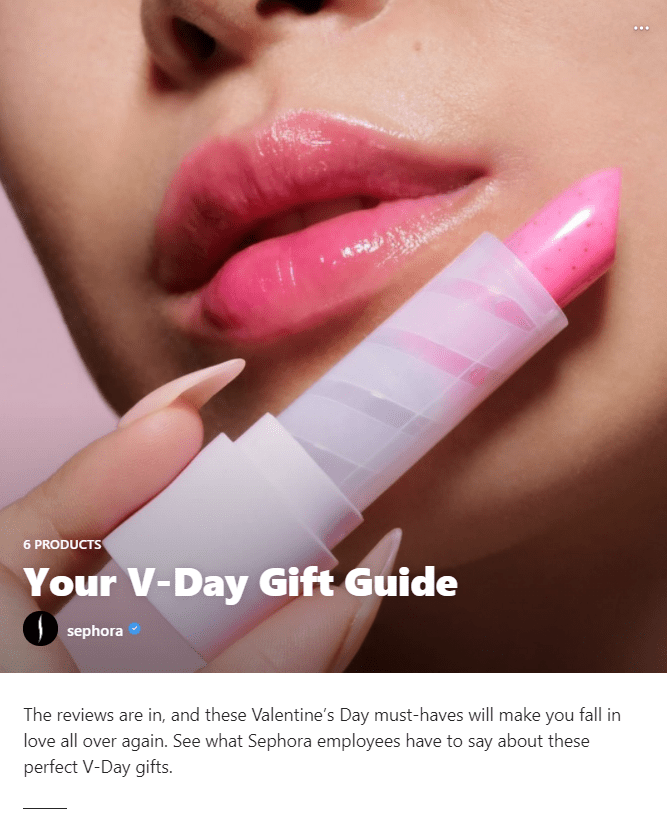 Valentine's Day Video Ideas
To maximize the Valentine's Day engagement, focus on creating more video content. As TikTok entered the market, video content production saw a significant increase across all social media platforms. In addition to regular Stories and video posts, Instagram introduced IG Live, IGTV, and Reels into the content mix. This created a uniquely entertaining space for all types of creators and businesses to showcase their creativity. And the audiences are loving it. 
Here is how you can incorporate video into your V-Day Instagram content plan. 
Show how your products are made
Or the behind the scenes footage. Mostly if your products can be related to the holiday, at least as a lovely gift. Don't sweat the production stuff. With a little bit of creativity and some editing tools, you can create magical IG videos with a simple smartphone. 
Take a look at how @rozhe.cake does the Valentine-inspired video:
 

 

View this post on Instagram

 
Influencer collabs – Reels
Reels are an excellent way to promote your Valentine's Day offers while keeping the audience entertained and engaged. Influencer collabs make much sense in this content as they bring the audience and offer a ton of creative input you could benefit from. 
Research the influencers in your niche and find the right match for your brand in terms of industry, tone, and overall aesthetic for a super-fun Valentine Reels video. 
 

 

View this post on Instagram

 
IGTV ideas
Have an idea for a longer format Valentine video? Why not do an IGTV video or a series? You can show some love to your most devoted customers and dedicate an episode to each of them. Or you can conduct interviews with the authors, industry experts, or business owners you love. 
An IG Live V-Day event
Share the love and excitement with your audience on Instagram Live. Show up first in their Stories feed and let your users feel included in some major events at your company. This could be anything from launching a unique product line or a V-Day sale. 
Don't forget the seasonal Valentine's Day Hashtags 
To really capitalize on each and every Valentine's Day content piece, be sure to top it off with the appropriate hashtags to drive more engagement and conversions your way. 
When it comes to hashtags, the best rule of thumb is to be as granular and specific as possible if you want instant, targeted results. It's hard to compete with millions of posts using #valentines and #valentineday. 
However, you can throw a couple of these more general ones in the mix as well. But be sure to use more specific hashtags that would help your discoverability and overall bottom line. This means that the people looking for a Valentine cake or cookies would look for things like #valentinecake, #valentinecookies, and #cakevalentine. At the same time, you're competing with a lesser amount of posts for that Explore page spot. 
For more info on Instagram hashtags, be sure to check out our ultimate Instagram hashtag guide on the blog. 
Need help growing your Instagram community? Try Flock Social for the ultimate, organic, and 100% safe Instagram growth. We guarantee thousands of super-targeted, real followers in a matter of months. Get started today and join our growing flock of successful influencers, businesses, artists, and agencies that are growing their Instagram on autopilot. 
Looking for more Followers?
Takeaway 
Crafting a perfect V-Day Instagram content plan requires some brainstorming and creativity. Still, essentially it doesn't differ much from what it typically takes to keep up a solid Instagram presence. In this case, there's the additional conversion and social proof at stake that is worth capitalizing on. Use our tips and content ideas to find your best Valentine's Day content ideas and win over your ideal clients.