With a billion active users and counting, Instagram is one mighty platform to be seen and heard on. 
Who would want to miss the amazing opportunity to get their message across one such powerful medium?
If you're contemplating joining the Instagram race or want to up your game, but still feel like a beginner, you've come to the right place.
We've prepared an all-comprehensive Instagram starter pack for all the Instagram newbies who are in it for the results.
So, let's help you get Instagram followers rates through the roof. 
Looking for more Followers?
Plan Your Work and Work Your Plan
Without a clear plan, you'll easily get lost trying to juggle a ton of things at the same time.
Define your goals. Sure, they can change in the process, as you get results, but you have to start somewhere.
What is it you are trying to achieve with your Instagram efforts? Is it brand awareness, increased sales, or new campaign promotion? Or are you more concerned with how to get more followers on Instagram?  All of these require a slightly different approach, and to not waste resources, you have to work smart.

Once you've set your goals, it's time to prepare your Instagram plan of action.
Here's a list of actionable points we'll cover in our complete beginner's guide to Instagram followers.  
Read on to learn all the details, or jump straight to points you're most interested in. 
The Essentials
Content Plan
Hashtag Strategy 
Make an Awesome Introduction With Your Bio
Automate where possible 
Be there
Always respond to comments
Be helpful
Giveaways, contests
Encourage user-generated content
Capitalize on your competitors
Influencers
Tag where appropriate
Go Beyond Instagram
Analyze Your Efforts
The Essentials
First, let's cover the basics that will help you start on the right foot. Some of these may seem obvious, but it's important to set them all up from the get-go in order to take full advantage of every Instagram feature available for your business account.
Go public – Make sure your profile is public. You don't want to risk any potential follower not being able to see your posts.
Switch to business profile – Business account allows access to important analytics, such as follower activity, audience insights and post-performance.
Sync with Facebook – This is done automatically when you switch to a business profile and allows for contact, booking, and sales syncing.
Enable 2FA – Adding two-factor authentication keeps your profile protected against unwanted intruders.
Content Plan
Ready? Let's get you on a fast track of how to get followers on Instagram. 
Think you can do a couple of cute/fun/inspiring posts and call it a day? Yes, if this was 2014, maybe.
A content plan is and should be your top priority. Make sure to allocate most of your resources in this direction because it's what Instagram is all about. Quality, engaging content is the only way to go if you want to build up a devoted audience. In order to get your audience hooked, you have to prepare to WOW them over and over again.
And for this, you have to have a killer plan in hand.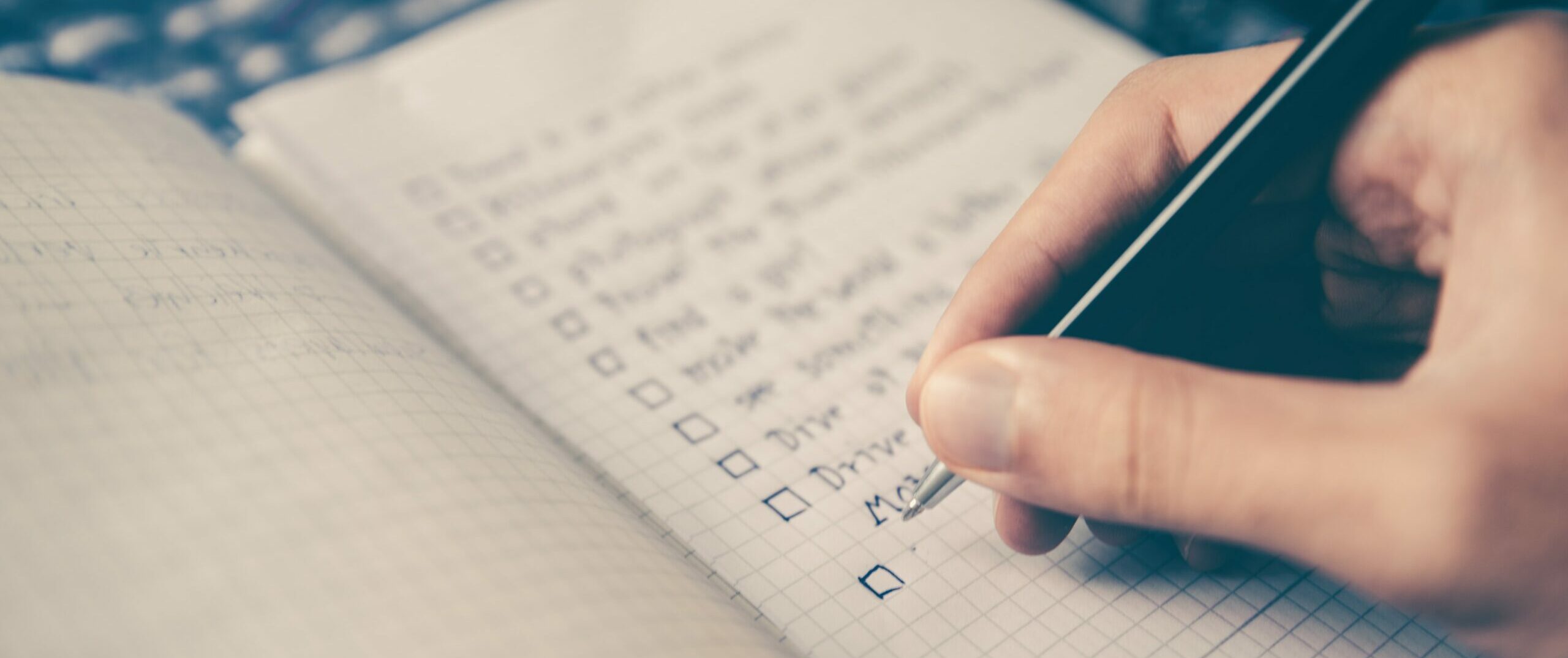 Here're some of the most important features of a successful Instagram content plan:
Tone – Decide on the tone of your content. This way you are creating a base for the emotions you want to evoke in your users. Don't get caught up in corporate lingo, IG is not a place for that. If your business is unglamorous, it doesn't mean your Instagram has to be as well.  Just take a look at what creative people from Arnold Worldwide advertising agency are doing. Their tone is super fun and relatable and not at all business-oriented.
This could be anything from posting your regular #BringYourPettoWork Day cute photos and videos, or choosing a mascot for your brand and centering your tone, voice, and entire posting strategy around this. The funny elements are a sure way to transform your messaging from boring and salesy to fun and relatable. 
Content calendar – Why do you need one? The obvious reason is not to miss a post. However, it's equally important to create a consistent flow of content for your followers. For example – Mondays are for fun memes about getting back to work after a weekend. Tuesdays are for funny pet stories, Wednesdays are for contests and giveaways, and so on. By having a clear calendar on hand, you'll be able to control your Instagram narrative much better. Moreover, a clear content calendar makes you aware of the upcoming holidays and lets you plan a cool content piece for the occasion.
Quality – No compromise here. To increase Instagram followers rate, you have to be better than the best. The Instagram community is a tough crowd, and if you want in, you have to be on top of your game. But, don't worry, this doesn't mean you have to burn your entire budget on cutting-edge tech and visual artists to earn your place. You can achieve solid quality on your own. Research other people's content and find what you like. Luckily, there are so many awesome tools, tutorials, and even Instagram filters that can help you set your work's visual tone. 
Here are a few content tips you can try out
The Grid
The layout and the overall aesthetic of your Instagram grid is an essential and often overlooked strategy to attract new Instagram followers. 
Additionally, a nicely organised grid adds an additional creative element to your feed, while creating a posting schedule. 
If we analyse some of the biggest brands on Instagram that use this approach, we can understand how a nicely organised grid has helped them grow a massive following. With a clear grid plan, they were able to focus more energy and resources where it really matters – acquiring leads. 
Let's take a look at some cool examples of beautiful IG grids and how you can implement a similar strategy.
Tell a story with your grid like the oral care brand Moon often does: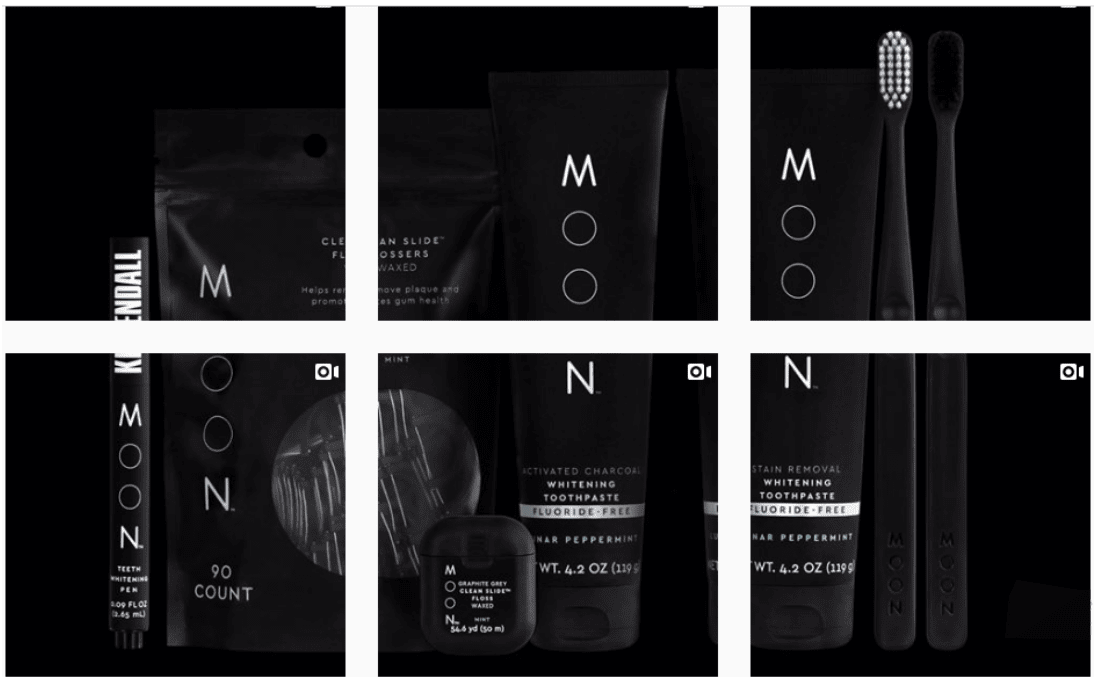 Let them see your true colors
Highlight your brand color in your feed like KylieSkin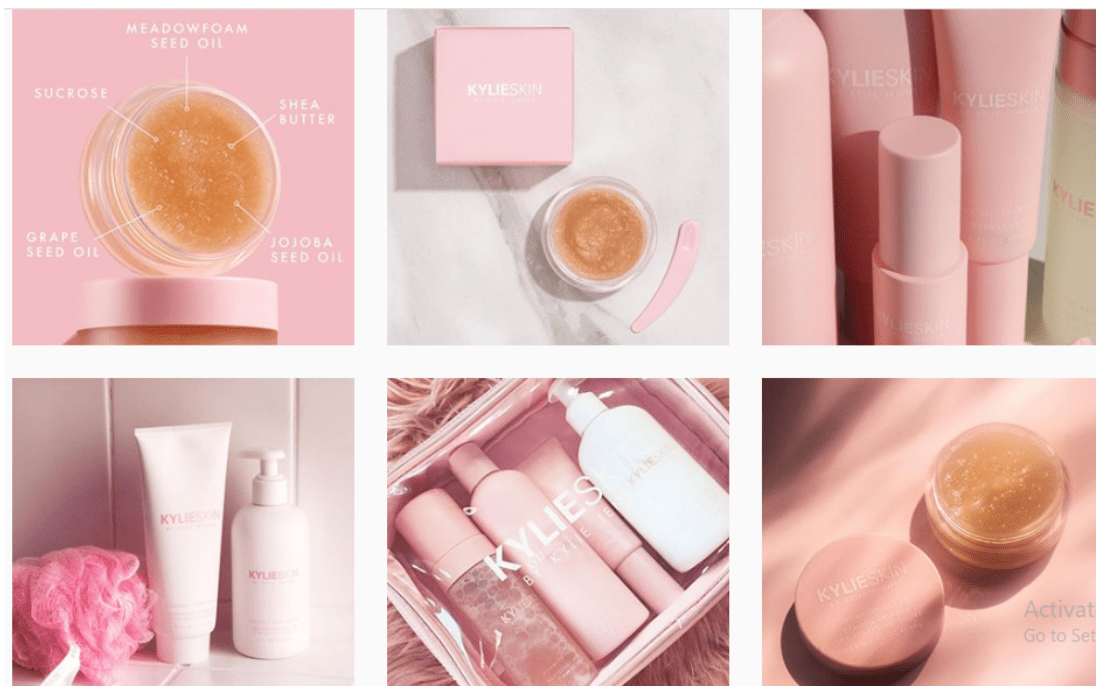 Filters 
Sure, the use of filters in your IG game is somewhat a question of taste and overall aesthetic. 
That being said, it's important to notice that there are still some best practice examples when it comes to using filters in your quest to grow Instagram followers. Why? Well, while authenticity is important and in most cases favored, there are certain filters that the Instagram community finds more appealing than others. 
So, why not use this insight to your advantage and consider including one of the popular filters in your regular Instagram content strategy.
Depending on your specific industry you can try out a couple of the most popular ones and see how they work with your content. 
Here are  a couple of those to check out:
Valencia
Clarendon
Juno
Lark
Ludwig
Gingham
You can use the same filter in all your posts to make a consistent look like @shopmalloryonthemoon does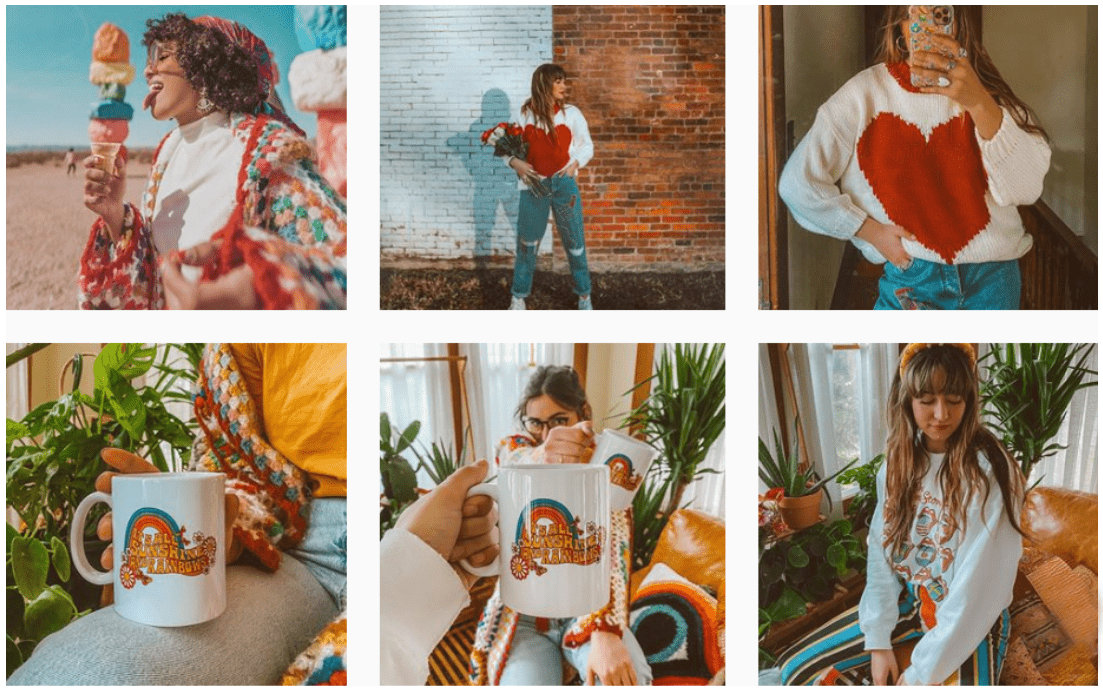 Emojis
Another important part of content planning you have to consider as a brand or a regular Instagram user are emojis. No, we're not kidding. The emoji game goes as far as people doing studies on them. The effects they have on your content and brand identity may come as a shock if you're an Instagram beginner. Yet, what if we told you that the use of emojis improves interactions on Instagram posts by almost 50%?
Plan your emoji game. Be playful about it. Luckily there are so many of them, so you'll never get to miss an opportunity to
a follower comment, be cool
when showing off, drop an occasional
on user-generated content, or
the posts of the causes and initiatives you strongly support. Remember to stay positive, fun and respectful.
Whether you're an Instagram beginner or a long-time user, you have to think of your profile as a landing page for your sales. Even if you're just getting started on the platform, you can use every opportunity to invite your Insta followers to find out more about your products, sales, or service updates. But remember to be smart about it, as Instagram followers don't like too much promotional content. Use the 80-20 rule. Lure them in with your awesome and fun content, and from time to time insert a CTA as a swipe-up in Instagram Stories, at the bottom of a post, or in the comments.
Hashtag Strategy
Even if you're completely new to Instagram, you probably understand the point of hashtags. They're there to help the algorithm understand what your content is about, and thus, help the users find what they're looking for by using hashtags.
Additionally, understanding how Instagram hashtags work can help you understand how to grow Instagram followers. 
Hashtag strategy may seem simple. But as there were so many crazy BS facts surrounding it, let's clear the air on that and give you only the tried and tested guides on how to get the most of your hashtag strategy.
The sky's the limit.
Ok, the 30 hashtags per post to be exact, but you get what we mean. Don't be afraid to use as much as you find appropriate. Why? With each hashtag used, you're increasing your chances of getting your content in front of your ideal audience.
Notice we used the word ideal here? This is a very important fact to bear in mind when it comes to hashtags. As a brand you'd want to reach your ideal audience, so you can quickly turn them into your customers, right? To achieve this, you have to hashtag what they are looking for.
Let's say you're a shoe business. You've got your buyer persona ready. What are their interests? What are your competitors hashtagging about? Do that. Only better and bigger. Add a fun twist. For example, if you're a shoe brand – you could do something like this: 
#ShoeAddict #InstaShoes #ShoeLover #Shoestagram #Shoeaholic #ShoeAddiction #ShoeGame #ShoeGram #ShoesOfTheDay #ShoeSelfie #ShoesOfInstagram #FootwearFashion #ShoeSwag #ShoeLoveIsTrueLove #ILoveShoes#Instaheels #ShoePorn #Sneakerhead #KicksOnFire #Kickstagram #Sneakerfiles #TodaysKicks #Solenation #ShoutMySneakz #Crepslocker #KicksOfTheDay.
Go the extra mile and introduce something fun and relatable, as the @aldo_shoes do with the #manicmonday hashtag: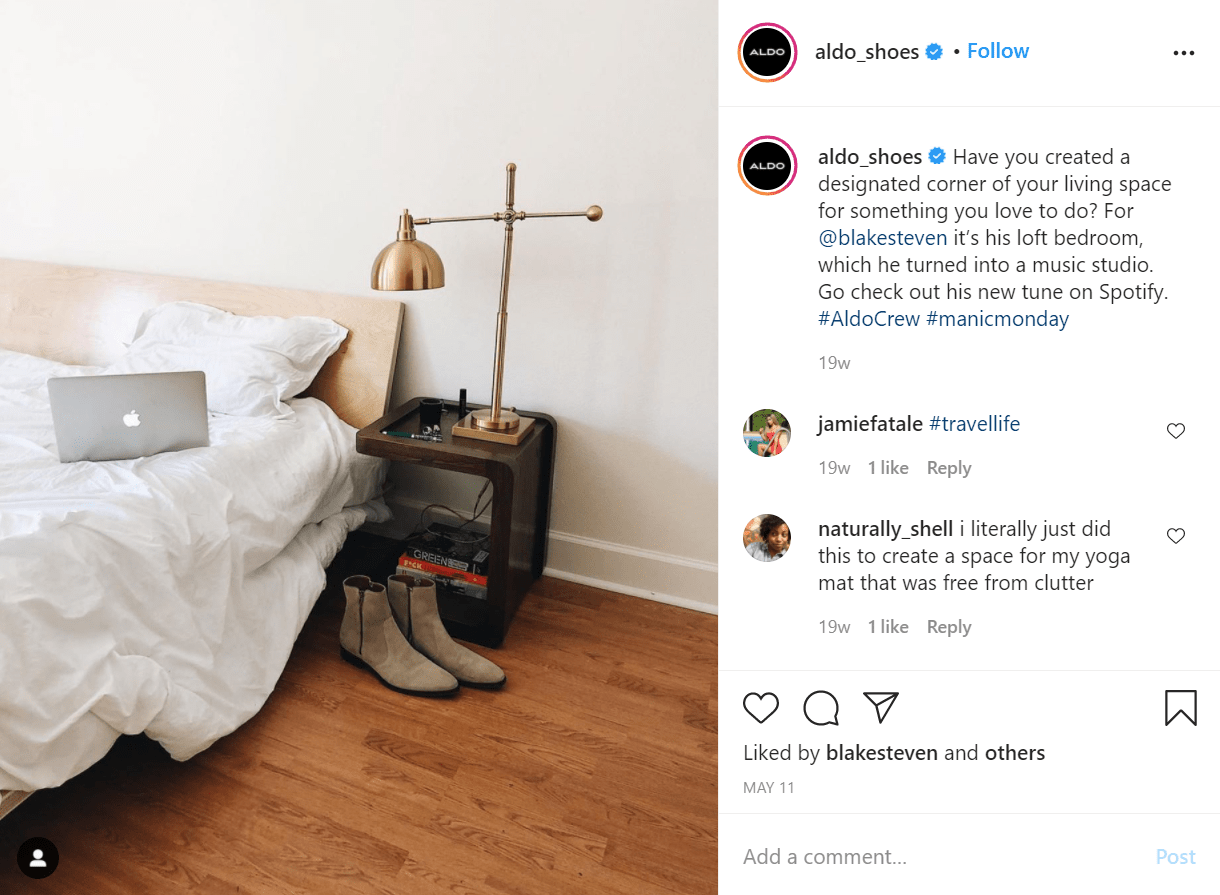 And, of course, let's not forget to mention the tricky part about the hashtag game. The reach potential. Think of hashtags as keywords for optimization of your Instagram ranking. If you, for example, use mostly generic hashtags, like #fashion, you'd need a ton of engagement in order for IG algorithm to rank your post. Because you'd be competing for reach with exactly 799,924,211 posts. The trick here is to go specific and use hashtags with lesser competition, but bigger relevance, to get the best possible results. Go for the low hanging fruits like #fashionnewyork which counts 23,154 posts and improves your ranking chances, as there is less competition involved. 
We understand it can be quite overwhelming to get the hashtag strategy right, especially if you're an Instagram beginner. So, we've created a cool solution that does the heavy lifting for you and delivers the relevant hashtag list with high reach potential for your industry. Try it out and cash in on your hashtag plan.  
Make An Awesome Introduction With Your Bio
Consider your bio as a way to introduce your business in a clear, concise, and creative way.
Let's break it down.
First and foremost, your Instagram bio should show your company logo. This way, you're letting your users connect to your visual branding.
Then, it's time to make a cool username that it's simple, to the point, catchy, and that includes your brand's name. 
Next up are your mission and value proposition. This is your place to shine creatively.
Lush cosmetics have mastered this part:

Their bio is short but super creative. It contains their logo, the branded hashtag to invite followers to engage in the community. And it closes with a link to their website, where you can shop for their products.
As you can see from the example above, branded hashtags are a super powerful way to engage your audience from the get-go. By incorporating a branded hashtag in your bio, you're inspiring user-generated content and community building at the same time.
And, last but not least, don't leave your audience without a clear next step. Insert a CTA at the end of your bio to direct them straight to your website's landing page. This way, you're maximizing your Instagram efforts and serving your audience the best user experience possible. 
This is an anatomy of a cool Instagram bio to keep in mind when creating your own. You can play with the mission statement, add a few emojis, and insert a different link, depending on a page you want your followers to first land to. Don't forget to add all of the elements listed above for a complete, killer bio. For a more detailed guide on how to write a perfect IG bio, check out our guide on How to Write Good Instagram Bios With Examples, Tips, and Ideas.
And once again, remember to create content that's not too curated and only about your brand. Find your angle and get your audience hooked with fun, relatable, and likeable content. 
Automate Where Possible
Now that you've got some Instagram game, it's time to throw some tech into the mix.
Why? Because you're only human, after all. You have a life beyond Instagram, and a business to run. Use your time wisely. Create amazing content, awesome campaigns, and leave the boring work to the tools designed for that.
If you're not sure how to get the ball rolling, we've got just the right solution.
Our unmatched FlockSocial solution will get you through to a niche audience in the blink of an eye. Get started today and start building your audience with our all-in-one solution designed for engagement, analytics, management, and much more. 
Looking for more Followers?
Be There
Sounds obvious, right?
If you want people to talk about and/or with you, the communication must start somewhere. That's what social media was designed for in the first place.
But instead of making a cool piece of content and waiting for the engagement to happen on its own, you can make the first move and show you care.
Always Respond to Comments
Monitor your comment section and join the conversation. Aside from using Instagram as a cool customer service tool, you'll reap more amazing rewards as well. By providing help or joining the witty banter in the comments, you will create relatability and trust. And we all know what this translates to – more sales. 
Be Helpful
When trying to figure out how to get followers on Instagram, many businesses tend to overlook this important step. 
Don't make the same mistake. 
Show them you are there to solve every problem, no matter how small it may seem.
This is how you create a sense of community and trust. By being there for your followers, you create positive associations about your brand.
Giveaways, Contests
Now that you've got the hang of Instagram basics, it's time to get your game on another level.
Once our FlockSocial automation service gets you to a solid number of followers of about 5k, employ giveaways and contests to improve your reach and get a ton of new followers.
People love free stuff, and if you add an element of fun to it, even better.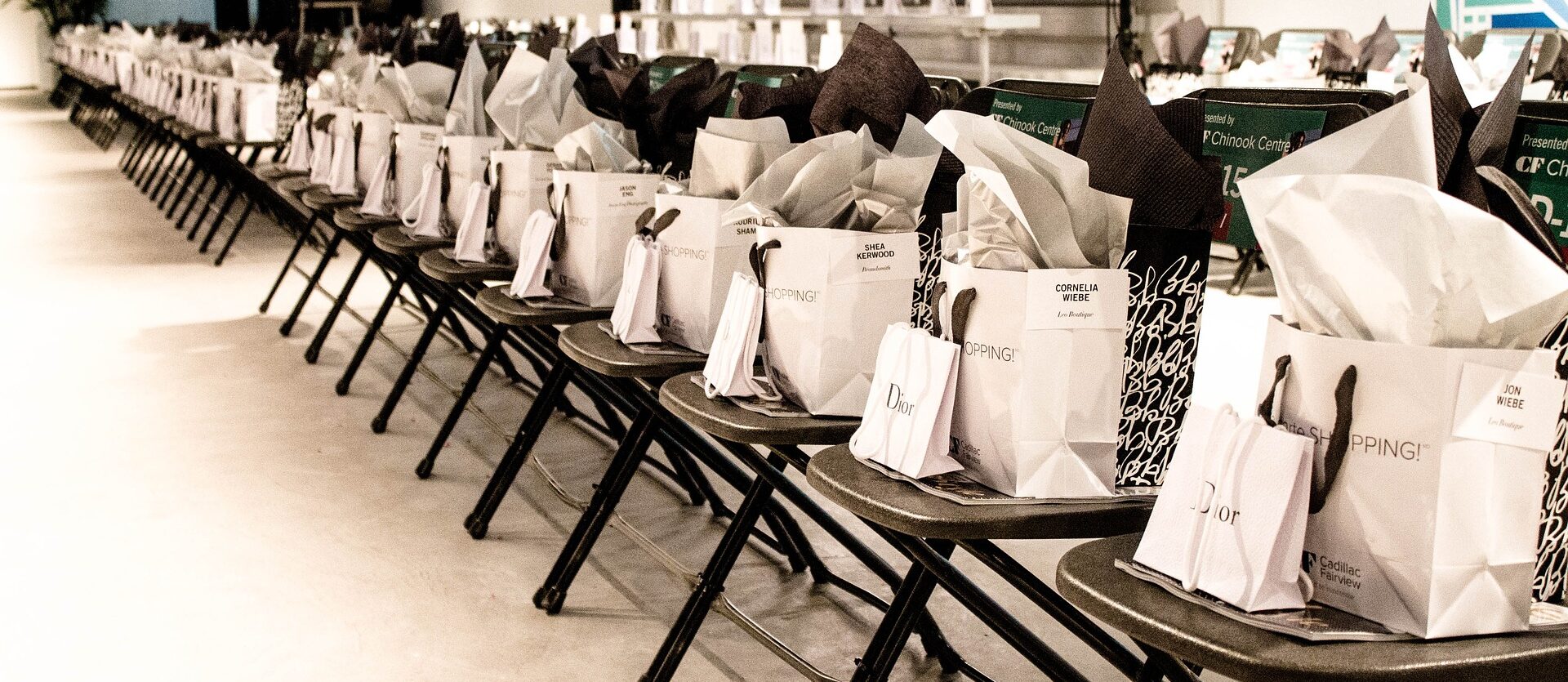 You can create a cool piece of content and ask people to follow you, like your posts and leave an interesting comment. You can also ask them to invite a friend to create even better results. Additionally, you can employ influencers to execute the giveaway and invite their audience to engage with your brand. Make the prize worth their effort, and voila, you've got a new influx of followers and engagement.  
Contests are another cool way to create buzz, increase your follower numbers, improve reach, and crush your Instagram game. Come up with a cool way to spark the competitive spirit among your followers. For example, if you're a flower shop, you can ask your followers to share photos of their flower arrangements, using a branded hashtag. Set the time limit and award the follower whose photo has the most comments with a cool prize. Don't forget to use this opportunity to engage in conversation and leave well thought out comments and emojis to show your interest.
Pro tip Create a list of close friends. Add followers who most often engage with your content and share exclusive promotions, releases, coupon codes, or news to reward their loyalty. Add the invite a friend incentive, and you'll see your list of targeted followers doubling. 
Encourage User-Generated Content
User generated content turns your followers into your brand ambassadors. This way, they are doing all the advertising for you. Except that you don't even have to offer anything in return.
How is this possible, you may ask.
In order to achieve this, you'll have to come up with a killer campaign that would entice your audience to spread your message for free.
Dig deeper into the motivations, values and behaviour of your ideal buyer persona and offer them the bait they simply cannot ignore. Let's look at an example from a clothing company Aerie: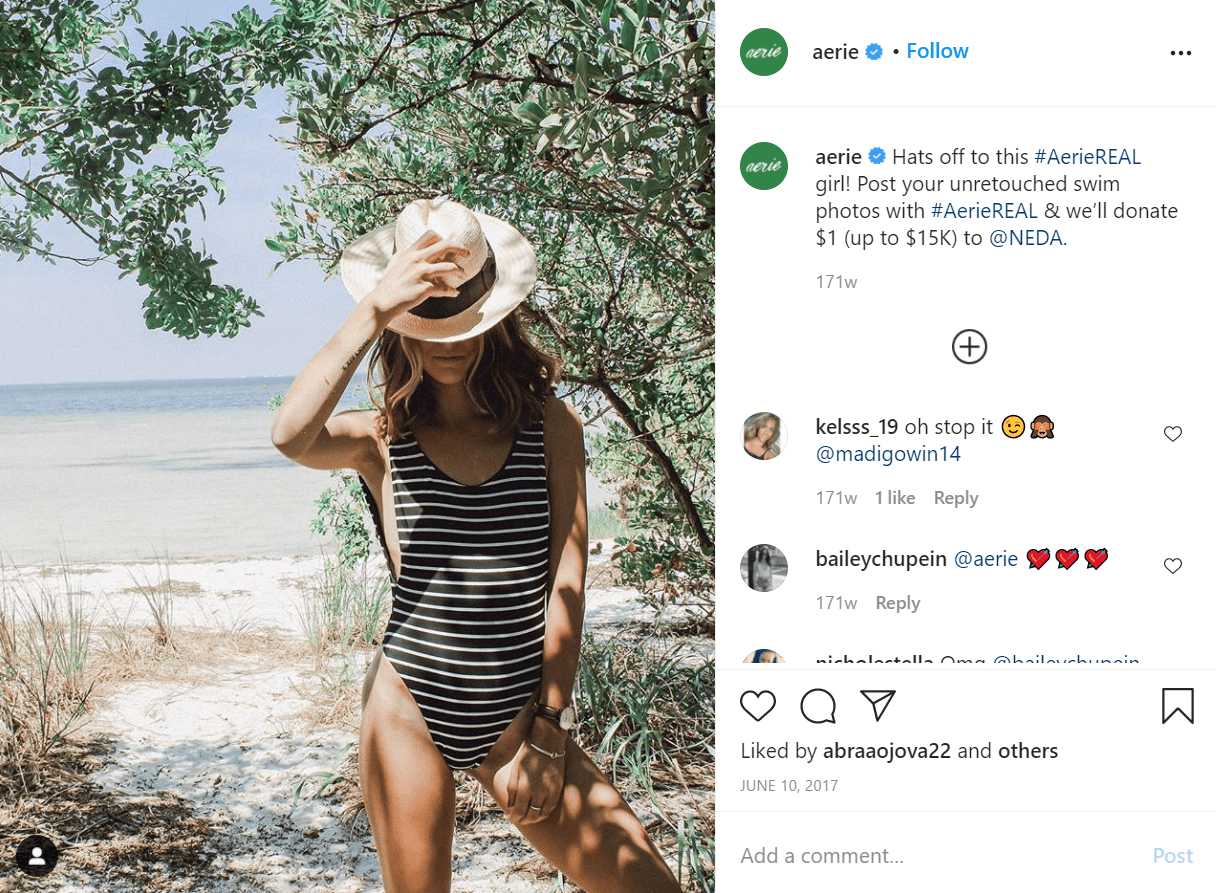 What they did here is user-generated content gold.
Their target audience – women.
The trending topic for women – body image issues.
Causes they're most likely to resonate with – eating disorder treatment and aid.
This campaign has it all and much more. By combining their ideal buyer persona pain points, solutions, and inspiration with a thoughtful cause, they've turned something negative into a cool and positive movement. The message inspired organic Instagram engagement and positioned its brand as a trustworthy and conscious resource on more than clothes. 
Use this example to do something similar and use the increased engagement to get your posts higher in the Instagram feed rank.
Capitalize on Your Competitors
No, we're not talking any dirty or unethical business, just a tiny bit of healthy competition done in a classy way.
This is an amazing way to improve your follower base, as the people following your competitors are most likely to be interested in your brand as well. They might just haven't heard of you yet.
The plan of action starts with thorough research. You can use tools like SEM Rush to create a list of your organic competitors. But make sure to top it off with a manual analysis to fine-tune your approach and only engage where you find the most appropriate fit.
After you've found the most relevant competitor list, it's time to show interest and appreciation. Always keep in mind to play fair at all times. Show up in their comment section only when you have a meaningful contribution to the conversation. Or, if you're launching a product or service that is an advanced version of theirs, give a shout out to their original idea. This way, you'll let their audience take notice, but remain friendly and ethical.
Influencers
Famous Influencers are the modern-day word-of-mouth, and the micro is the new frontier in influencer Instagram marketing.
One of the most effective ways to get your message in front of the niche audience, build brand awareness, and trust is to let an influencer speak for you.
The trick here is to do thorough research and go small, especially if you're a beginner. The micro-influencers naturally have a somewhat smaller following, but the super-specific nature of their audience will generate much better results than the bigger names, whose work also comes with a higher price tag.

While you're in the research phase, don't forget to fake-check the potential influencer. You can use our guide on How to Identify a Fake Influencer to help you throughout this process.
By going micro, you get the absolute ROI and the most accurate target audience.
Some of the influencer Instagram campaigns that produce killer results include:
Influencer created content –  you let influencers feature your brand in their content created to suit the expectations of their audience.
Contests and giveaways – Influencers organise contests and giveaways featuring your brand.
Account takeover – You let influencer run your Instagram account for a day and direct their audience towards your channel.
Tag Where Appropriate
Another super smart strategy to get the bigger following as the complete Instagram beginner is through strategic tagging.
Tag people and businesses involved with your brand on posts that feature them and/or somehow relate to the content on the post. For example, if you're a hairdresser, tag your customers on posts featuring their hair color, or them with the awesome hairdo. This way, you increase your chances of getting new followers and business, as your posts show up in their tagged feed. The same goes for businesses. Shout out to brands whose products you're using in a photo, and create a win-win scenario that will generate niche followers.
And vice versa, leverage on the posts you're tagged in.  Repost them with a cool message that communicates your sense of humour, and watch your follower numbers grow.
Go Beyond Instagram
As effective as it is, your Instagram account is only one of your customer acquisition channels. To really make sure you're making the most of your Instagram marketing efforts, you'll have to tap into the potential of other channels as well.
Your website, other social media accounts, and Instagram should all be connected and cross-linked in order to get the best effect. Let your website audience in on your Instagram account by adding appropriate widget links that direct your visitors to your Instagram profile. Or use your sidebars to promote your latest Instagram posts.
Fashion bloggers are letting their websites visitors shop their Instagram looks: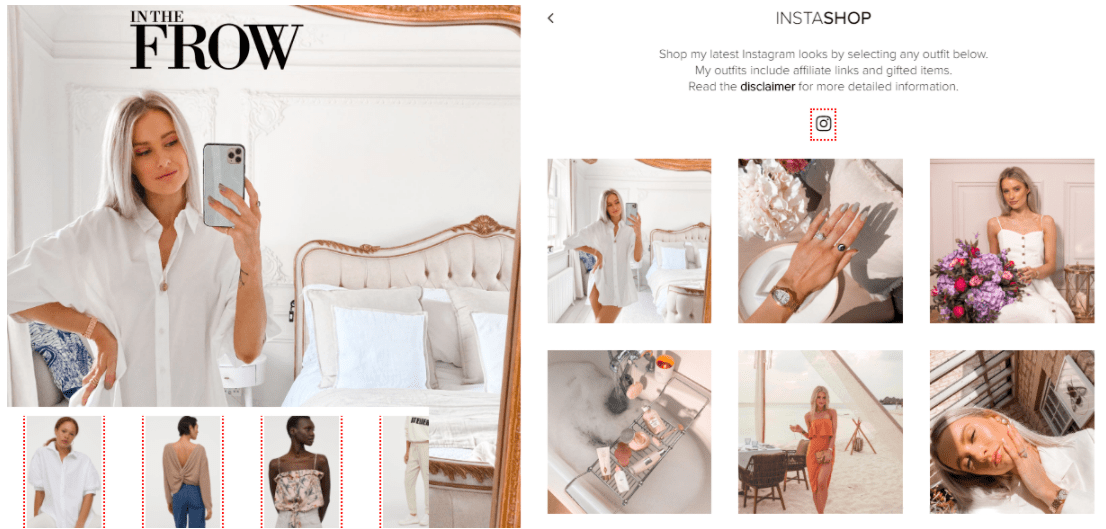 Your Facebook, Twitter, YouTube, and LinkedIn accounts are great ways to get free followers who already like your brand. Add a link to your Instagram account in your YouTube video description, and invite your Twitter and Facebook followers to check out your new post on Instagram.
Cross-referencing your Instagram and other channels generate an instant influx of organic Insta followers without as much as lifting a finger. 
Analyse Your Efforts
Behind every success, there's a million tries and tests that failed. It's important to keep this in mind as you're starting on Instagram.
To ensure you understand how to get followers on Instagram completely and repeat the success in the future, record the entire process and analyse what works and what doesn't. This way, you're able to make data-driven decisions and tweak your process to get the optimal results faster.
Of course, it's impossible to grow Instagram followers, analyze everything, and create amazing content all at the same time. 
Before you start looking for shortcuts and researching sketchy solutions, make sure to read our opinion piece on why you shouldn't buy followers on Instagram. 
Because we understand the struggle, we've created a seamless piece of software to get the most relevant data straight to your digital door.  FlockSocial helps you get active Instagram followers, real engagement and advanced analytics. Get started today and see how you can grow Instagram followers organically and completely safe.
Looking for more Followers?
Takeaway
Instagram is still the top social network for user engagement and user expectations are at an all-time high. Learning how to grow Instagram followers as a complete Instagram beginner becomes more challenging by the minute. It takes dedication and nurturing. And a lot of serious work.
But once you've checked all the points we covered in this guide, you'll be able to make your mark in the Instagram scene in a flash. And things will only get better as you start to get a grip on things. Just keep up your work and soon you'll be able to see the results taking a snowball effect. 
Don't forget to check our suggested reads if you want to dig even deeper into the topic.