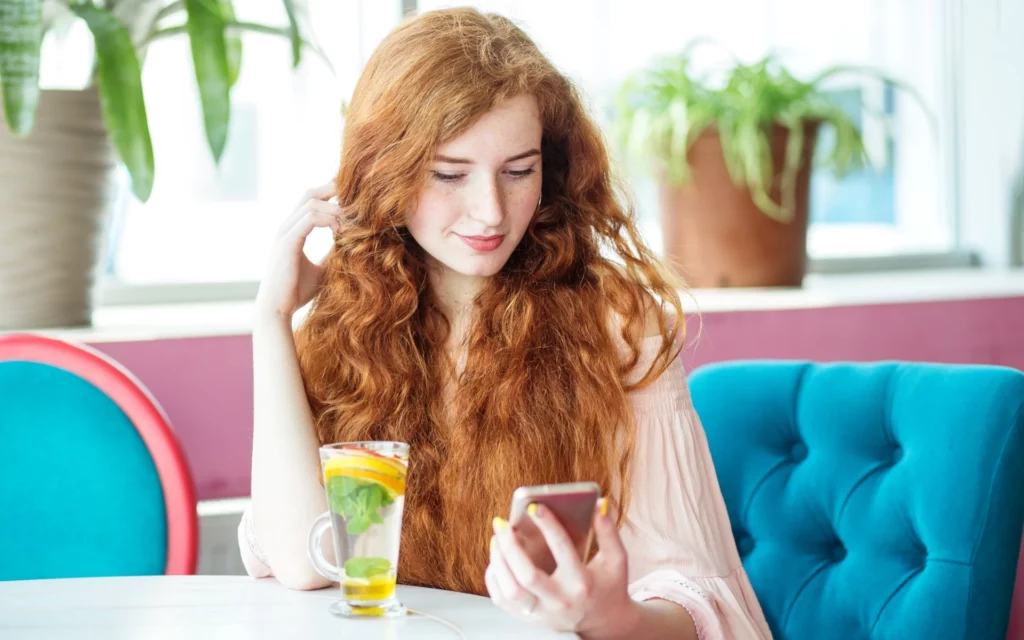 With a billion active users and counting, Instagram is one mighty platform to be seen and heard on. 
Who would want to miss the amazing opportunity to get their message across one such powerful medium?
If you're contemplating joining the Instagram followers fam' or you're looking to level up your game but still feel like a beginner, you've come to the right place.
We've prepared an all-comprehensive Instagram starter pack for all the Instagram newbies who are in it for the results.
So, let's help your Instagram follower rates through the roof with this unique article called The Complete Beginner's Guide to Instagram Followers!
Looking for more Followers?
Does Your Follower Count Actually Matter?
The following count has become an obsession for companies and individual Instagram users, propelling the pursuit of social progress and more engagement on social media platforms.
But here's the real question you should be asking yourself:
Should the number of followers be your first objective throughout a social media campaign?
Let's go into the realm of stats to find out what's really going on with ig followers!
Watching your follower count develop is definitely an exciting aspect of social media marketing for every small company or blogger. 
It stands out on your profile and draws everyone's attention, right? 
But is follower count, the most crucial number to track? Most of the time, the real answer is nah, it's not.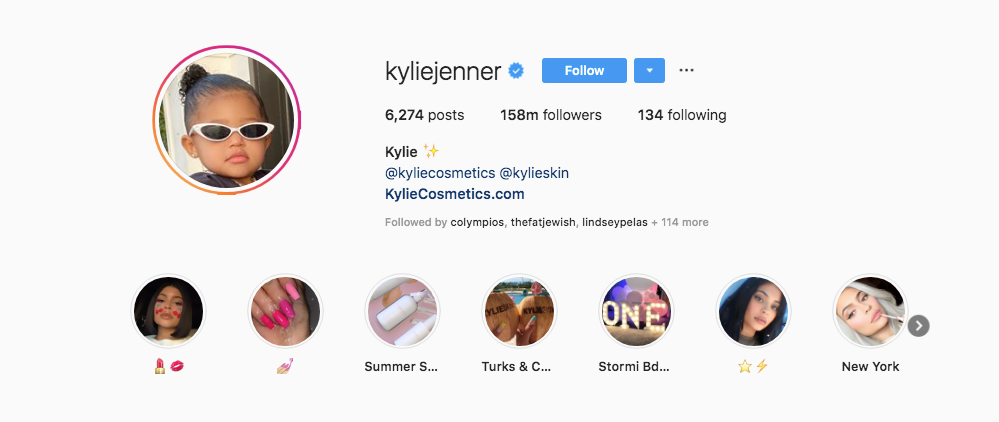 "The number doesn't matter; it's who is following you that matters."
Basically, social media platforms have effectively exploited human psychology by utilizing follower count as a dopamine trigger to keep people returning for more.
As the numbers of organic followers increase, our brains create happiness-inducing endorphins, resulting in a platform addiction loop.
While follower count may be a tactic utilized by social media corporations, it does have some validity when combined with other social media statistics. Basically, the number of likes is compared to your follower count in the applause rate, while the number of engagements is compared to your Instagram followers in the engagement rate.
Moving on, let's check out our great nine ways to get more active Instagram followers right away!
9 Ways To Get More Followers On Instagram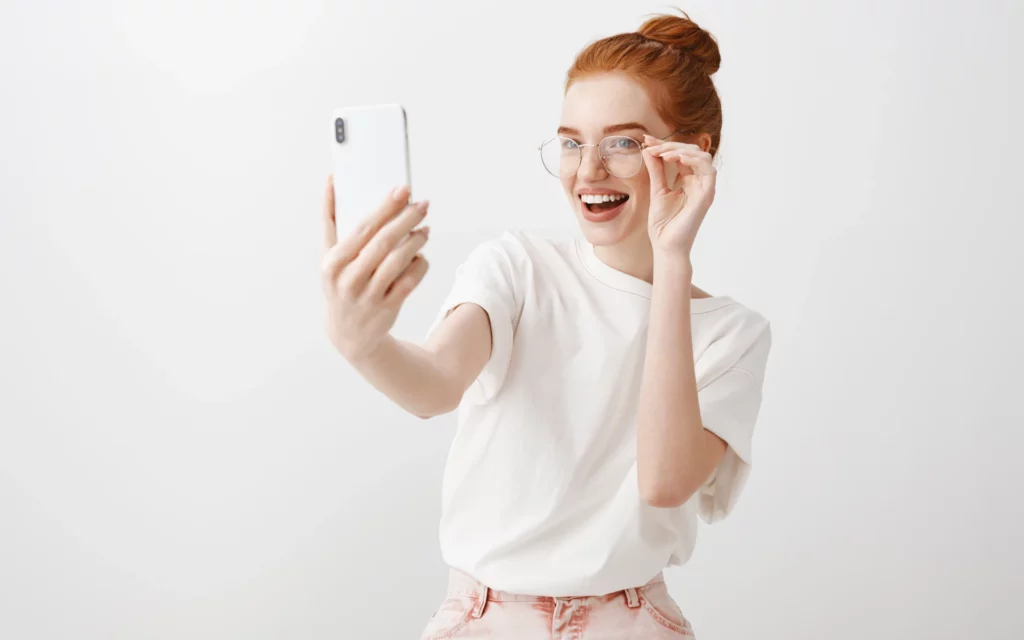 Looking to boost your Instagram following instantly?
If the answer is a solid "Yes," let's explore nine effective strategies that can help you attract more followers and grow your presence on the platform.
1. Optimize Your Instagram Account
Before we go into figures, let's discuss improving your Instagram account.
Creating a follower-friendly profile is a solid basis for recruiting and sustaining more genuine followers. Your Instagram profile is the platform's representation of your brand and you.
Pay attention to crucial areas such as your bio, profile image, Instagram username, and bio link to leave a memorable impression. These nuances not only create your brand identity but also influence your account's discoverability.
To effectively maximize your account, you must adhere to a tried-and-true Instagram marketing strategy.
While increasing your Instagram followers is an important aim, optimizing your account for long-term success is also critical. You may acquire real followers who truly connect with your company or you by paying attention to the appearance of your profile and employing a planned marketing approach.
Also, guys, remember, it's not just about the statistics; it's about developing an engaging online presence and cultivating genuine relationships with your target audience.
2. Develop A Content Plan
Let's get you on a fast track of how to get Instagram followers with a good content plan!
Think you can do a couple of cute/fun/inspiring posts and call it a day?
If this was 2014, maybe.
A content plan is and should be your top priority.
Make sure to allocate most of your resources in this direction because it's what Instagram is all about.
Quality, engaging content is the only way to go if you want to build up a devoted audience. In order to get your audience hooked, you have to prepare to WOW them over and over again.
And for this, you have to have a killer plan in hand.
Here're some of the most important features of a successful Instagram content plan:
Decide on the tone of your content. This way, you are creating a base for the emotions you want to evoke in your users. Don't get caught up in corporate lingo, IG is not a place for that.
Just take a look at what creative people from Arnold Worldwide advertising agency are doing. Their tone is super fun and relatable and not at all business-oriented.
Why do you need one? The obvious reason is not to miss a post. However, it's equally important to create a consistent flow of content for your followers.
For example – Mondays are for fun memes about getting back to work after a weekend. Tuesdays are for funny pet stories, Wednesdays are for contests and giveaways, and so on.
By having a clear calendar on hand, you'll be able to control your Instagram narrative much better.
No compromise here. To increase your Instagram followers rate, you have to be better than the best.
The Instagram community is a tough crowd, and if you want in, you have to be on top of your game.
But don't worry, this doesn't mean you have to burn your entire budget on cutting-edge tech and visual artists to earn your place.
You can achieve solid quality on your own. Research other people's content and find what you like.
3. Use Hashtags
Even if you're completely new to Instagram, you probably understand the point of hashtags.
They're there to help the algorithm understand what your content is about and, thus, help the users find what they're looking for by using hashtags.
Additionally, understanding how Instagram hashtags work can help you understand how to grow Instagram followers – simple math!
The hashtag strategy may seem simple. But as there were so many crazy BS facts surrounding it, let's clear the air on that and give you only the tried and tested guides on how to get the most out of your hashtag strategy.
Don't be afraid to use as many hashtags as you find appropriate.
Why? With each hashtag used, you're increasing your chances of getting your content in front of your ideal audience.
Let's say you're a shoe business.
You've got your buyer persona ready.
What are their interests?

What are your competitors hashtagging about?
You could do something like this: 
#ShoeAddict #InstaShoes #ShoeLover #Shoestagram #Shoeaholic #ShoeAddiction #ShoeGame
Go the extra mile and introduce something fun and relatable, as the @aldo_shoes do with the #manicmonday hashtag: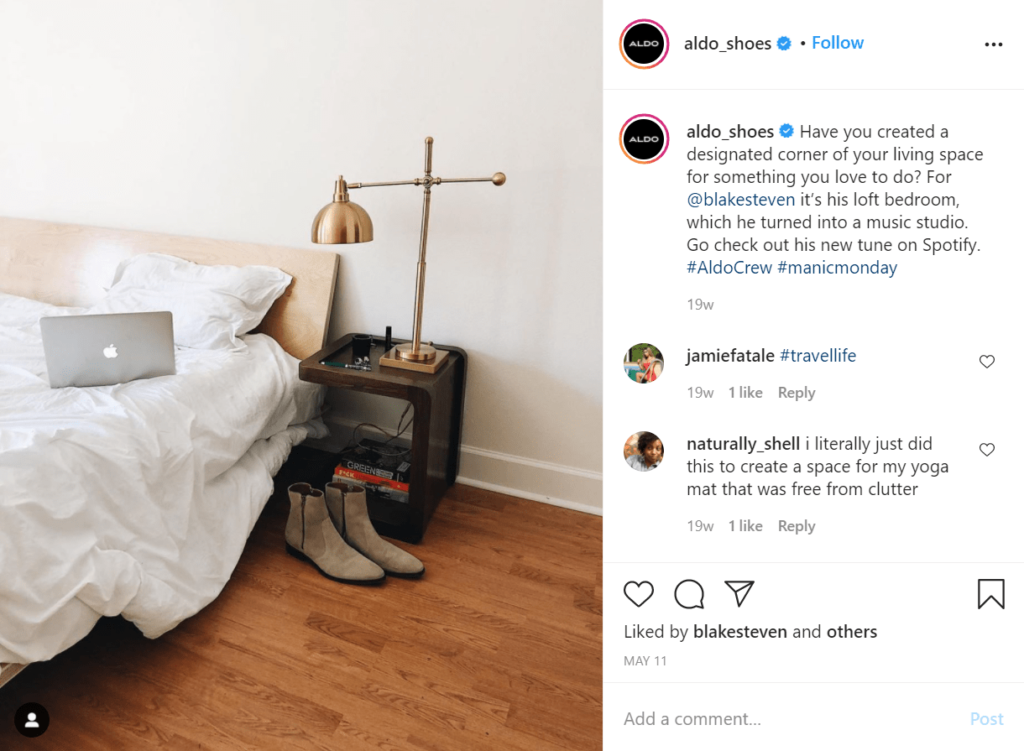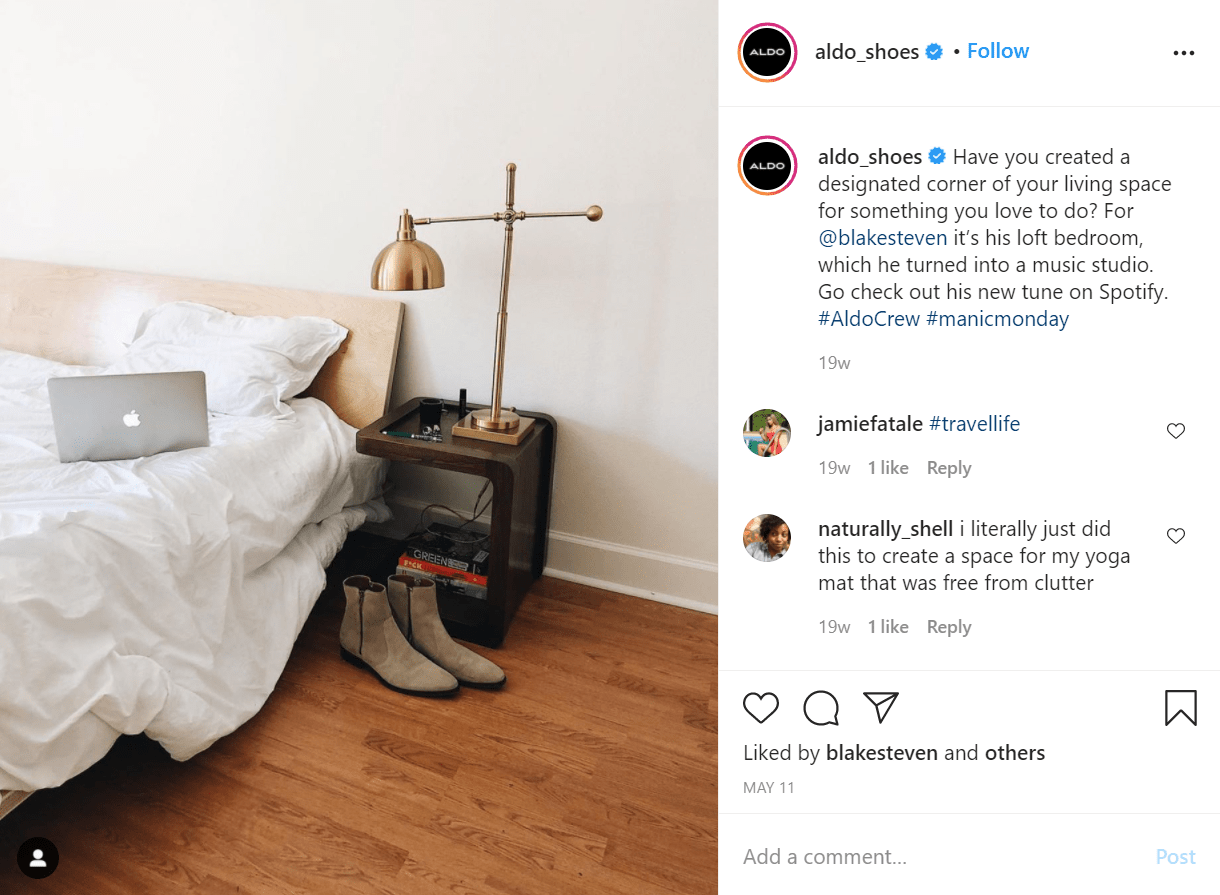 4. Engage With Your Followers & Join The Conversation
Sounds obvious, right?
If you want people to talk about and/or with you, communication must start somewhere.
That's what social media was designed for in the first place.
But instead of making a cool piece of content and waiting for the engagement to happen on its own, you can make the first move and show you care.
Here are a couple of tips that'll get you there:
Always Respond to Comments
Monitor your comment section and join the conversation. Aside from using Instagram as a cool customer service tool, this way, you'll reap more amazing rewards as well.
By providing help or joining the witty banter in the comments, you will create relatability and trust. And we all know what this translates to – more sales.  
Or at least, try to.
When trying to figure out how to get Instagram followers, many businesses tend to overlook this important step. 
Don't make the same mistake! 
Show them you are there to solve every problem, no matter how small it may seem. This is how you create a sense of community and trust.
By being there for your followers, you create positive associations about your brand.
5. Run Instagram Giveaways & Contests
Now that you've got the hang of Instagram basics, it's time to get your game on another level.
Once our FlockSocial automation service gets you to a solid number of Instagram followers of about 5k, employ giveaways and contests to improve your reach and get a ton of new followers.
People love free stuff, and if you add an element of fun to it, even better.
You can create a cool piece of content and ask people to follow you, like your posts and leave an interesting comment.
You can also ask them to invite a friend to create even better results. Additionally, you can employ influencers to execute the giveaway and invite their audience to engage with your brand.
Make the prize worth their effort, and voila, you've got a new influx of Instagram followers and engagement.
For example, if you're a flower shop, you can ask your Instagram followers to share photos of their flower arrangements using a branded hashtag.
Set the time limit and award the follower whose photo has the most comments with a cool prize.
Pro tip Create a list of close friends. Add Instagram followers who most often engage with your content and share exclusive promotions, releases, coupon codes, or news to reward their loyalty. Add the invite a friend incentive, and you'll see your list of targeted followers doubling. 
6. Use The Power Of Influencer Marketing
To kickstart your influencer marketing journey, thorough research is crucial.
Identify influencers who align with your brand's values, industry, and your audience. Also, look for influencers who have a strong presence on Instagram and engage with their followers along with great content.
Consider factors such as follower count, engagement rates, and the quality of their content. Don't forget to keep track of important data like follower growth, engagement rates, website traffic, and conversions.
Also, track the performance of your campaigns using tools such as Instagram Insights and Google Analytics.
This data-driven strategy will assist you in fine-tuning your plans, identifying effective methods, and optimizing future cooperation.
By carefully selecting and nurturing relationships with relevant influencers, crafting compelling collaborations, and tracking the impact of your campaigns, you can unlock the true potential of influencer marketing and awesome Instagram growth.
7. Encourage User-Generated Content (UGC)
User-generated content turns your Instagram followers into your brand ambassadors. This way, they are doing all the advertising for you. Except that you don't even have to offer anything in return.
How is this possible, you may ask?
In order to achieve this, you'll have to come up with a killer campaign that would entice your audience to spread your message for free.
Dig deeper into the motivations, values, and behavior of your ideal buyer persona and offer them the bait they simply cannot ignore. Let's look at an example from the clothing company Aerie: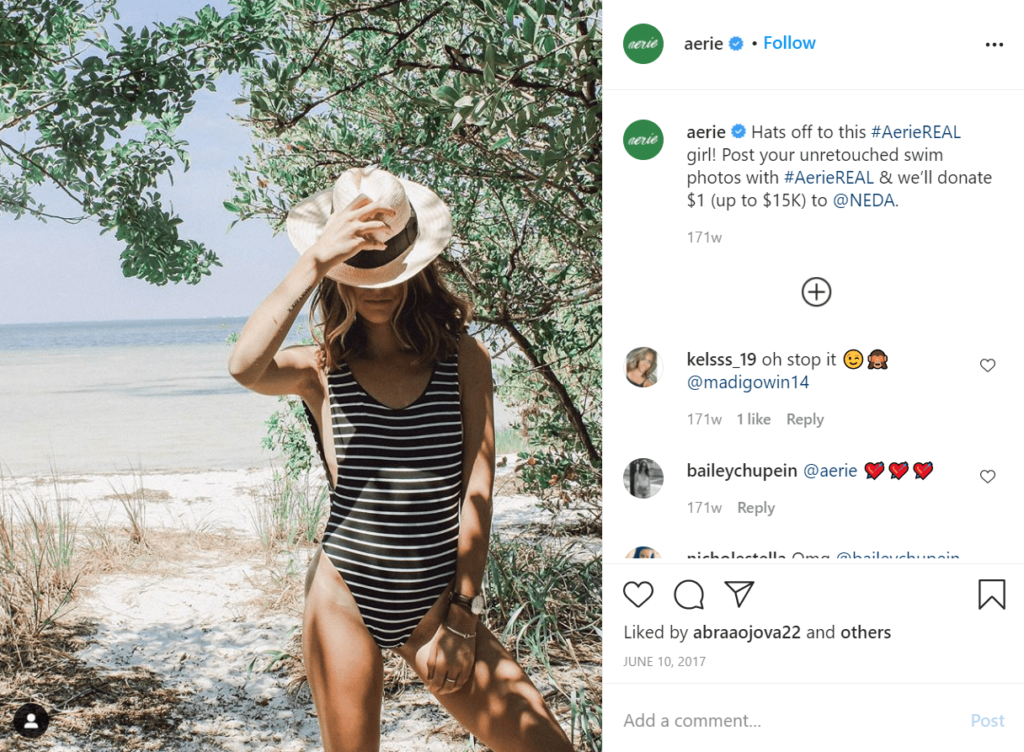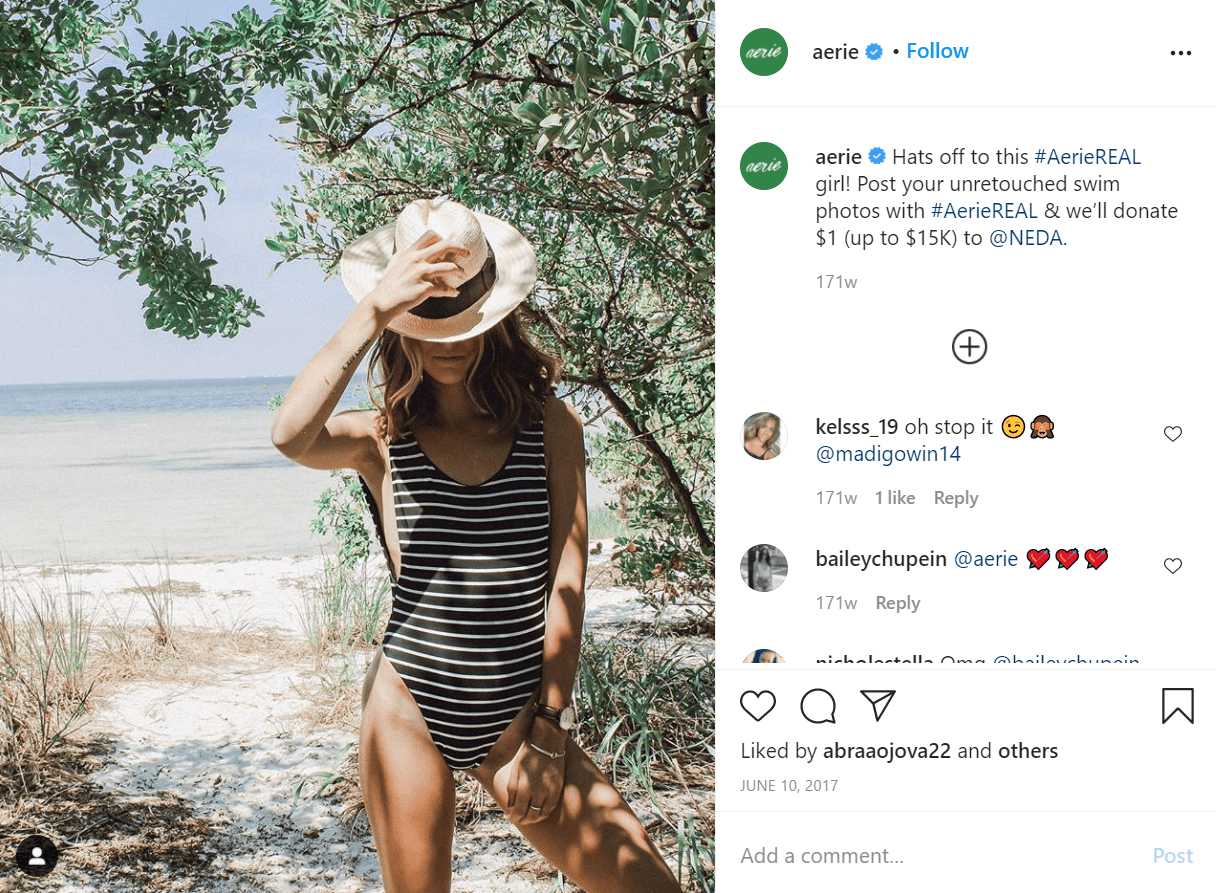 What they did here is user-generated content gold.
Their target audience – women.

The trending topic for women – body image issues.

Causes they're most likely to resonate with – eating disorder treatment and aid.
This campaign has it all and much more.
By combining their ideal buyer persona pain points, solutions, and inspiration with a thoughtful cause, they've turned something negative into a cool and positive movement.
The message inspired organic Instagram engagement and positioned its brand as a trustworthy and conscious resource on more than clothes. 
8. Go Beyond Instagram
Yup, you read that right!
As effective as it is, your Instagram account is only one of your customer acquisition channels.
To really make sure you're making the most of your Instagram marketing efforts, you'll have to tap into the potential of other channels as well.
Your website, other social media accounts, and Instagram should all be connected and cross-linked in order to get the best effect.
Let your website audience in on your Instagram account by adding appropriate widget links that direct your visitors to your Instagram profile. Or use your sidebars to promote your latest Instagram posts.
Fashion bloggers are letting their websites visitors shop their Instagram looks: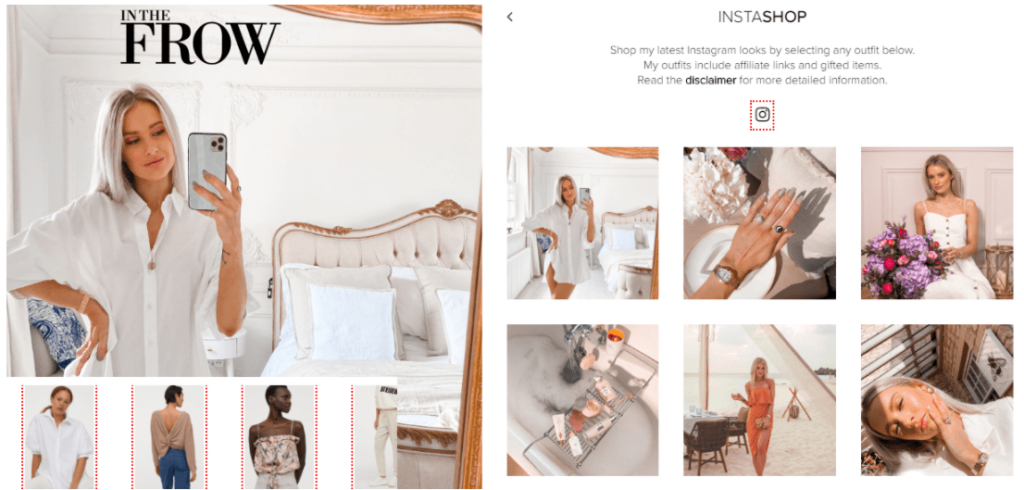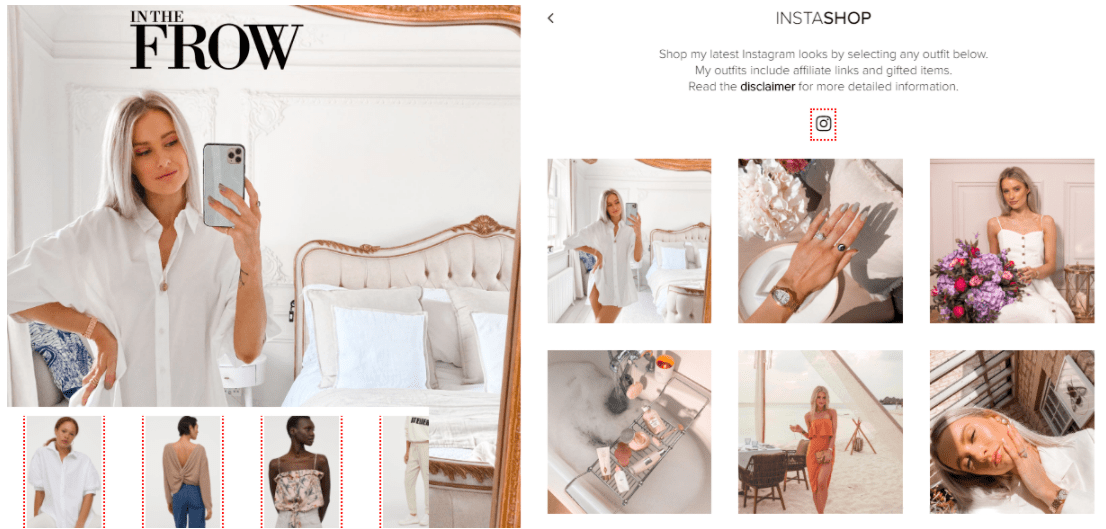 Facebook, Twitter, YouTube, LinkedIn, and other social media platforms are great ways to get free Instagram followers who already like your brand. Add a link to your Instagram account in your YouTube video description, and invite your Twitter and Facebook followers to check out your new post on Instagram.
Cross-referencing your Instagram and other channels generates an instant influx of organic Insta followers without as much as lifting a finger.
9. Analyze Your Competitors
No, we're not talking about any dirty or unethical business, just a tiny bit of healthy competition done in a classy way.
This is an amazing way to improve your follower base, as the people following your competitors are most likely to be interested in your brand as well. They might just haven't heard of you yet.

The plan of action starts with thorough research.
You can use tools like SEM Rush to create a list of your organic competitors. But make sure to top it off with a manual analysis to fine-tune your approach and only engage where you find the most appropriate fit.
After you've found the most relevant competitor list, it's time to show interest and appreciation.
Always keep in mind to play fair at all times!

4 Reasons NOT To Buy Fake Instagram Followers
Considering buying fake Instagram followers? Think twice!
From damaging your credibility to harming your engagement, understanding these pitfalls will help you make informed decisions to grow your Instagram presence authentically.
1. It's Against Instagram's Terms Of Service
First and foremost, buying fake Instagram followers directly violates the platform's terms of service. Instagram clearly prohibits using fake accounts or any form of artificial engagement, and in our opinion, they are totally right.
Engaging in such practices can lead to severe consequences, including account suspension or permanent banning – and that's the last thing you want.
Protecting the integrity of your account should be a priority, and adhering to Instagram's guidelines is essential, so don't try it – you can lose a number of followers and even your whole account.
2. Mismatched Engagement & Distorted Performance Metrics
Fake followers and likes do not contribute to genuine engagement; trust us.
While your follower count may appear impressive, these fake accounts will not interact with your content, purchase your products, or provide meaningful feedback. All in all – one big 0.
This only creates a mismatched engagement rate and distorts your performance metrics, making it difficult to accurately assess your true audience and measure the effectiveness of your Instagram strategy.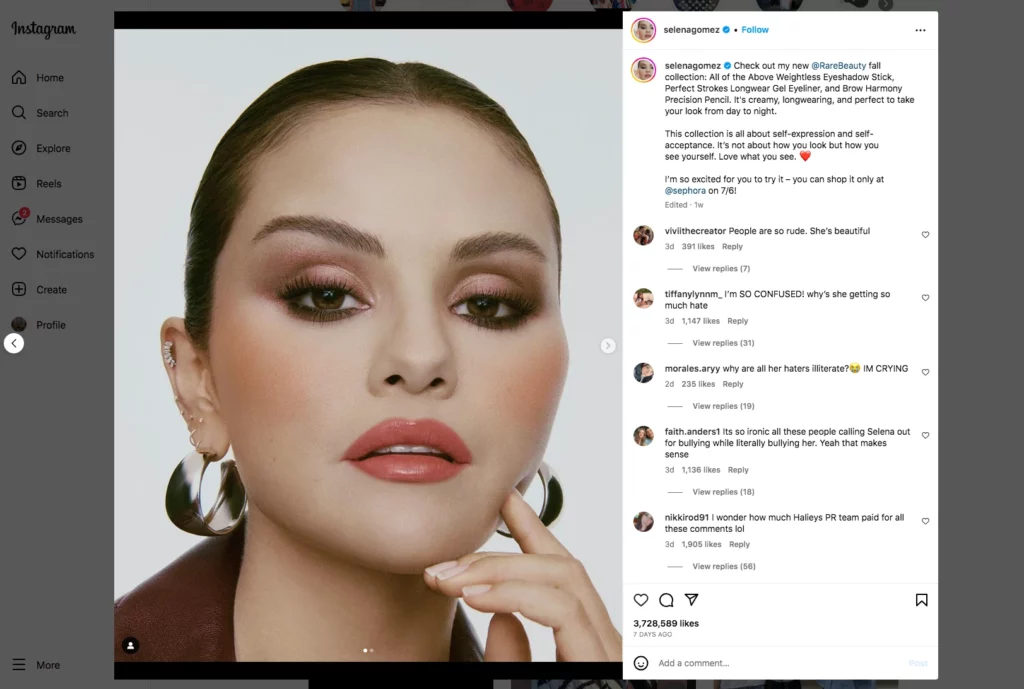 Purchasing fake followers opens the door to spam and inappropriate comments on your posts. These automated bots often leave generic or irrelevant comments that degrade the quality of your content and detract from genuine conversations.
These spammy interactions can damage your reputation and discourage real followers from engaging with your account, so try to avoid cheap Instagram followers, aka bot accounts, and fake ones.

4. It Hurts Your Reputation & Credibility
As mentioned, buying fake followers undermines your reputation and credibility. Savvy Instagram users can easily spot accounts with inflated follower counts and low engagement rates.
Authenticity and trust are vital on social media, and associating yourself with fake followers raises doubts about your credibility and the authenticity of your brand or personal image.
If you want to gain followers by buying them, just buy real Instagram followers that will give you organic growth and help you reach more real users. It can be expensive but totally worth it.
Final Thoughts
Instagram is still the top social network for user engagement, and user expectations are at an all-time high.
Learning how to grow Instagram followers as a complete Instagram beginner becomes more challenging by the minute. It takes dedication and nurturing. And a lot of serious work.
That's why we created this article called The Complete Beginner's Guide to Instagram Followers – to give you the full scoop on how to grow your Insta family the right way,
Once you've checked all the points we covered in this guide, you'll be able to make your mark in the Instagram scene in a flash. And things will only get better as you start to get a grip on things. Just keep up your work, and soon you'll be able to see the results taking a snowball effect. 
We have a verified way to help you grow your Instagram fan base. Sign up for Flock Social and kick off your organic follower growth now.