From a cool photo-sharing app to a giant social media platform with an immense 1 billion active user base, this is how Instagram transformed over the years. And so did its users and its purpose.
Here's where the myth – Instagram for photographers began taking root. 
The rapid growth got many brands to take notice and tap into Instagram's immense marketing potential. This is especially seen in the visual fashion, food, and lifestyle brands. Their eye-catching photos took the Instagram world by storm. This comes as no surprise, given that the vast majority of Instagram users are young adults, to whom most businesses are trying to sell. According to Statista's reports from 2019, "71% of the billion monthly active users on the Instagram app are under the age of 35".
As all two-sides-of-a-same-coin stories, this aesthetic worshipping element of Instagram has made many shy away from it. Non-visual brands and Plain Janes weren't feeling cool or eye-catching enough. Or they didn't dare to compete with the ever-popular Instagram photographers.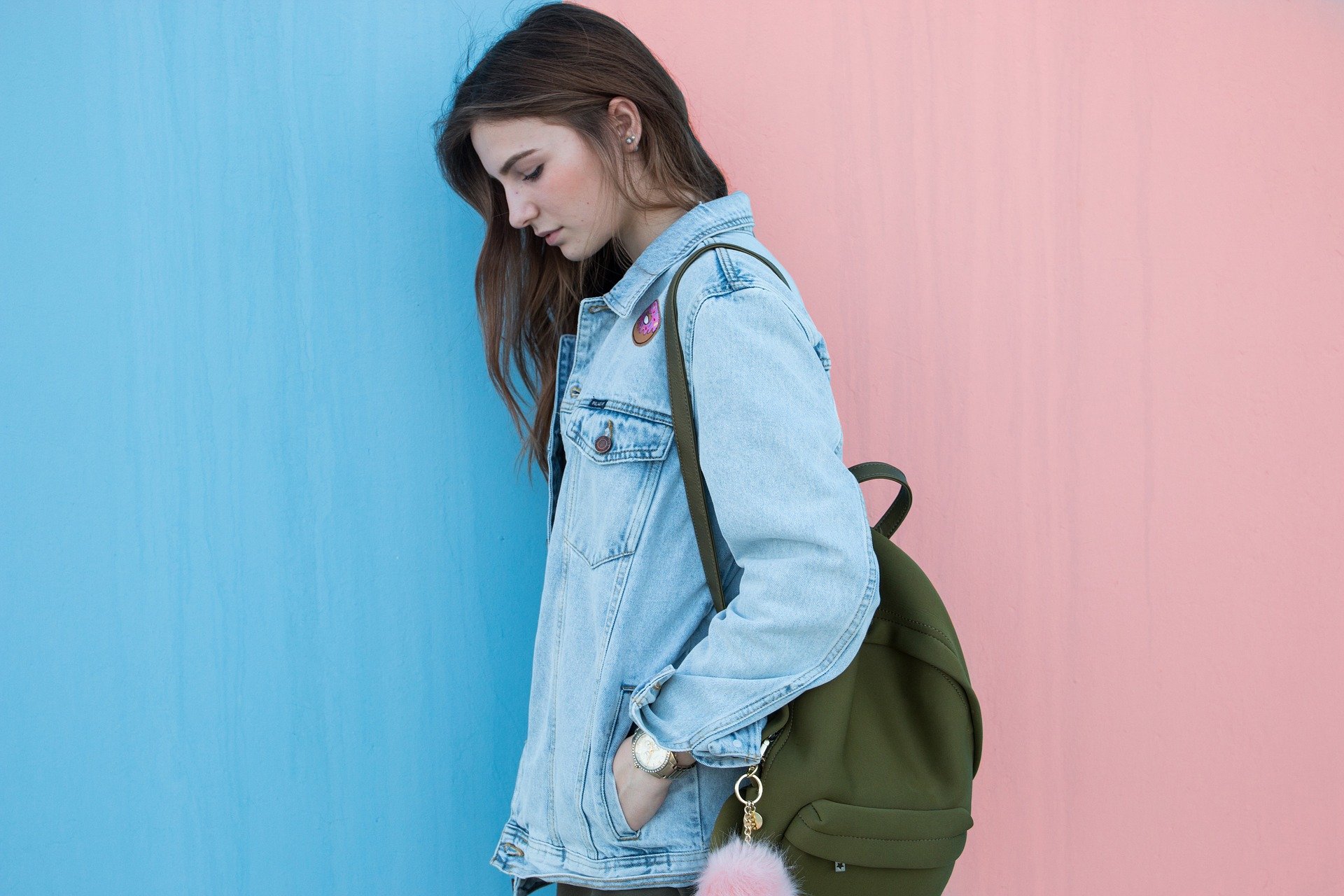 If you feel like you or your small business don't have what it takes to run with the giants, we are here to help you make the leap and succeed in the process too. We get it; you just can't seem to figure out how your small unsexy business can compete with the visual gods like Dior or Tati Westbrook. Or, how your basic looks or personality can shine next to supermodels and funny comedians, for example. 
Or, if you're an aspiring Instagram influencer trying to figure out how to collaborate with brands and set your career off on a good start, we've got you covered.
Looking for more Followers?
Don't get us wrong; Instagram is still a pretty visually oriented platform. However, this doesn't mean you can't have your cake and eat it too, even if you or your business don't seem to cut it at  first glance.
Many regular people and fantastic brands can send their message across Instagram without getting over the top with their visual content. And that's the beauty of Instagram and social media in general. This idea that as long as you are genuine, authentic, and smart enough, you can get your name and your brand out there in no time.
We'll show you how you can achieve this, and you'll be able to see why Instagram for photographers narrative is, well, outdated, to say the least. 
Let's begin.
The power is in the message
Sure, the picture is worth a thousand words, yet, a powerful message conveyed in words can make more impact. Not convinced? Think of fantasting poetry accounts that get a ton of engagement, not by stunning visuals. Take a look at the Instagram profile of Rupi Kaur and see how the magical power of words inspires her massive community. 
Motivational speakers are another example of accounts getting clout by relying on the power of their message. Inspirational quotes (not the cliché ones, of course) are a super powerful way to speak to a growing community of entrepreneurs, creatives, or just regular woke people.
Our favorite example, in this case, has to be the inspiring Humans of NY Instagram account. The original and authentic recollections of real-life people living in NY captured the hearts of millions. Brandon Stanton, although one of the popular Instagram photographers,  lets the captions take over the narrative. While the photos serve more as a real representation of people, not their edited versions. This way, he showcases the real journeys, cultures, and stories that make up the city. And not the photos of architecture in cool filters.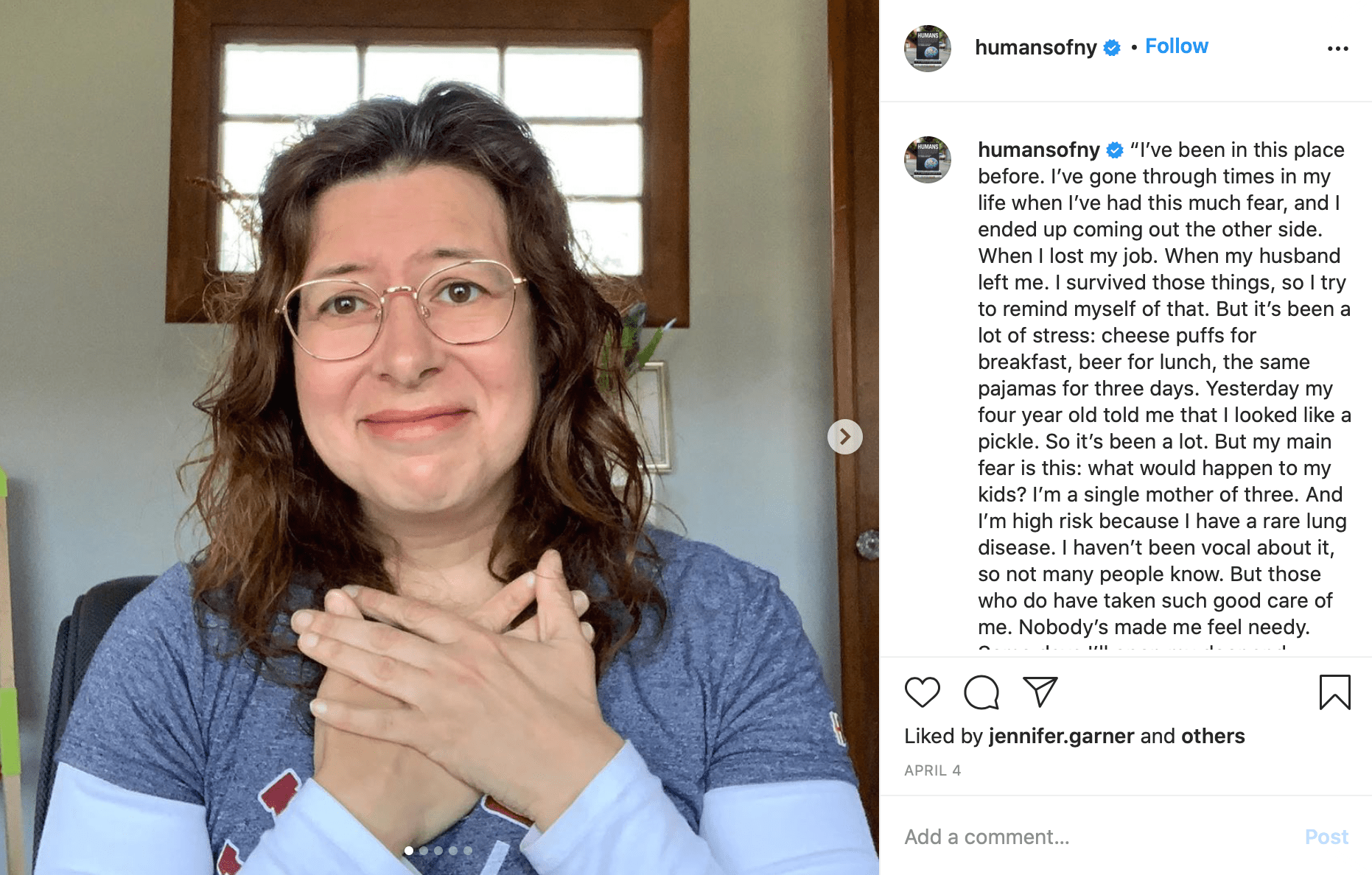 Ask yourself, what are you or your brand all about. What are your core values and beliefs? Instagram is an amazing place where you can build a community with like-minded people and organizations. Make sure your values are seen at first glance.
Your values make up your personality. Even if you're an influencer, you want to stand apart from the crowd. By being unique and authentic, you're letting people know who you are and relate to your message. 
People love a good work in progress narrative
Just ask any influencer. Sure their photo and video content transform together with their careers and tech. However, most of them actually started out small. As they were trying to figure out how to become an influencer, they had their parents or siblings take their first photos, usually with basic or no equipment. What got them a dedicated follower base and awesome brand deals had little to do with their photography skills. 
Tons of recollections of famous fashion bloggers, including one of our favorite fashion sweethearts, Tamara Kalinic, speak of humble beginnings and explain what sets them apart from the crowd. In an interview for Vuelio, Tamara breaks down the success formula that got her on the industry map. Hard work, genuine desire to provide value, and no compromise on authenticity is what got her on the radar. This approach helped her grow a massive amount of dedicated following and secured a ton of awesome brand deals and partnerships.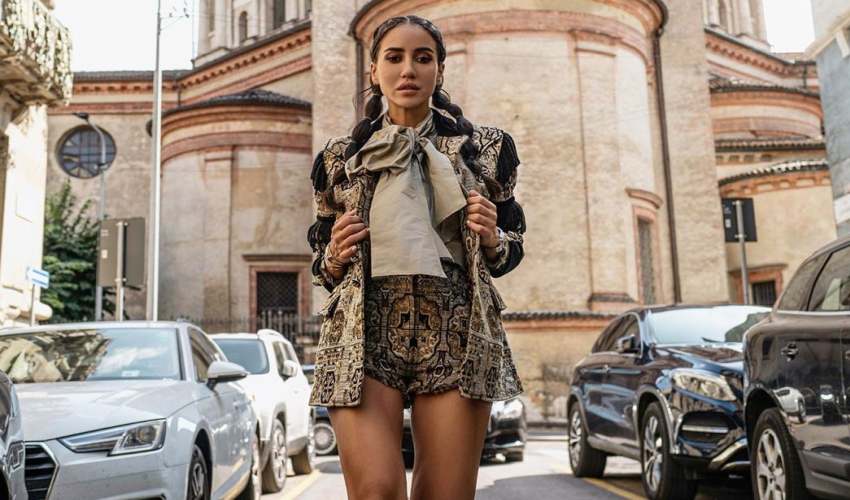 It's as simple as getting started, no matter how humble or small your visual skills may seem. Remember that there's plenty enough of perfect visual content out there, and people much more prefer a good story in the making. Speak of drive, perseverance, and provide genuine value.
Useful tech
Sure, any amount of great tech can't make you a great visual artist if you simply don't have an eye for it. You know what the great thing is – you don't have to be. Even though we won't, and shouldn't become amazing Instagram photographers, we can still brush up our visual identity and take our Instagram game up a notch.
With a little bit of time, we can all become pretty decent at creating visual content. You wanna hear the best part –  you don't need a ton of expensive, over the top equipment to do so. You can take beautiful photos using your phone only. Remember, it's about your aesthetic and take on things, and it's not a competition about who has the most skill. Take your time. Try other angles, lighting, settings, and find what works best. Try a bunch of different effects, test different options in some cool editing apps, and you'll get to develop your personal photography style.
Aspirational and authentic accounts are on fire
As Instagram became one of the go-to platforms for brands to market on, the how-to manuals, hacks, and strategies started being generated. As people took notice of the "hacks" and tricks of the popular photographers on Instagram, we began to notice the pattern. 
Perfectly curated content, brand message and visuals following the same pattern overpopulated the platform, and users soon had enough of them. Once again proving the premise that to get through the clutter, you must show relatability and authenticity. 
People love relatable stories, real insights, and actual struggles. Of course, the funny or quirky twist won't hurt! No matter how serious your business or life story is, you can still show its realness. Use irony, sarcasm, and funny background to spice things up.
Anna Macko shows how you can put the human back in entrepreneurship and loosen the serious lingo up.  Her hilarious posts, killer captions, and real-life stories help her get through to her audience – the stressed-out hustlers that need a comedic break. Her 244K follower count shows that wit and honesty speak volumes even without any curated aesthetic.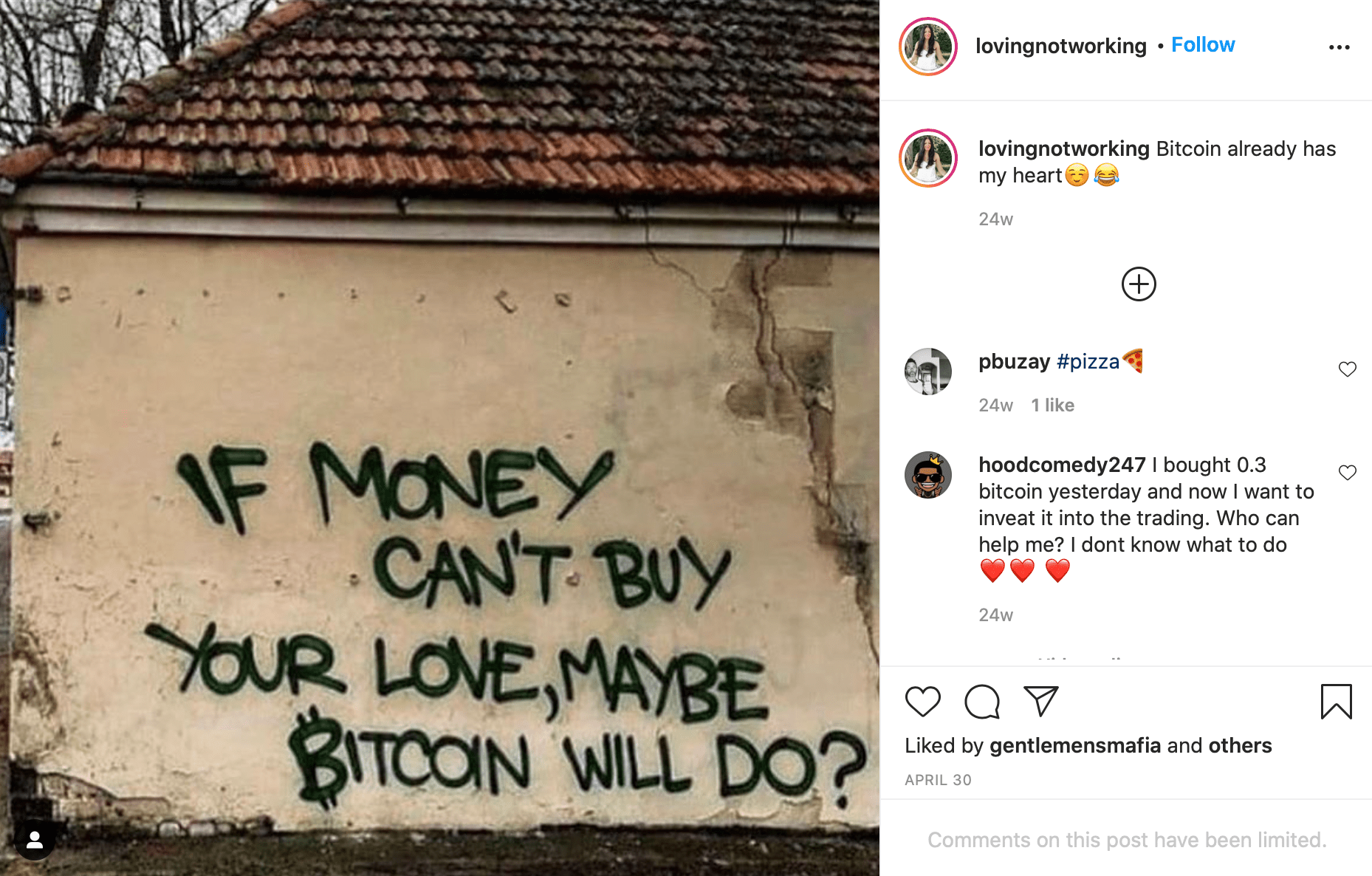 Non-visual brands killing it on Instagram
We understand that not everyone is comfortable using the funny, sometimes controversial angle to capture an audience on Instagram.
And that's perfectly fine.
You can still keep your serious appeal and capture your audience's attention, even if you're not at all visually-oriented, nor do you have a team of professional photographers at your disposal. How? Let's look into a playbook of the masters who did it.
Hootsuite – champions in company culture on Instagram regularly show the people behind the company, values, and causes they support. Using the hashtag #hootsuitelife, they provide insight into what it means to be a part of the fantastic Hootsuite team both on and off work!
Another way you can take your Instagram presence up a notch without the help of beautiful visuals is to encourage users to do this for you. Brands have been using this fun strategy to improve their reach for years. This can be anything from creating great competitions and giveaways. 
Or simply ask your users to share photos or videos of themselves using your product or service, with a fun twist. Create a cool hashtag to go along these, and you've got yourself free ambassadors, excellent reviews, and increased reach.
The #BufferCommunity hashtag is one of the coolest examples to inspire community building and sharing, without being too focused on the brand. This way, users are feeling included and appreciated, while the brand gets the buzz. Brilliant, isn't it?
No posing, adjusting light, or background. Just a simple snapshot of a real-life meeting, work session, or product making moment at your office, and you've created a behind the scenes post. Your Instagram audience will get to see your team's dedication, team spirit, and the process of making a product or a service. These candid recollections create a more meaningful connection with your brand and tell your audience what you're all about.
Purposeful Engagement
Accounts that thoroughly organize their entire strategy around meaningful engagement don't just rely on beautiful photos to do the trick. It's all about setting the right intention and acting accordingly.
First things first, don't be all about the numbers. Yes, it's essential to build a community, but the more, the merrier isn't always the best option. Carefully create your ideal buyer persona, and create a follow plan around those parameters. 
Let's say you're a catering business located in California; you won't get any business results from engaging with the audience in Massachusetts.  You get the point, right? Instead, focus your efforts towards the audience located in your area, who have used the services you provide.
Remember to stay real. It's a no brainer, yet we're all constantly bombarded with automated comments that show no relevance or real intention whatsoever. To avoid being put in the spammy crowd, take your time to offer meaningful insights in the comments, and create authentic communication.
And vice versa. Nurture your community by replying to comments on time and show that you care.
And finally, inspire the conversation. Post content that provokes, inspires imagination, asks important questions, or offers unique angles and/or funny takes on a subject. Want to increase your Instagram engagement – give your audience something they can't resist being engaged in.
Seems overwhelming? Don't worry. We've got you covered. Our carefully designed Instagram growth solution takes care of all the behind the scenes work so you don't have to. FlockSocial will fine comb the hashtags, location tags, user profiles, engagement, and much more to get you in front of the super-specific target audience you can offer your services to.   
Looking for more Followers?
Capitalize on emotions
And last but not least, let's not underestimate the captivating power of emotions – especially the positive ones.
Usually, these result from real-life situations captured in a photo or a video that can rarely be recreated in a perfect setting. Think of the hilarious FashionDads account that keeps us cracking every time. Why? It's relatable, funny, and real. Zero editing, no professional photographers taking the perfect shots. Just your regular dad going about his day, unbothered if his outfit breaks all the fashion or sometimes even common-sense rules.
Use every opportunity to evoke these positive emotions in your Instagram followers. Show them how grateful you are for their support and how they motivate you to keep on going. Celebrate important milestones with them, offer them exclusive content or gifts to show your appreciation.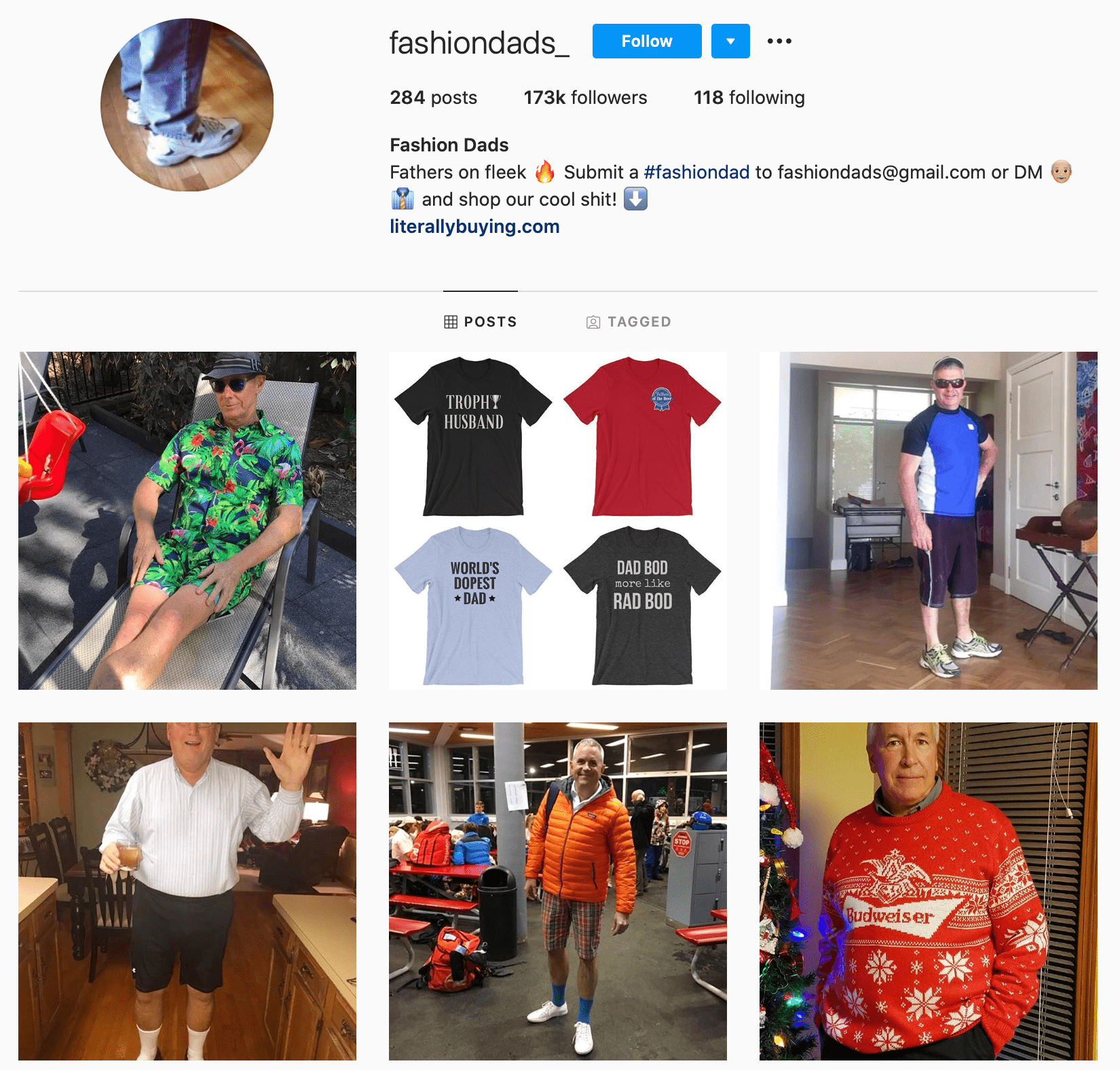 Conclusion
Finally, our verdict is clear – the Instagram for photographers premise is a false one, and it's been around for too long. It has caused many aspiring Instagrammers and brands to miss out on some cool opportunities for fear of not being as good as Instagram photographers.
There are many ways you can shine on Instagram even if you're not one of the famous photographers on Instagram. Each of the examples we mentioned above shows how you can hone in on your best assets and create a unique value that will get you the results you're after.
Use these examples to craft a plan that works for you and boost your business or personal Instagram profile.
Looking for a job? Search and apply for the latest social media jobs by Jooble.