The one sure way to get the most out of your Instagram efforts (aside from the stellar content, of course) is by using hashtags.
The numbers are clear – posts containing hashtags are getting 12.6% more engagement than the posts without any of them.
Ever since the beginning of Instagram, hashtags have been a constant, sure way of getting discovered by new audiences. Along with being a powerful solution for a substantial influx of new followers and an excellent community-building opportunity.
With the massive growth of Instagram in the last couple of years, it has become challenging to navigate the competitive environment and cut through the noise of oversaturated content on hashtags.
If you, too, are feeling overwhelmed by the struggle to find the most appropriate hashtag strategy, look no more. We've compiled the ultimate, super-digestible guide to IG hashtags that could take your Insta game from ok to pro in the blink of an eye.
Read on to find out everything you need to know about hashtags on Instagram.
Looking for more Followers?
Why Are IG Hashtags Important
From the get-go, hashtags on Instagram have been one of the most effective free marketing tools.
They have stayed around through all of the iterations and many new features because they are pretty powerful when it comes to getting noticed by audiences and bringing in more engagement on Instagram. Also, they are ultimately helping brands, influencers, and aspiring Instagrammers build a strong community around their name.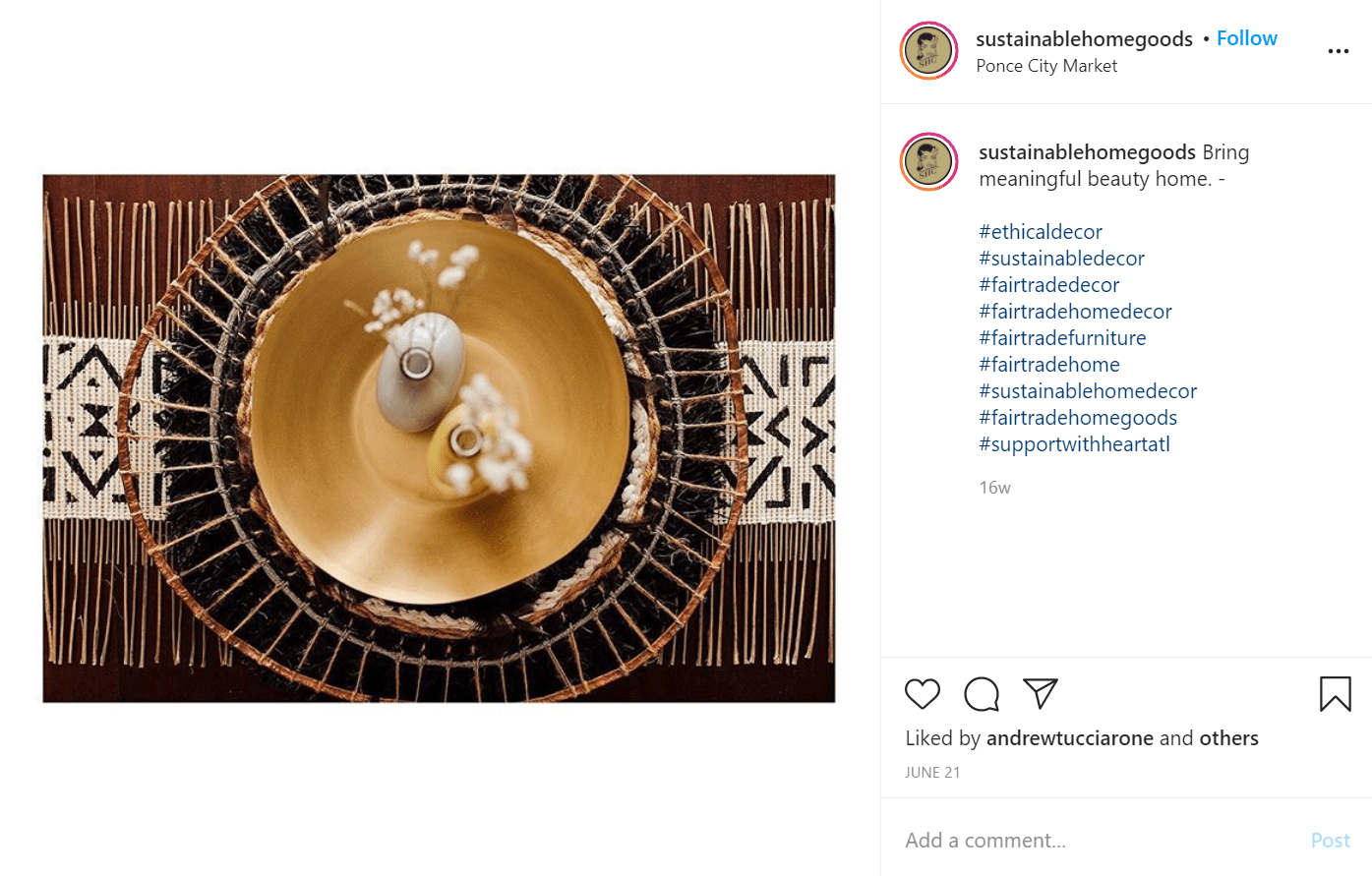 Simply put, hashtags are a tool for organizing your content on Insta. Much like the keywords for search engines, they tell Instagram about our post intent and our content's nature. More importantly, hashtags work the other way around, too, as they are a sort of a map to your content, providing a chance for you to get discovered by people who have never connected with you before. That's the power of hashtags, in a nutshell.
For example, if you run a gift shop, top Instagram hashtags like #decorgoals and #decorinspo will get you on the community map.
Types of Instagram Hashtags and their Functionality
In a broader sense, IG hashtags can be divided into three categories:
General – from the most popular hashtags on Instagram – #love, #instagood, #photooftheday, #fashion, #gym, #happiness, #motivation, #food
More specific – #lovenyc, #instagoodshot, #photooftheday, #fashionnyc, #gymaddicts
Branded – #hausurbanfreebies, #harriettsbookshop, #cushniebridal, #harlemhops, #blackgirlsrun
Of course, there are more sub-categories in the mix, if we're talking more specifically.
For example, branded hashtags can be super-specific and last only a season. In this case, we are talking about campaign hashtags. Remember the brilliant #OptOutside campaign by REI returning each year, making more people abandon Black Friday shopping for a day in nature? That's the perfect example of a branded campaign-specific hashtag that created a ton of buzz and continues to do so each season, making more brands and regular folks join the community.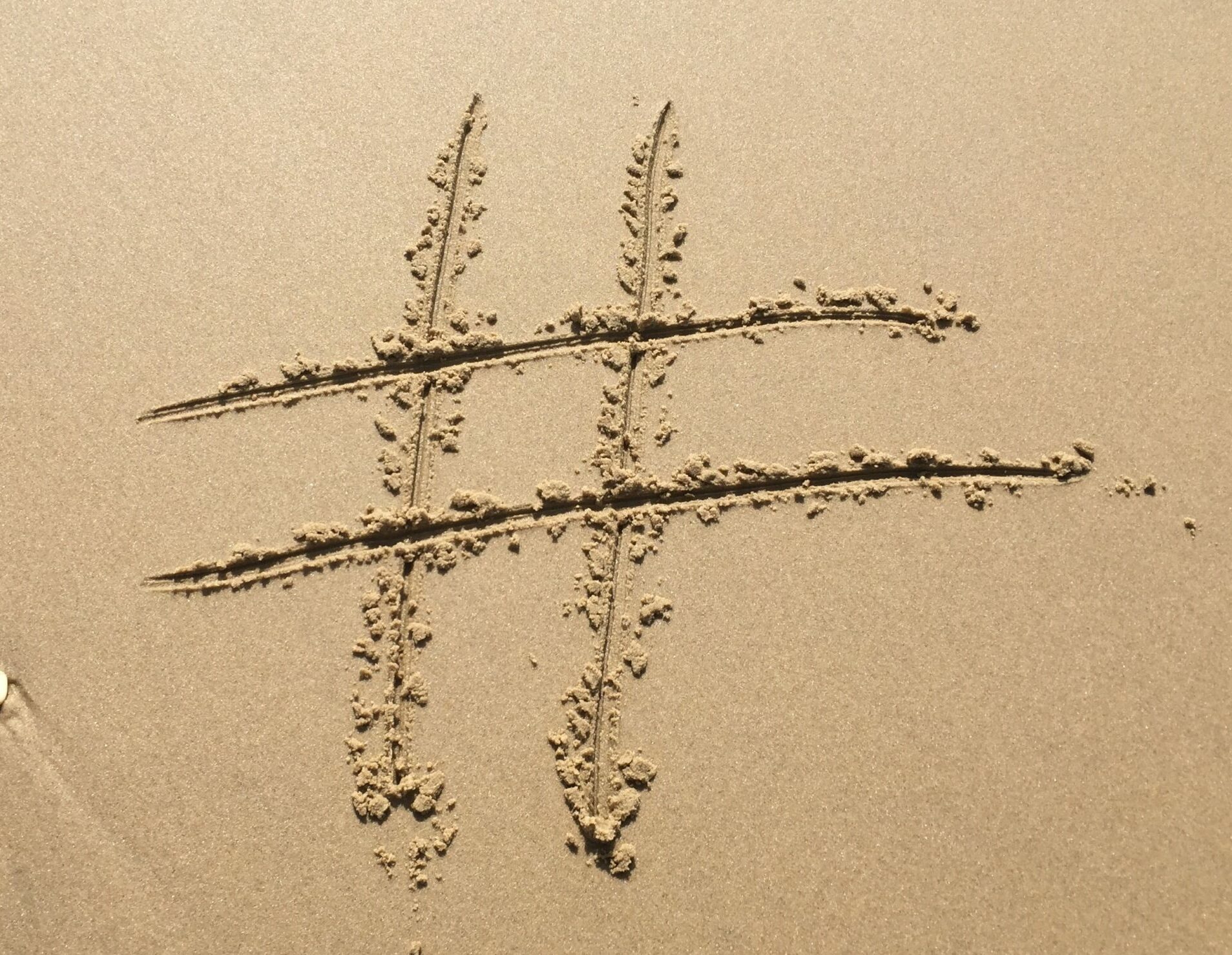 Another powerful sub-category that combines general and specific hashtags are community hashtags. Commonly used by businesses to get discovered by their targeted audiences, the community hashtags work because they are gathering people around their interests.
These can be then broken down into a couple of categories such as special events and holidays, daily hashtags, emojis, niche, industries hashtags, etc. Here are some examples: #coffeaddicts, #wellnesswednesday, #worldbookday, #DestinationWeddingPhotographers.
Finding the right hashtags for your business
Now that we've learned the basics of hashtags and their major categories, let's learn how to put them to use and skyrocket your Instagram engagement.
Let's start with how to figure out the right hashtags to use for your posts and Instagram bios.
The Google keyword analogy works best here. If you go too general, you risk never getting to the top results page – explore page on IG. The reason – there's simply too much content to compete with. Let's say you are running a food business. Hashtags like #foodiesofinstagram that count over 6 million posts won't get you anywhere.
The logical step would be to go specific and look for hashtags that are super niche as there's little to no competition, right? Well, that's the tricky part, as you can risk getting poor results. For example, if you go super-specific and choose the #foodiesofinstagramrealsimple hashtag (2 posts), you're avoiding the big competition, but you're also avoiding getting discovered by your ideal audience.
The solution – Find the sweet spot. Use a couple of popular hashtags, but not too many. The majority of your hashtags should be average popular ones. And add some super specific, rare, or branded ones.
Pro tip – Don't forget to switch your profile to public, so that the hashtags you're using are working. You won't get discovered if your profile is private.
Research competitors
As in any business endeavor, a good strategy is to look at what your closest competitors are doing, replicate some of it, and go the extra mile. They have your ideal audience, so most of what they are doing is working fine. Yet, if you really want to be better, you simply must do better. In this case, what it means is if your competitors have used all the right hashtags and placed them in the captions, you go the extra mile and add a neat, eye-pleasing transition between the caption and the hashtags to make it look more polished and sophisticated. Or, simply put them in the comments, to get a more organized look, like Beneath Your Mask are doing: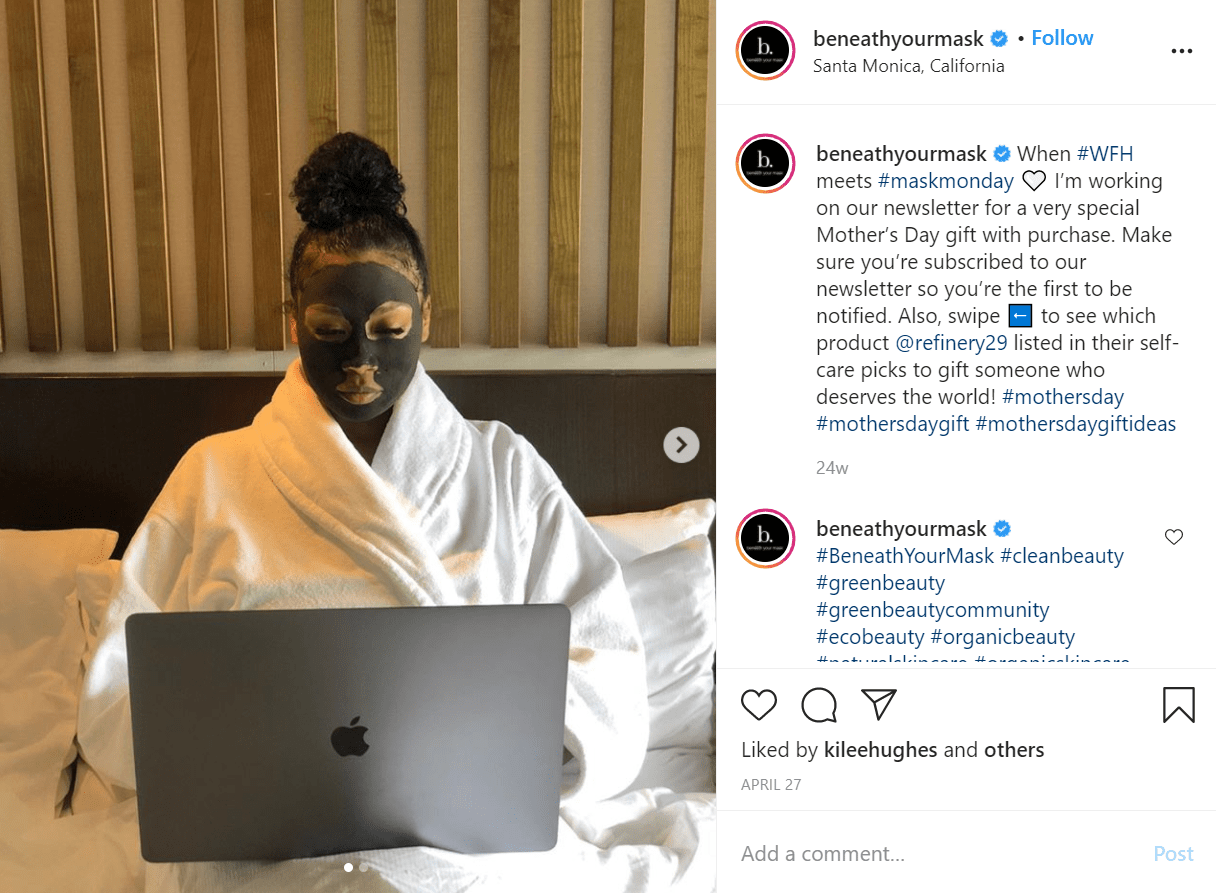 Research your Audience
Find out what they are posting, so you'll get a better picture of what your audience and potential clients are into. Use that information and center your content and hashtag strategy around their preferences.
Let's say you are producing healthy, vegan, gluten-free snacks. Your ideal customers are probably conscious younger-ish people, vegans, who might be into wellness and alternative medicine, yoga, and an overall more sustainable lifestyle. Monitor their content, posts that they are sharing, reposting, and accounts they are following. Pay special attention to the hashtags they use, and mirror that to get discovered by a similar audience. This will also help you connect to your existing one in a more meaningful way.
How Many Hashtags Should You Use on Instagram?
Let's not forget one of the longest-lasting debates surrounding Instagram. How many hashtags on Instagram is the right amount?
The answer, as always, isn't that simple.
We all know the general limits. You can use up to 30 hashtags for regulars posts, while 10 hashtags are the limit when it comes to Stories.
So, should you use all 30? Of course, you could, but there's not a realistic scenario in which you would need all of them.
The only fact you can know for sure is that each business and each Instagram post require a different number of both popular Instagram hashtags and the general ones.
In general, you start with around 10 hashtags and see how they perform. You'll notice that a high number of Instagram posts have less than 5.
You would have to start with some best practice examples and see how it works in most cases. Test everything out and come up with your ideal number of top hashtags on Instagram.
How to Hide Hashtags on Instagram?
Aside from understanding how to find the best hashtags and how many hashtags on Instagram you should use, it's also crucial to learn how to hide them.
Yep, you heard it right. You might be thinking, Why would I want to hide them in the first place?
Well, long story short – they don't look right. Especially if you decide to go all hashtags in a post.
Contrary to popular belief, it doesn't have to be a question of hiding Instagram hashtags in comments or caption posting.
You could hide them anywhere. Read on to find out how.
How to hide IG hashtags in comments
Write your caption without any hashtags
Publish your post
Tap the comment bubble under your post
Enter your hashtags and tap Post
How to hide IG hashtags in captions
You could play a little visual trick and hide your hashtags in captions.
Click Return or Enter at the end of your caption (click 123 if it isn't showing)
Enter a period, a bullet or a dash, then tap Return again
 Repeat the process 3 times minimum 
This way, you're letting Instagram hide your hashtags in captions as they appear after three lines.
How to hide hashtags on IG Stories
Here comes the cool part.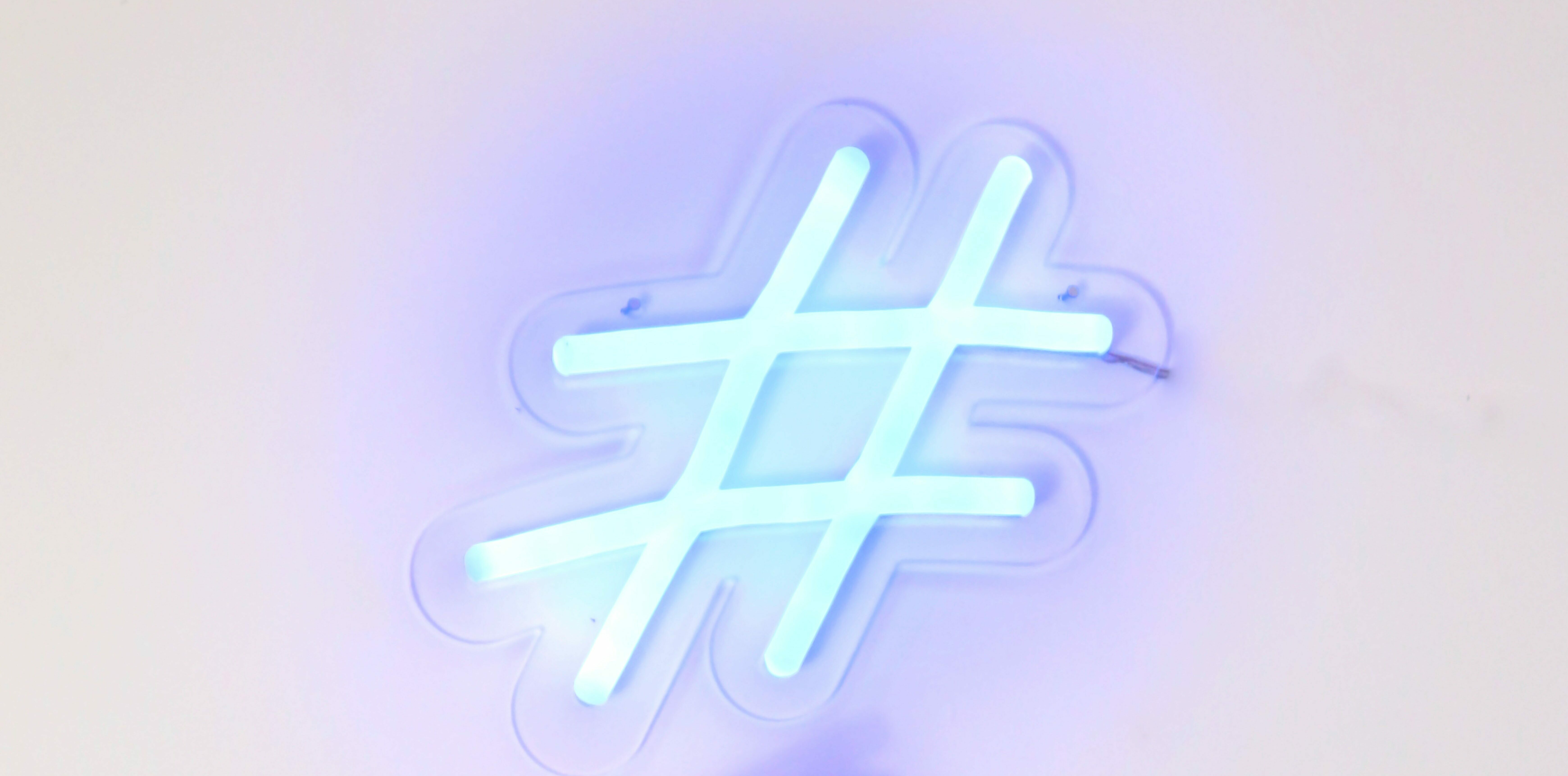 Bet you didn't know you could hide even your IG Stories hashtags?
You can, actually, and it's super easy too.
One way you could do this is to make them look super small. You could reduce their size to make them almost invisible.
Another cool camouflage technique involves changing the hashtag sticker background to transparent, thus making it less visible.
For a complete disguise, you can completely cover up your hashtags on IG Stories. Simply place a sticker, an emoji, or GIF over it, and no one will be able to see your hashtags.
How to Make the Most Out of Your IG Hashtags
Once you've understood the basic rules of hashtagging on Insta, it's time to do some additional work to be sure you've doubled down on your efforts.
Keep a record
Make sure to create a list of your best-performing and most popular Instagram hashtags. Of course, this doesn't necessarily mean copying and pasting the entire list onto each post. What this list will do is help you keep a record out of which you can draw conclusions, optimize, and create even better results in the future.
Analyze
Use Instagram analytics to track how your best Instagram hashtags are performing. This is another free tool to help you make more informed data-driven decisions when it comes to optimizing your IG posts.
IG's Insights help you track the number of people that discovered your profile based on the hashtags you used, which is precisely why you used the hashtags in the first place. Monitor the results, and optimize accordingly.
Looking for more Followers?
Create Smart Campaigns
When it comes to branded hashtags and creating a buzz for your brand, creating fantastic content and super-smart wordplay on hashtags is one thing, but getting it to build momentum is an entirely different story.
The key here is promotion. We can't expect to have a fresh collection of posts and get a ton of new followers and engagement immediately. It's just not how it happens, unfortunately, due to a ridiculous amount of content popping up on IG by the second.
Create smart promotion campaigns that drive engagement. Some of the best practices include working with famous influencers and promoting branded hashtags through giveaways, takeovers, and different campaigns driving UGC's creation.
Let's see how it works.
Giveaways – The most common brand-influencer deal. Influencers invite their followers to like, comment, ask a friend, and/or create a UGC using the specific branded hashtag. In return, they are getting a cool free product or service subscription.
Takeovers – Another super-powerful way of directing influencers' audience towards the brand account. The branded hashtags can be a part of the pre-promotion – influencer uses the branded hashtags to create a buzz; in the form of a contest, during the event, where followers can post questions and comments using the hashtag; and after the event where influencers post takeaways using the branded hashtag.
UGC – Campaigns enticing people to generate UGC can range from giveaways and contests to significant causes, explicitly targeting the ideal customers. Along with producing a ton of content and a new following for the brand, the UGC campaigns also create so much engagement through branded hashtags.
Conclusion
The bottom line is – you have to put yourself out there to be noticed by your audience. And, if you're serious about it, you'll have to put in the work and make the hashtags work for you. Carefully plan your hashtag strategy using our guide and tools, and you'll be able to make smart moves and get your following, engagement, and community numbers up real quick.
Also, to stay up to date on everything IG, make sure to follow our blog section.