So you've reached a solid IG following and think you're ready to add some brand collaborations to your Influencer resume?

Kudos for making the first, and most difficult milestone.
It should all be a walk in the park from here on. Right?
Well…Not exactly. But let's be proactive about it and take you to your next step – your first brand collab.
Before we dive into it, let's bust some most common myths first. Cause we're like that. We love to give you the no-BS facts only 
Looking for more Followers?
What's an Influencer?
We're sure you've done your research on how to become an influencer by now. But let's get back to basics before we get to the nitty-gritty of how to collaborate with brands on Instagram. Just to make sure we're on the right track. 
Although there are enormous amounts of self-proclaimed influencers out there, the ones that are actually getting a ton of deals, are the ones that do influence people. This isn't necessarily reflected in the number of followers you have, but in their actual relevance, and the engagement they bring in. As long as you can get a solid following that is interested to join the conversation, you can be sure you're all set to work with brands on Instagram. 
How Large Should you be Before Working with Brands?
This is one of the most common BS facts regarding influencer work. You have to have 10K+ followers to even be considered semi-serious. Sure, having 10,000 followers would put you "on the map", yet you still stand a chance with less.
Why? Most brands looking for influencers don't value the number of followers as much as they do the quality of engagement.
So, instead of doing something irrational and out of line, think quality and long term. Take your time to really get to know your followers, and create meaningful engagement off of your shared values. This is how each and every one of the big influencers started. And look where they are now.
Nurturing genuine community amongst your followers pays off – big time!
How do you Approach a Brand on Instagram?
But you're probably wondering how do you actually get brand sponsors on Instagram, right? 
The short answer- by reaching out to brands as an influencer. Yes, you don't have to sit and wait for brands looking for influencers to find you. Show up on their radar, and get some easy proactivity points right off the bat. 
Of course, it wouldn't hurt if the first brands you're reaching out to as an aspiring influencer are super dear to your heart. The brands whose products you actually like and use daily.
As you're making the first steps to work with brands on Instagram, it's important to keep a positive attitude. No need to panic if nothing comes out of it at first shot. As long as they have your contact on file, you never know what opportunities may open in the future. 
Is Your IG your only concern
Think again.
When it comes to brands looking for influencers, the majority of them would like to do a blog post, plus an IG post for a collaboration.
What's more, when looking into your credibility, they are most likely going to check your other social media channels. Make sure your entire digital presence is consistent, with a clear niche and design. Reaching out to brands as an influencer with a complete set of social media and marketing resources would double your chances of success. 
Now that you've got all the facts ready, it's time to pitch your first brand. Or a couple of them.
So to answer your question – How do you actually get brand sponsors on Instagram? 
Keep reading our detailed list of all the steps to take.
Do your research
If you're in it for the long game, you want your reputation to be built on genuine collaborations that speak clearly of your niche and values.
For example, if you're a vegan foodie, you don't want your first (or any other) collab to be with a meat-oriented fast food business, right?

In order to determine if you would be the right fit for brands on Instagram, you want to pitch, look through their IG feed to get a clear picture of what type of influencers they've been working with.
Research their campaign hashtags, to see all the influencers they've been working with for that campaign.
Check the influencers' number of followers, their engagement rate, and their overall aesthetic to see how you stack up.
For example, if the brand has only worked with influencers that have 20+K followers, you shouldn't waste your time, but wait until you grow (link to our blog post on beginner's guide) to pitch a collab.
And vice versa. To find the right brand looking for influencers to work with, research influencers that are similar to you, and find their collaborations to see if there's a fit for you.
Fishing for contacts
Once you've found the perfect fit, it's time to get the ball rolling and do your first pitch.
Keep on reading to find out how do you actually approach brands as an influencer. 
First things first, let's get you to the right person to contact. 
When on a brand's website, it can be overwhelming to decide which person to contact from the email list. If you're using a cool tool like Hunter, even the free option can provide a lot of resources. The cool thing is it will list all the emails in the categories according to the departments. So, you'll be reaching out to press, media, marketing, or communications people.
Your last resort should be info@ or contact@ since those accounts get a ton of questions on a daily basis, and you risk your email getting unnoticed or buried in the stack.
In case there's no visible contact info, you can do an advanced search on the website:
Go to the company website

Type "site:domain name + contact" in the search bar

Select the contact page from the results 
Or you can use social media to find contacts. Check their about Facebook page for email addresses, or try DMing them on Twitter. Or Instagram for that matter. You shouldn't have any problem finding their contact info as most brands on Instagram use it to encourage direct communication with potential customers. 
Get your act together
As you have probably understood so far working as an influencer, this is no place to be shy.
The same goes with reaching out to brands as an influencer. 
If you're thinking a short email with your name, your proposition, and a closing message would cut it, think again.

Understand that brands on IG, big and small get hundreds of emails from brands and influencers asking for collaboration, so you'll have to really step up your game to even get noticed.
Introduce yourself properly
When creating the first pitch most influencers looking to collaborate with brands on Instagram would want to make the best first impression. And most often, the wrong pitch lowers their chances of getting brand-sponsored deals. 
Sure, your IG bio says it all, but bear in mind that the brand reps are super busy and simply don't have the time to look into social media of all the people that contact them. So make sure to get them hooked with your awesome introduction.   
Make sure to write a couple of sentences describing yourself in the best light. No bragging. Just a cute, fact-stating in a cool and creative way. Look at how Jen @hellorigby sums up her mission on the about page on her blog. Think of doing something similar to draw the brand's attention.
Introduce your audience
Tell them what they want to know – who your audience is. This way, you're showing the brand you're looking to work with on Instagram that you nurture your audience and engage with them. And, more importantly, you're telling them how this translates to their brand and what they can get from this collab. 
Most of the brands looking for influencers to maximize their IG game want clear insight into the audience and the overall engagement. So, be sure to provide it right away. 
This works both ways. Your audience (and you) would benefit from a collab with a brand that shares your values. For example, if you're a conscious travel influencer, your audience most probably consists of like-minded conscious travel enthusiasts who would benefit from getting introduced to a brand producing organic, cruelty-free backpacks.
Tell them why they're special
Everyone likes to feel special. By explaining in a sentence or two what you like about their brand you're not only playing the ego-boosting game, but you're showing that a) you did your research, and b) you show how you'd be a good fit because your audience probably shares your values and preferences.

Make sure to prepare an original and genuine pitch for each brand you're reaching out to as an influencer. A cold, generic pitch won't cut it nowadays. Go the extra mile and let them know why you're invested in their brand and the values you share to get their attention. 
Close with a value proposition
Yes! Tell them what you can do for them. What's the value and the gain for them. Is it an x amount of new followers, X amount of website traffic, comments, engagement, exposure to a specific audience….
This is another great way to get the attention of brands that are interested in working with influencers. Why? Well, the majority, if not all brands on Instagram are always on the lookout for ways to up their game. 
So, be sure to highlight their ROI upfront. 
State it clearly, and add your humble commission in the form of a free product, or financial compensation.
Get them to see your style
Insert links to your previous collaboration posts. 
If you're a beginner trying to figure out how to start to work with brands on Instagram, don't worry, we've got your back. 
If you've got none, insert links to your most you posts that reflect your style, your engagement, and your interaction with your audience.
If you take a look if the IG account of a micro-influencer Jacob True, you can tell that even with only 12 posts he has so far, he was able to create a unique and cohesive style: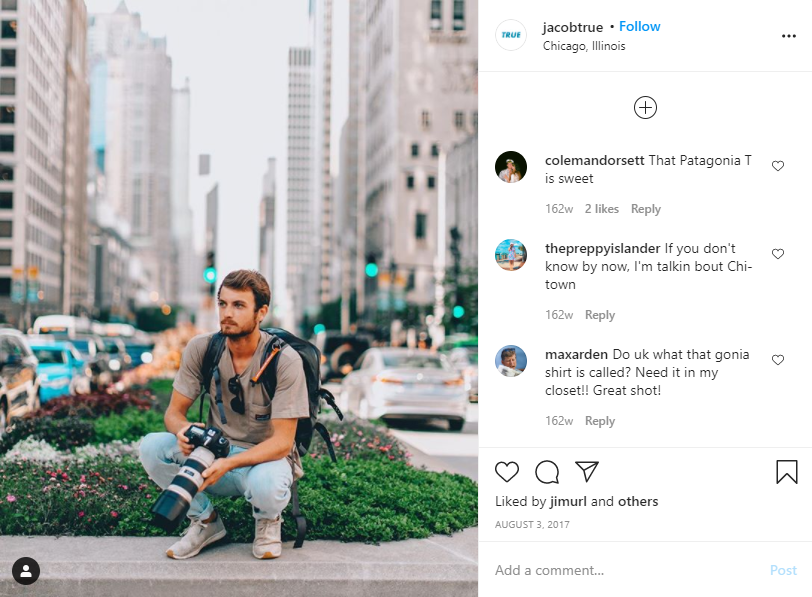 When learning how to collaborate with brands it's important to take a look at what other influencers are doing right and take a page from their playbook from time to time. Of course, you should always strive to make it your own, authentic and unique. 
Don't forget to always play by the rules
Make sure you and the brand you are approaching as an influencer are on the same page. We're talking FTC rules and disclosing your agreement with #ad or #sponsored. If the brand you're reaching out to as an influencer is not keen on going full disclosure, you should think twice if a free product or any amount of money they're offering is worth getting your profile banned.
This is rarely the case, however. Most brands looking to work with influencers are well aware of the regulations and the majority follow the guidelines properly. 
Things to consider
Once you dip your toes in the water, you'll learn how to perfect your communication with brands looking for influencers, what to dismiss right away, and what questions to ask to get a clear understanding of the possible deal.
One of the things to consider is creating a clear media kit, which you can customize to fit the specific brand on Instagram you're in business with.
Use your colours and aesthetic, but make sure to make it a one-page pdf with just the most important details that include:
Your follower count for each social media channel

Info about your blog

Info about your audience

A couple of examples of your best work.
The fees are the customizable part, so make sure to add these separately for each brand.
Most brands will ask for your media kit right off the bat, but if you're new to the game, and you don't have a huge following, you can leave this part out, and ask to collaborate for a free product.
Figuring out the details
In order to get the most of each one of your brand-sponsored deals on Instagram, make sure to discuss the details upfront.
Things to agree on upfront include:
The number of posts to share – you want to be on the same page on the amount of work you'd be doing
The time span – to prepare everything to be posted on time
When reaching out to brands as an influencer, especially for the first time, you need to be armed with a lot of patience, and a ton of questions. Any unaddressed issue may cause unnecessary delays, or even worse, it can cost you your future deals with authority brands on Instagram. Bad news travels fast. 
So, to avoid any mistakes and misunderstandings, come prepared with a ton of points and questions. 
Feel like you need some help in the growth department? We've got your back. Try Flock today to see how you can grow your following, engagement, and reach organically and hassle-free.
Looking for more Followers?
Ways You Can Work With Brands on Instagram
To get you fully equipped to work with brands on Instagram, let's make sure we've got you covered on everything. Depending on the type of brand, its marketing strategy, and your own resources and skills, your brand collaborations can take many different forms. 
So, before we wrap up, let's revise all of the different types of brand collaborations you can land. 
Creating and promoting dedicated blog posts 

Affiliate and product promotions through photos

Product Promotions on IG Stories

Creating video content

Product/service reviews

Giveaway promotion

Supporting email campaigns
Conclusion
Now that you've got the strategy in place, it's time to start your first pitch. Although there are enormous amounts of opportunities for influencers to collaborate with brands on Instagram things can get too difficult to navigate, too soon. Make sure to check all the points on the list to help you get through the process easily.  
Always remember to start small, and test the waters first.  As you get into the flow of things and secure your first collab, you'll feel more confident and the process will get a lot smoother. And before you know it, the brands will start calling you. 
Enjoyed this read? Check out related reads.