As we recently covered in our blog post Live videos during Covid-19, Instagram Live video has seen a serious boom over the past pandemic-ridden months. Which is quite expected, to be fair. Because in times of isolation, anxiety, and fear, we are all in a much bigger need of some social media validation, and more importantly, a need to have ourselves seen and our voices heard.
For many small businesses, entrepreneurs, celebrities, and influencers, the Instagram Live stream meant keeping their brands alive and their audiences entertained while creating much stronger bonds.
But the Instagram Live video has been around much longer than the terrifying pandemic. And it's going to be around after the last cured case of Covid-19 leaves the bed. With this in mind, let's see how you can use Instagram Live stream to grow your Instagram account and engage your followers.
What exactly is Instagram Live Stream?
IG Live is a powerful Instagram Story feature that allows users to record, broadcast, and get feedback on their Live Stories in real-time. When a business or an influencer is going Live on Instagram, their Live Story button appears first in their followers' Stories feed.  Businesses, thought leaders, influencers, and regular Instagrammers are all utilizing the potential of this powerful feature to educate and inspire their audience. The feature also allows them to build closer relationships, boost their brand awareness, improve their engagement metrics, promote new products, and so much more.
Looking for more Followers?
Why you should implement Instagram Live video in your IG strategy
Ok, you may think, but what's in it for me?
Well, actually, a lot!
To all of you still disregarding Instagram Live as a passing fad, here are some major reasons to add it into your regular IG marketing plan:
The

Instagram algorithm

allows more opportunities for organic engagement boosts for users utilizing Instagram Live stream. This means better chances of getting discovered by new audiences.

You get

the # 1 spot

in the Story feed. Should we mention how important this is for your visibility and all other crucial metrics? Ever wondered – How do you attract customers on Instagram? Show up first in their Story feed for starters. 

Boosted brand awareness

and stronger brand-client relationship. As it creates a more relaxed vibe, Instagram Live stream helps you build a more human and fun-loving brand image. By giving your staff a center stage at some of your Live sessions, you're also putting a face your customers can connect to your brand. Moreover, you can get instant feedback through Instagram Live chat.

You're

catering to your audiences' needs

. It is found that a staggering

82%

of people prefer Instagram live video to static social media posts. This stat only should be enough to convince any brand or influencer to include Live Instagram sessions into their regular marketing plan.

You'll soon be able to

monetize it directly

. Or if you're located in the US, Brazil, UK, Germany, France, Italy, Turkey, Spain, or Mexico, you might already be able to try it out. The

Instagram sticker for business

isn't the only new cool feature aimed at helping businesses to navigate the Covid-19 crisis. There are several other Instagram resources aiding content creators, such as the new Live feature. 
Live Badges are designed to help creators earn money directly through their Live sessions. By using special badges, the audience is signaling the creators that they have made the donations. This way, the creators are getting the financial support to continue creating useful content, while the donors are awarded exclusive content and some different advanced options. There's no better time to jump on the IG Live bandwagon. Don't you think?
How to go Live on Instagram
Now that you're all hyped up about your first Instagram Live stream, you might be thinking – Sure, that's awesome, but how do I go live on Instagram in the first place.
Let's get you ready in a couple of steps.
Going Live is as simple as opening the Instagram Story camera and tapping the Live option. That's it! But creating a genuinely unique IG Live experience for your audience and achieving your goals requires a couple more steps.  
Set the stage
Before you actually swipe right and start your first Instagram Live video, you should consider doing the preparatory work to make sure you nail it the first time around.
First thing first, make sure all your IG Live settings are set to suit your plan perfectly. You can find them at the top left corner of your IG Live mode. Here you can control who views your Live Story and who can reply. You can also learn how to save IG Live videos, and where, as well as how they can be shared.
How to hide comments on Instagram Live 
Nip negativity in the bud. IGLive allows for excellent functionality that saves you a ton of time and nerves, for that matter. You can filter out and hide offensive comments in a simple couple of steps. This is especially important for bigger accounts or smaller ones with an active audience. Prevent negativity from spreading out through your IG Live, and save time on damage control by simply activating ''Hide offensive comments'' in your Comments section in Privacy Instagram settings.
To filter out comments containing specific words, turn on the manual filter, and type the unwanted words separated by commas. 
Plan in advance
Although IG Live is supposed to be a relaxed, fun experience, it doesn't mean you should leave it all to chance. Sure, you shouldn't be too formal and perfectly curated, but you should have a simple plan of action outlined before the actual event to actually achieve the best results.
For example, you're doing a Q&A session. Your end-goal is to get new 100 followers. Just doing the Live and hoping it would magically work in your favor is not the way to go. Take time to prepare your answers in advance. Plan your content in a way that would be super beneficial to your audience so much so that they would recommend it to their friends.
If you're doing an industry expert interview, prepare all the essential points you want to go through. Don't be afraid to go off-script and let the conversation flow naturally, though. But keeping a record of the most important things to cover is crucial for fun, yet informative Instagram Live video.
Don't forget the CTA
How to turn Instagram followers into customers –  point them in the direction of your product or service with the powerful CTA. 
To actually make sure you're cashing in on your Instagram Live stream, you have to plan your CTA and make sure to deliver it the right way.
There's a fine line between naturally inserting a CTA in Live and sounding like you've all of a sudden turned into a sales rep. Whether it's merely asking people to follow your account or click the link, the trick is to mention it as a logical next step and keep your effortless and casual tone. Your entire Instagram Live video needs to be oriented towards providing useful information so much so that they would want to take action to move forward.
Build hype
Use the time before the actual Live session wisely. Create a post or two announcing the event, featuring teaser material to create expectation and buzz around your Live.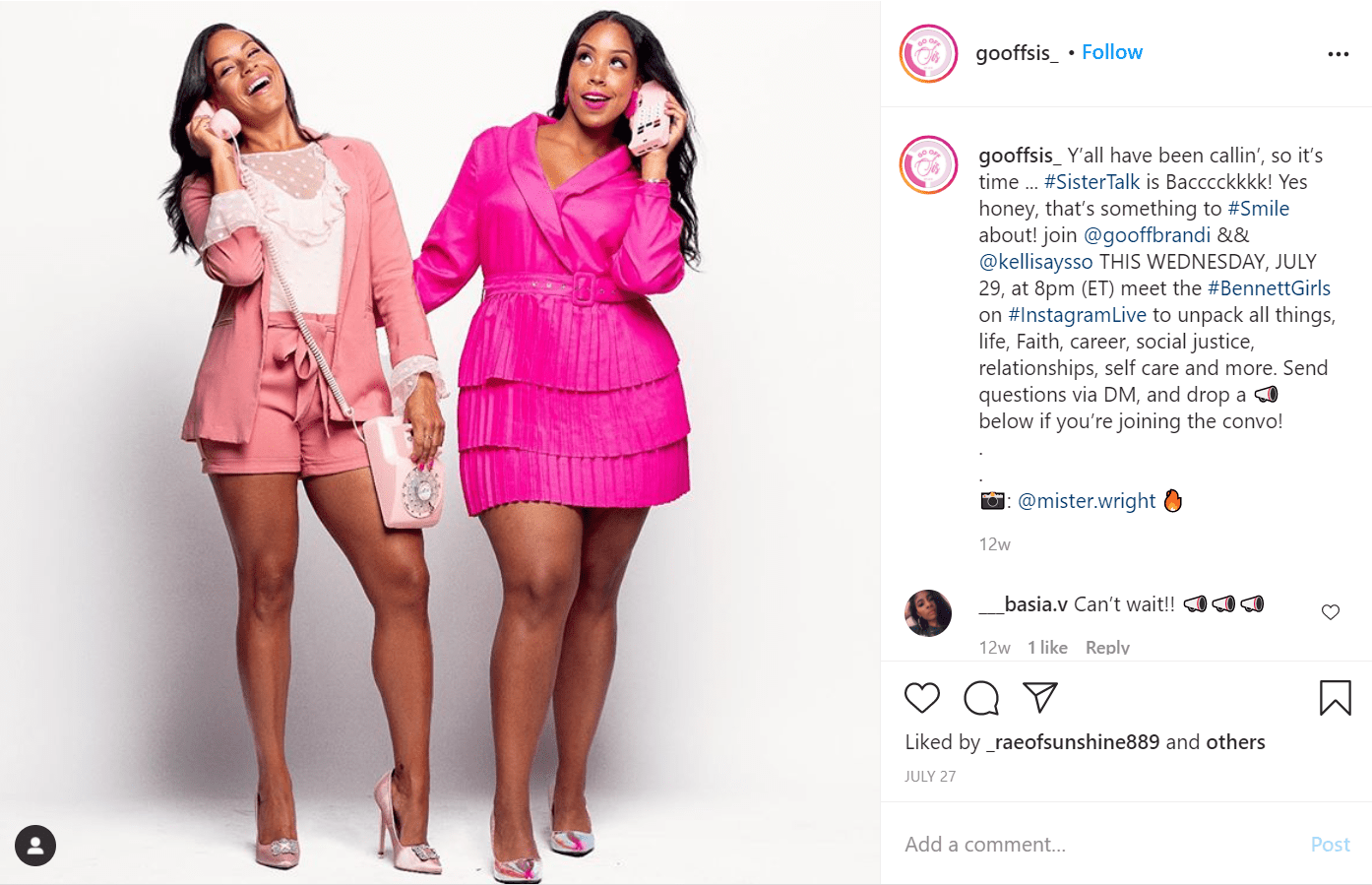 Go beyond Instagram, and promote your future Live on other social media channels. Target your ideal audience and promote the announcement post. Also, be sure to utilize your email marketing resources. Depending on your Live session's topic, create a targeted list of ideal audience, and start an email campaign to get them on-board. 
How to save Instagram Live videos to your Story Highlights
Once it's finished, you can save the Live to your Instagram Stories Highlights. This way, you're doubling down on your efforts.
This is how you do it:
On your profile, tap

Stories Highlights

.

Tap the plus sign +

Select the Story with your Live video

Tap

Next

Choose a cover image and a name for your Story Highlight

Tap add

/

done

. 
Instagram Live stream ideas
Now that we've done the groundwork, it's time to get creative. Let's explore some of the best Instagram Live stream formats and how to implement them.
Reviews
Instagram Live video is a great format to do any type of reviews on. Why? It allows plenty of opportunities to get a ton of engagement. Not to mention, you'll get to be considered a thought leader in your industry.
Find out what interests your audience and give your opinion on it. Review different pieces of software, athleisure wear, share your thoughts on a new controversial industry article. The opportunities are limitless. The critical point here is to make it as valuable and as educational as possible.
Always start by creating a list of all the talking points. You can dedicate the second part to answering comments and questions.
Tutorials
Similarly, you can host free tutorials and workshops for your audience on IG Live. Make it a tradition. Do weekly or monthly Live tutorials on Instagram. Aside from providing your audience with cool, useful, and educational lessons, you're getting plenty of new followers and a ton of engagement in return.
Do a makeup tutorial using your products, teach your audience how to use advanced tools in your software, host fun cooking tutorials. Anything that is tied to your business that can give your audience a ton of value, combined with a casual and fun tone, is a sure way to win the Live IG game.
Look at how Madison Beer is doing it and get some inspo:
Live Q&As
Live Q&As are by far the easiest form of IG Live. And quite beneficial as well.
You can do thematic Q&A sessions each month on a different general topic. Ask your audience in a post before the Live stream what they want to know, and you've got an entire Live worth of content ready for you.
By giving your followers what they want, you're creating a more meaningful bond and presenting yourself as the trustworthy source they can turn to for any piece of advice.
Invite guests
Live Instagram collaborations are a golden ticket to fast IG growth for both parties. Think double everything. Your viewers will get double the amount of fun, insight, and useful info, while you both are cashing in on double the audience. Clever, right?
With a super useful IG Live option marked with two smiley faces on your IG Live interface, you can invite anyone to join the fun and co-host your Live stream.
Industry influencers and experts are a terrific choice because they can provide useful insights and plenty of engagement simultaneously. You can organize this in a form of an interview or a Q&A. Or, ask the influencer to do a nice sit-down session and give some significant pointers on how to become an Instagram influencer in 2020, for example. Ask your followers who they would like to see and what topics they would find most useful. To learn more about working with an influencer, check out our guide –  I got the influencer. Now what?
Another cool thing you can do is ask a member of your community or a customer to do a Live stream with you. Are you a nutritionist? Ask a customer who met their health goal with your program to talk about their journey during a Live session. On top of being super cost-effective, this approach will help you build your brand and engage your audience.
Interviews with co-workers are also a fun way to humanize your brand and get some additional perks while you're at it. You can ask your co-workers to do a Live Instagram takeover and talk about different processes they are in charge of. They can introduce their role in the company emphasizing its effect on the end-consumer, and build trust amongst the audience.
Looking for more Followers?
Live events
Probably the most standard Instagram Live sessions we're used to seeing on Instagram is live coverage of an event. Nothing beats the excitement and the feeling of exclusivity when you see your favorite brand or influencer live in action during a popular industry event or being given real-time access to a major product launch.
Takeaway
With numerous benefits and relatively simple requirements, the Instagram Live stream is one powerful tool to implement in your marketing strategy. No matter which format and theme you decide to tackle throughout your Live sessions, always remember to have fun and don't worry about the possible mistakes or unpredictable incidents. They will only add up to your relatability.
Need some help growing your Instagram account. Flock Social can help you grow your followers organically and completely safe. Achieve real growth super-fast and absolutely secure. Control, filter, and get analytics according to your preferences from a single, user-friendly dashboard. Get real followers and engagement without doing tedious work.