Why are Instagram Giveaways so buzz-worthy and how to dominate them
In the Economy, there's a term called "the zero price effect." In plain English, that means – Everyone likes free stuff. Whether we need it or not, most of us get excited about getting a product completely for free. 
And in the name of lucky profit, Instagram Giveaways hit the scene. Giving away cool products in exchange for likes, follows, comments, and shares? Receiving free promotion from your customers and followers? No wonder giveaways became one of the best promotional strategies on the platform. 

80% of all users on Instagram follow at least one business profile? You might want to consider hosting one yourself. This blog is going to show you how to do an Instagram Giveaway.
Is it worth it? The benefits? Engagement? We will answer all of these questions right here today. Let's put an Instagram Giveaway to the test and see its worth.
Newsflash…It is 100% worth it! But we'll let you be the judge, so just keep on reading.

4 Reasons
to Run Instagram Giveaways
All bs aside, here are just a few benefits of a Giveaway on Instagram.
Instagram Giveaways offer your followers a prize. In exchange for Instagram likes or whatever the requirement. Basically, they would promote your products and brand.
Now that we know what Giveaways are, let's focus on the benefits. In addition to promoting your business, you'd also get:
New followers and clients;
Instagram profiles that host Giveaways grow 70% faster than those that don't. You might want to reconsider hosting one now, don't you?
Bigger Instagram engagement;
Higher engagement can only mean two things! 1. Instagram pushing your posts more regularly on your followers' feed. 2. The more engagement, the bigger the chance to be featured on the Explore Page. 
Diversity in your audience; 
New faces of all kinds of profiles and backgrounds? That only equals an even broader audience for your brand. And diversity is always a good idea!
A tighter bond with your followers and customers;
Giving something of yours away to your audience is special. It creates an emotional connection between you. This is the follower-customer-online buddy transition every brand needs!
Looking for more Followers?
How to Run a Giveaway on Instagram?
We've carefully created 6 Instagram Giveaway rules to help you!
You'll be able to host your first Instagram account Giveaway in no time. From the beginning to the end – you are in good hands. So, allow us to introduce you to these 6 steps:
Choosing the Prize
Curating the Theme
Set the Rules
Watch the Time
Monitor the Results
Promote your Giveaway
Voila!
The More You Give
– The More You
Get
?
You can basically do these Giveaways as often as you'd like! As long as you know what formula works best for your business. Also, never forget to use your audience's feedback. 
You have to give the people what they want every now and then. The followers are always thrilled to have a chance to win something new. As for you…Well, it's always a pleasure to welcome new faces.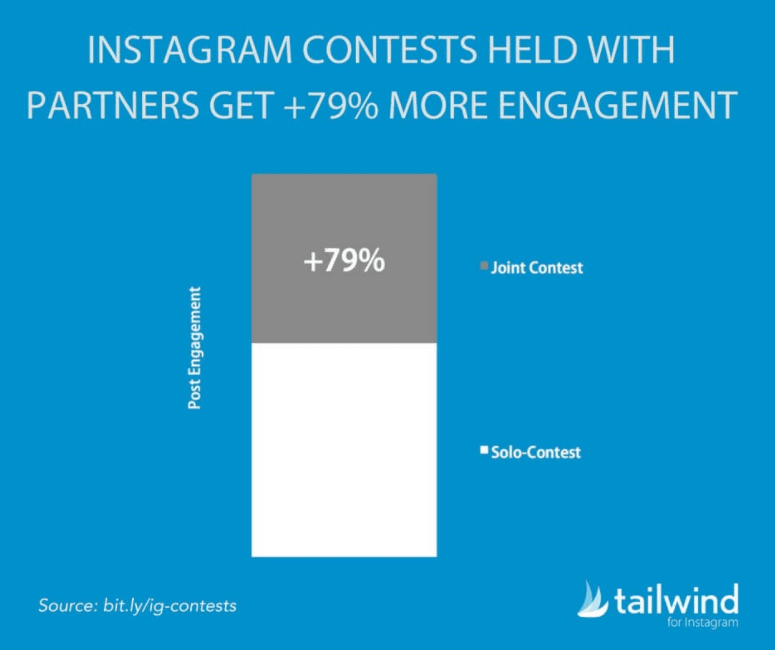 It's time to dive into the fun part of this blog: How to organize an Instagram giveaway…The right way. The key is to actually make it fun, engaging, and effective!  
Everything else is up to your mind and creativity! We weren't joking when we said "The more you give, the more you get." You'll see it the more you read. The bigger the input, the better the results! 
So without any further ado. This is how to do a Giveaway on Instagram!
Choose a Great Prize
for your Audience!
This right here is the beginning – choosing the Giveaway prize. And before you do, we have one golden rule you should keep in mind. Always choose a prize that is directly related to your business or brand. 
If you're a business that sells physical products, the prize is right under your nose. This is how to run an Instagram giveaway by Morphe! Since they are a makeup brand – they used their products as the prize!
Pro tip: Want to give away your own product? Make sure the prize consists of multiple products! It makes the contest more intriguing.
On the other hand, let's say you don't sell physical products. You don't have your own products to give away? It's not a problem! Here's what you'll do. Or not do, more specifically.
Try giving away some products by brands you've worked or want to work with! If you don't have any in mind, a Gift card or credit would do the trick too. Especially if it's related to your niche. 
Another pro tip: Make sure to state the correct cost of all the products. It's important to share the price of the products you're giving away. Take a look at how ME to WE partnered up with The Giving Keys to host this Instagram Giveaway: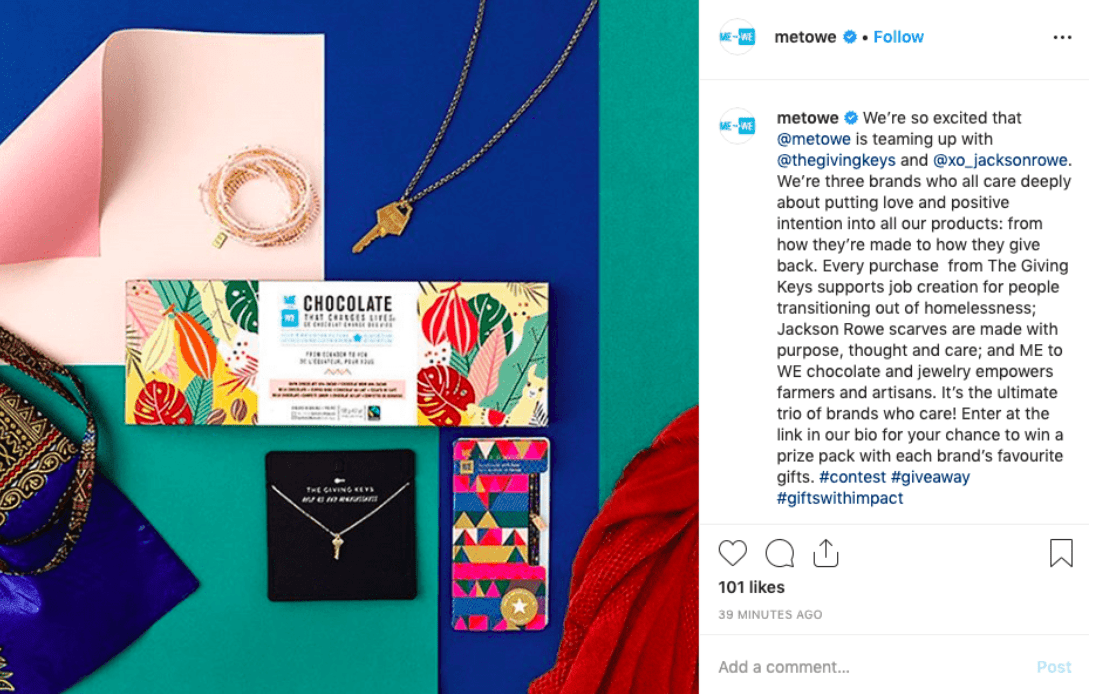 Let's shift our focus from the finish line to the grand design in this Giveaway. We're talking about the style of it. Or better yet:
Theme It Up!
Create a Perfect Giveaway Instagram Post!
All Instagram account Giveaways should have their own theme. What kind of theme? That's entirely up to you and your creativity! But here are some useful pointers.
Most businesses do thematic Giveaways on Instagram for a big Holiday. A Christmas, Thanksgiving, or Easter-themed Instagram Giveaway is very common. 
However, you don't really need to wait all year round for one of those. You can "celebrate" just about anything. A new launch, a big milestone, or even your brand's birthday. 
Whatever the case, always brand and center the whole Giveaway around it. Look at how @creeksideclocks hosted this Christmas-themed Instagram Giveaway: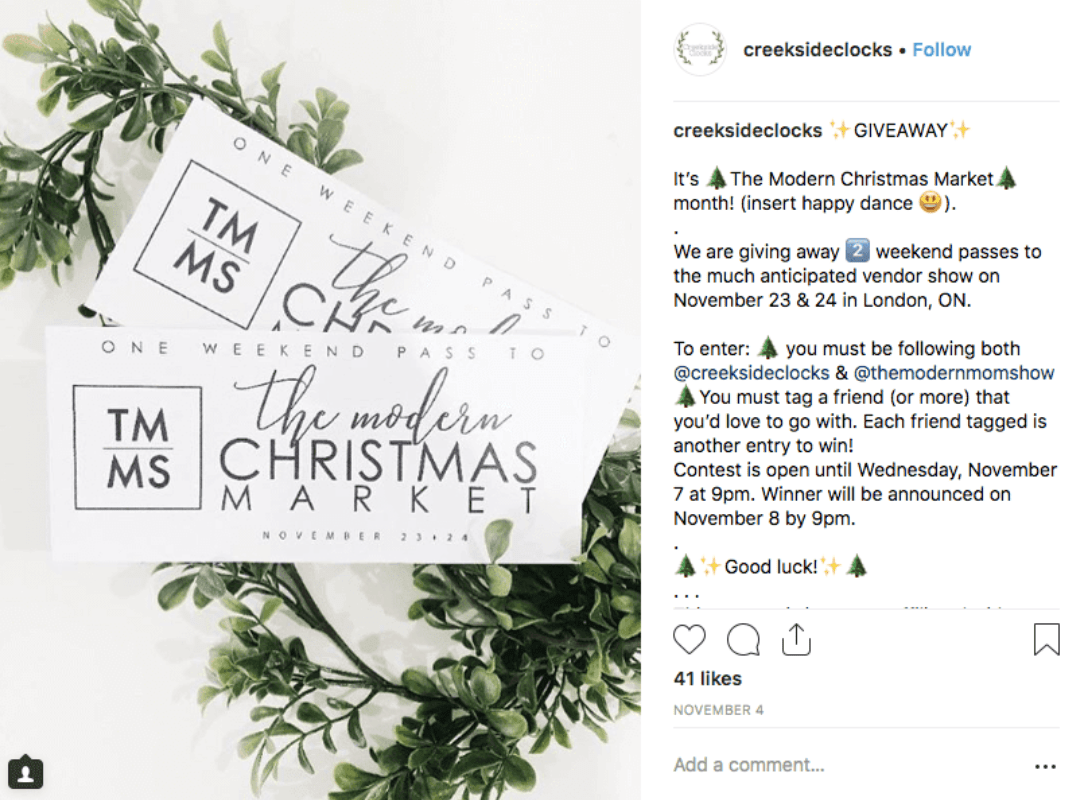 Getting real creative around your Giveaway doesn't stop there. You might want to consider spicing things up and adding – a Giveaway special…A Branded Hashtag. 
Not only will #EllasGiveaway, for example, spread the word. But It can also be used as one of the rules or requirements to enter the Giveaway. And speaking of rules, let's move on to our next step…
 I Got New Rules
, I Count 'Em!
Let's talk about priorities for a moment. What would you like to accomplish? What's the ultimate goal of this Giveaway?
Do you need more followers? Require the contestants to follow you.
More engagement? Require them to comment and tag 1-3 friends.
Bigger Reach? Require them to share your post on their Story or with other users.
And so on…
Whatever the case, here are a few requirements you should always keep in mind:
Like the photo
Follow your Instagram profile
Share the photo
Leave a comment
Use your Branded, Giveaway hashtags
Tag friends
The more users participate in your Giveaway – the more buzz you'll create! Make sure not to make the list of rules too long! Many people won't participate because of that.
Make sure all the requirements are neatly written too. Either on the post itself or the caption. Be straight to the point and wish them good luck!
Time
Is Of The Essence!
It's very important to choose an appropriate deadline for your Instagram Giveaway. If it's too long, people will forget about it. If you make it too short, you won't reach your Giveaway's potential.
To create the best estimate, focus on the goal of the Giveaway. What are you trying to accomplish here? And how much time do you need to accomplish it?
Keep in mind that most Instagram Giveaways last from 24hrs to a whole week. Usually depending on the size of the prize and the number of contestants. 
It's best to decide how many participants you'd like to get first. Based on that number, you can roughly estimate how much time it would take to spread the word. 
Everything relies on what you wish to accomplish. It all comes down to you! As well as what's the best time to post a Giveaway on Instagram! You know your audience best!
Now that you have all the basics set up and ready to go, it's time to promote your contest!
Evaluate Instagram Giveaway 
Achieving the results you want is only possible by monitoring all previous attempts! We've written a list of things you can do to evaluate the Giveaway results. This way, you can always backtrack and see what you can improve. 
Since these contests benefit both you and your audience – improvement in both engagement and participation level is at stake.
Here's what data you should track during and after Giveaways:
Number of Social media followers
Likes, shares, and comments 
Number of emails received from your followers and participants
Clicks from your Instagram page to your Website
Total participants 
The most active participants during the contest
Properly evaluating each piece of information here will help you find structure. And by that, we mean the weaker and stronger points of each Giveaway. 
Plus, follower feedback is the most important part of it. Their experience will directly influence the current and the future number of participants. Along with the level of exposure too!
How To Promote your Instagram Giveaway
?
There are only two things you can rely on when it comes to promotion. On your creativity or your budget. A.k.a, ads. Just a lot of paid ads. We're talking Facebook, Pinterest, LinkedIn, and Twitter.
This is a jackpot for newer businesses that haven't yet gathered a core or huge following. Although ambitious, it's very hard to create a lot of traffic on your own. Especially considering the fact Instagram changes its algorithm quite often. 
Whatever your decision, it's always smart to explore all available options. Facebook seems to be the best option for ads overall. Their targeting is based on interest. Who will most likely participate in your Instagram Giveaway is the one who is targeted. 
Sometimes, reaching out to your audience is good enough. Especially if you have a large and loyal following. Organic Giveaways are always filled with engagement on Instagram!
Looking for more Followers?
Takeaway
Tying it all together, you have yourself a Giveaway in the final draft mode. Tips and tricks aside, a big portion of this project relies on your creativity and input. 
And in the end, the most important things are always "cliché". Putting a lot of thought, time, and originality into your Instagram Giveaway. That's the real trick right there.
You're still looking for reasons to host the Instagram Giveaway in the first place? Just think about all the benefits your profile would get. We hope this blog was able to show you that.
Until then, see what else we've been cooking in the lab below.