The business Instagram etiquette
50% of Instagram users follow at least one business IG account.
80% of Instagram users report Instagram is driving their decision to purchase a product or a service.
Over 70% of US businesses are on Instagram.
These stats alone show how important Instagram is to businesses nowadays. And what opportunities there are for businesses crafting their IG strategy.


Looking for more Followers?
What started as a cool mobile app for photo enthusiasts has grown into a major social media platform. Instagram allows businesses, influencers, and regular folks to design and monetize the experience. And reap the tremendous rewards.
With amazing new opportunities such as the Instagram sticker for business, Instagram is truly doing the most for businesses, especially during this trying time. 
However, not all is sunshine and rainbows, unfortunately. With such a humongous user count, there comes a ton of misuse, bad decisions, and overall wrong steps you can take. And, instead of taking your business to another level, you could end up sinking your efforts and completely ruining your chances.
To help you navigate the mysterious and, at times, very overwhelming waters of Instagram, we've compiled the ultimate list of 10 Instagram do's and don'ts. Whether you're an Instagram business beginner or a pro wanting to up your IG etiquette game, this list will give you all the tools you need. Let's learn how you can confidently craft and implement your next successful Insta strategy.  
Do Take It Seriously
If you're not in it to win it, better don't even try it.
Taking it seriously means taking the time to actually:
analyze your audience,
craft a perfect buyer persona,
create a plan,
define branding elements,
learn how to promote your business on Instagram,
come up with post ideas, calendars, etc.
Your business Instagram profile is your new business card. Make sure it has all the essential info. Yes, we're talking perfectly crafted IG Bios.
Moreover, like the traditional business card, its design should reflect the industry you're in. What ideas or emotions you would like to be associated with your business, and how you'd like to be contacted.
When translated to Insta language, you have to show your audience you mean business. And there's no better way to show it than to do the preparatory work first. Let your profile reflect serious branding, well-thought-out content, and stellar strategy.
Just take a look at any of the top brands on Instagram, and you'll notice the pattern. 
Everything matters and needs to be taken seriously. From your Instagram Story size and scroll-stopping images to perfect growth strategy and social testing.
Don't Be a Robot
With all of that being said above, there's a fine line between taking Instagram planning seriously and being too serious in actual execution. Let's not mix up the two.
One of the most important lessons on how to attract customers on Instagram is the tone you're using on the platform. 
While serious planning needs to take place, when it comes to your general tone and the format of your content on Instagram, you can play around with it and let your creativity run wild.
Whatever the line of work you're in, Instagram is not the place to show a corporate, formal tone. Don't be afraid to show your human, fun side any chance you get. People go to Instagram for some inspiration and a fun break from their everyday routine. The way to get them hooked to your account is not through formal sales pitches or lifeless lessons — quite the contrary.
Let your candid, fun-loving, or emotional side show. 
Tell a personal, candid story in the captions. 
Show your funny side in the comment exchange with your followers.
Post funny and unedited photos from your team-building activity. 
Do IG Live sessions in a casual setting. 
Play around with emojis.
Show your audience that there are real humans behind the brand. And get points for that relatable authenticity everyone loves and respects.
 

 

View this post on Instagram

 
Do Listen
One of the most important lessons on how to promote your business on Instagram. 
Monitor your audience. We don't mean stalking them or doing anything weird like that, of course.
Take notes of what they like. You may think that an overly-edited commercial-like photo of your product will boost engagement. However, you may find that your most liked posts include those unrehearsed videos of behind-the-scenes at your company.
Sure, trends and fun new options are worth giving a go. However, if it doesn't align with your audience's taste, it shouldn't be in your content calendar. The way to get your audience engaged is through content that is entertaining. It should speak to them, intrigue them, or ask the right questions. Find what speaks to your targeted audience and stick to it. 
Don't Buy Followers
It's not worth it. You won't get any real Instagram engagement, and the risk of losing your reputation is too high.
There's not much use in having 10k followers that generate only a handful of comments and likes. And even if you do get some occasional engagement peaks, they are most certainly going to affect your reputation. Negatively, of course. The generic nature of the comments coming from the fake/bought followers is pretty apparent and such a turn-off.
Take the organic route instead. It's so much more useful to have fewer followers who genuinely like and comment on your content.  The alternative – a vast but inactive following, serves only your vanity and nothing else. 
If you want the best of both worlds – a substantial amount of real followers driving a ton of engagement – there's a way to achieve this much more safely. 
How?
With Flock Social, of course. No risk of getting involved with bots, zombie followers, or fake accounts. No risk of an Instagram ban or tainted reputation. Real, targeted followers that want to engage with your content. Get started today, and see for yourself.
Looking for more Followers?
Do Think Repurposing
As it is one of the top platforms for business marketing, it's only natural that your biggest concern is how to promote your business on Instagram.  
Why not think outside the box, and utilize it as a powerful multi-purpose channel it actually is. With the continuously added and improved functionalities, Instagram is definitely going to become an all-in-one solution for businesses.
Turn it into social media customer service. Don't let any comment, concern, or inquiry go unanswered. Help your followers reach you easily by including the contact info in your profile bio. Monitor your comments, DMs, and replies to be able to respond quickly.
Use it as a source for cross-promoting social media channels you have a presence on.  Connect all of your social media platforms into one powerful cross-promotion device.
Provide a direct shopping experience. Streamline the entire process by using Instagram to attract, convince, convert, and sell to your ideal customers. For more info on how to make this happen, be sure to check out our guide – How to Set Up Instagram Shopping.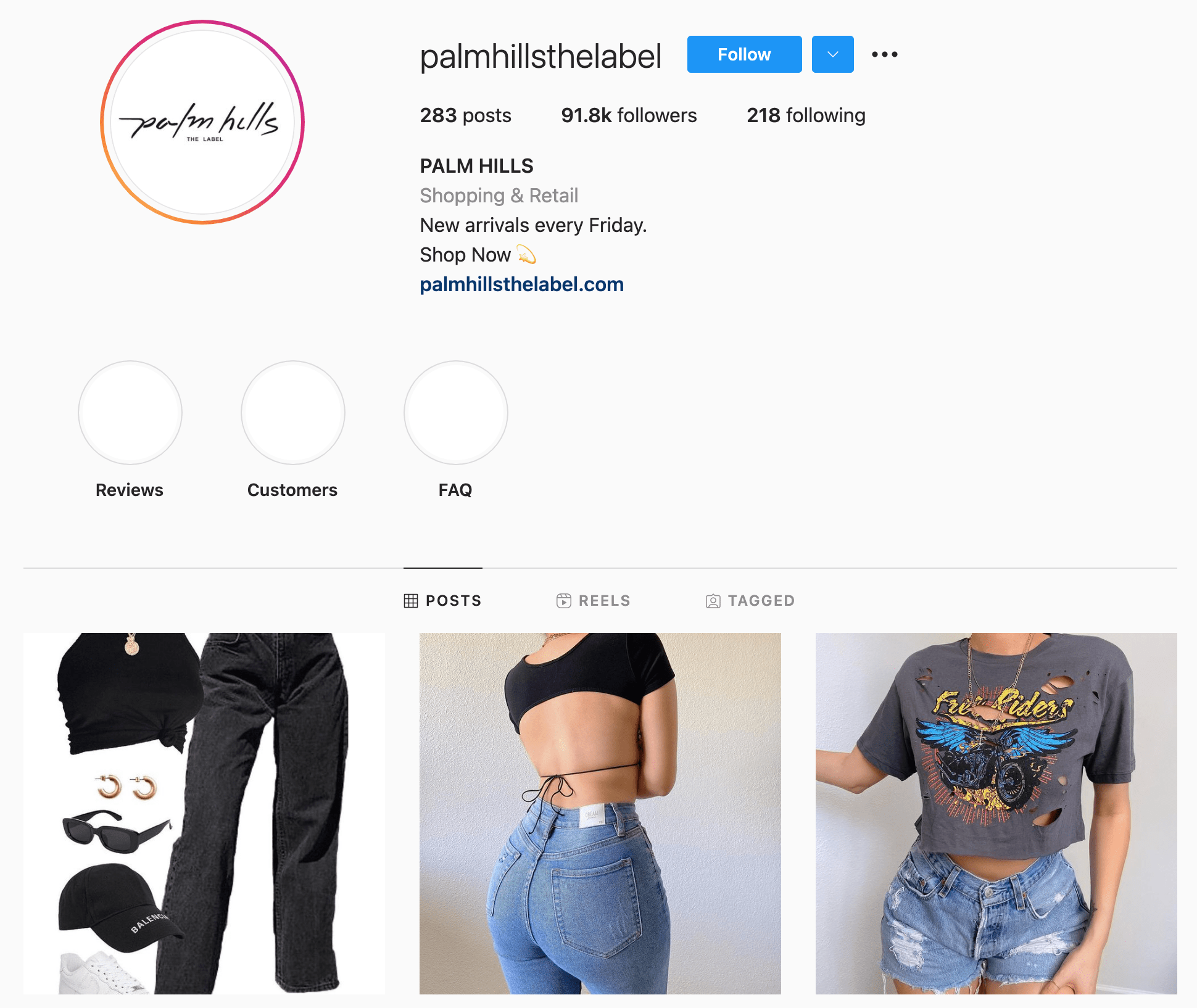 Don't forget to capitalize on Instagram Stories
Consider your IG Stories as a fun but super essential addition to your content plan. While your feed can take a more curated tone, IG Stories are the place to let loose and stray away from your plan a little bit.
In addition to this, IG Stories provide plenty of opportunities to streamline your sales. Yes, it's the swipe-up option we're talking about. In addition to inviting your audience in captions of your posts to check the link in the description, you can use the swipe up feature to direct them from a Story straight to your e-commerce page. For more on how you can capitalize on this feature, be sure to check our guide on the Instagram Swipe up feature here. 
Do plan your hashtags
We know. All everyone seems to be talking about. But there's a reason for this — a major one.
Hashtags are really that important. They are so important we made a complete guide on their proper use. Make sure to check it out for a more detailed breakdown.
There's a lot at risk if you're not planning and executing your hashtag strategy the right way. Too many or too poorly organized hashtags can make your posts look too spammy. And who would want that?
Moreover, hashtags have a massive impact on your discoverability, engagement, and ultimately, your sales.
 

 

View this post on Instagram

 
Don't be generic about it
In your comments, captions, and especially when it comes to the photos you use.
It's actually better to skip a post than to add a stock photo with some irrelevant caption. In addition to looking completely unauthentic, it adds zero value to your business.
Another big no-no – too formal, staged old-school photos. The Instagram audience simply doesn't respond well to this format.
Instead, show off your brand tone and general relaxed vibe with cool, under-edited company culture photos. This gives your company that relatable, effortless look everyone wants to connect to.
 

 

View this post on Instagram

 
Do Show Up for Important Causes
Support small businesses, movements, and important causes. Show character and integrity. This speaks volumes and strengthens customer loyalty. As we've recently seen during the Covid-19 crisis, and with the new developments in the BLM movement, many well-established and small businesses paused their usual posting schedule to show support and help the most affected communities. Don't be afraid to let the really important causes take the place of your regular content when needed.
 

 

View this post on Instagram

 
Don't Believe All the Rumours
Instagram is done; TikTok is the next it platform.
You can't achieve anything organically.
Are Instagram ads worth it with the limited options and audience?
One wrong hashtag and you're out for good.
It takes professionally edited photos to succeed on Instagram.
And so on.
Sure, there are two sides to each story, but the critical thing to remember here is to take everything with a grain of salt. Of course, you should keep up with all the latest Instagram buzz, but always remember to double-check the info before making any impulse decisions. Make sure to find trusted and reliable sources – like Flock Social
, and get your advice from experts that do the actual research before making clickbaity sensational claims.
Takeaway
There's so much to be said when it comes to Instagram do's and don'ts. Hopefully, we've cleared the air a little bit on the most important dilemmas. The ultimate hack for success on Instagram for business comes down to a consistent and honest assessment of your IG strategy. Especially with the fast-paced nature of platform development, it is crucial to always keep an eye out for new ways of improvement and process optimization.