Most often, when people are trying to grow their Instagram, they focus all of their efforts just there – on Instagram. Makes perfect sense, right? However, sometimes we are too close to the issue to be able to see the bigger picture.
Sure, you should be doing your best to create awesome content, creative captions, use different Instagram strategies and growth services (like Flock Social). Once you've learned how to promote on Instagram itself, it's time to take it on another level. 
But if we take a different perspective for a moment, we will soon realize that there's something else we're not utilizing enough. That's right – we're talking about our other social media channels.
If you're new to Instagram, or you just need that extra something to grow your account, you've come to the right place. As always, we're looking for alternative, cost-effective ways to up your IG game. And today, we're talking about how to cross-promote on social media.
Looking for more Followers?
Instead of looking for overly expansive and time-consuming strategies, why not use the resources you already have? Your YouTube channel, Twitter audience, a Pinterest account, or blog could be powerful drivers of your Insta success. And you're about to learn how to put it to good use to get that Instagram engagement boost and a ton of new followers.
Let's start.
Cross-Promotion
One of the first and probably most important things to do when it comes to social media cross-promotion is getting your links out there. And by links, we mean your IG account. And by out there, we mean everywhere. 😀
How to Promote Your Instagram Page Using Emails
Your email subscriber list – make sure that everyone on that list knows that you are on Instagram. How? Tell them. Include it in your carefully planned email campaign. Grab their interest by cool visuals featuring your best IG posts, and leave a link for anyone interested in visiting your Instagram account.
Include it in your email signature. A terrific way to get anyone you're exchanging emails with to learn about your IG profile. If you can take a minute and make it extra special, add customized elements and clickable icons. You can make it super eye-catching or go for a bit more sophisticated look like Dior did.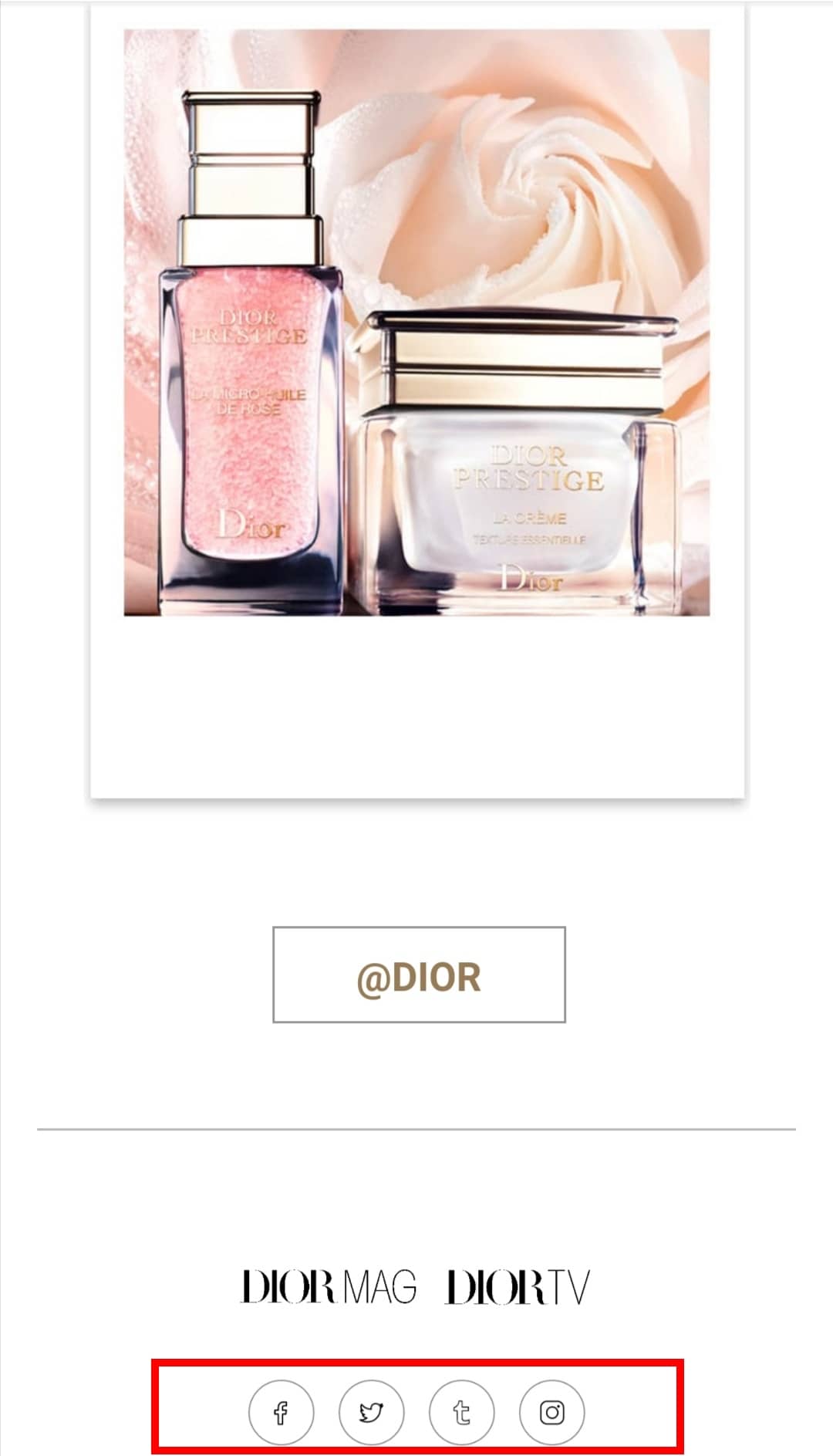 Cross-Promote on Youtube
In addition to its many excellent features and benefits, your YouTube channel is an incredible resource for promotion. You can add your social media links in the description of your YouTube videos. Double down on your stellar YouTube content and direct your followers to your Instagram. Moreover, your YouTube audience expects to find links in your YouTube video description.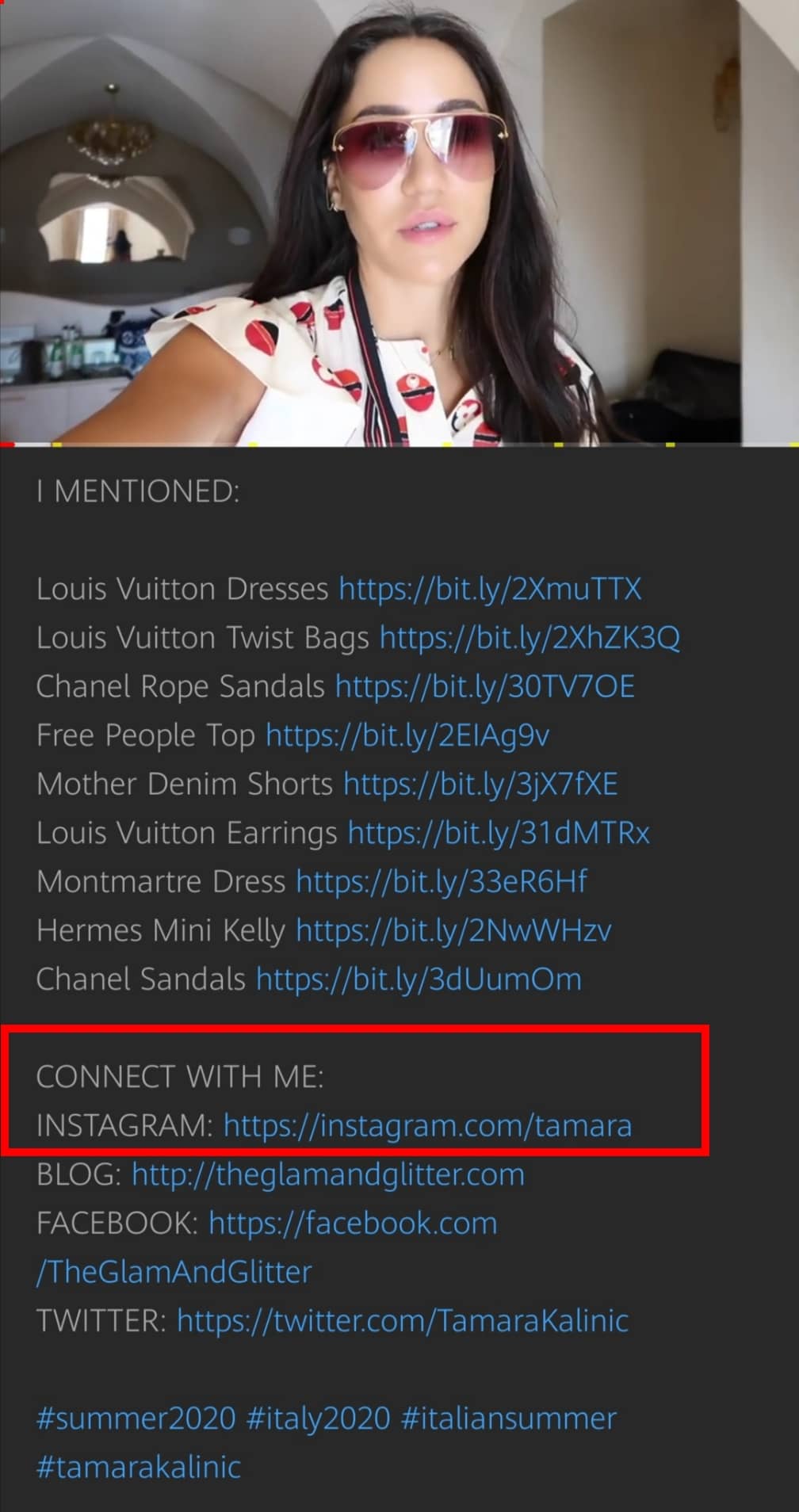 Cross-Promotion Through Pinterest
Pinterest is another amazing platform to promote your Instagram on. One thing these two platforms have in common – the amazing scroll-stopping visuals is exactly your most important tool for this endeavor. The trick here is to actually capitalize on the content by adding the link to your Instagram account. This is how to do it:
Create a new board
Create a new pin with your best Instagram content
Create a new board that will take you to the page where you have the option to add a destination link – see the example below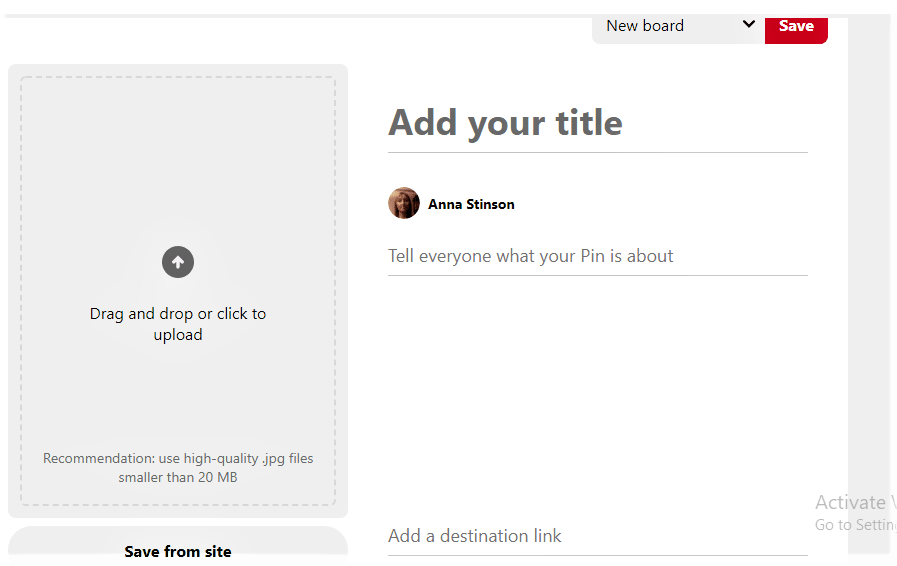 And, voila, just like that, your Pinterest board can become a valuable source of fresh traffic and new Instagram followers.
Instagram Cross-Promotion on Facebook
Let's not forget Its Majesty – Facebook. Although we often tend to forget this fact, Facebook still reigns as one of the most widely used social media platforms. With this in mind, you wouldn't want to miss out on an opportunity to get new Instagram followers from such a powerful source as Facebook.
Here's how to achieve this with cross-linking.
Add links to your Instagram account in your About Us tab on your Facebook page. Why? Well, this is where your existing and especially new Facebook followers expect to find it.
Go the extra mile and put it in the Contact Info section with your website link. This way, you'll encourage your new followers to click the link and treat your Instagram profile as another means of communication.
As you're gaining new followers, you might want to check out our guide on How to turn followers into customers to further capitalize on your efforts. 
Cross-Promotion on Twitter
As the never-ending source of fun and witty banter in only 280 characters, Twitter is an excellent source of cross-promoting your Instagram. 
We're all stans of Wendy's and their ridiculously original and funny Tweets and replies. Talking about some next-level customer service, right?  
Gather your creative team and brainstorm some ideas.
You can compile the funniest or most original tweets about your brand and turn them into IG Stories. Save it to Highlights, and you'll get unique testimonials while at the same time cross-promoting your social media accounts.
Or, you could post your user-generated content on Twitter. This way you're letting your Twitter audience in on how your products are improving the lives of real customers. Plus, you're giving them the reason to check out your Instagram profile.
Of course, a tweet containing the link to your IG Bio is one of the oldies but goodies when it comes to cross-promoting your Instagram. 
No one size fits all
We get it; running all of your social media accounts can be overwhelming at times. Yet, in order to really get it right, you simply have to pay special attention to the overall look of things. Because, whether you like it or not, it's the visual element that draws attention.
Here's how not to ruin the first impression when cross-promoting your content and make your audience interested in learning more.
One of the common strategies when cross-promoting your content across several social media platforms is to use the same images on all of your social media posts. Although there's nothing wrong with that, especially if you're promoting a major event, new product line, or campaign, it's still important to adjust some details.
In order to provide your audience with the best visual experience, make sure to adjust the image format according to the platform. For example, Twitter posts require somewhat narrower images, while Pinterest post formats are vertically oriented. Keep this in mind, and create templates with perfect formats for each platform to optimize the process. Tools like Canva provide plenty of options. You can use their pre-made social media templates or design your own in a couple of simple steps.
Quality over anything
As in each of your social media efforts, you simply have to prioritize quality when promoting your Instagram account on other social media platforms. Whether you're creating a Pinterest board, adding a special Facebook tab with your Instagram posts, or featuring your IG posts in a YouTube video, make sure you're spotlighting your highest quality photos.
Quality content is one of the best drivers of engagement on social media. 
Word-of-mouth
In a way. We're not talking traditional word of mouth that involves you mentioning your Instagram account to anyone you meet; however, some speaking is required.
Make it a part of your YouTube video introduction or ending. Remind your viewers to check out your Instagram account. For example, if your YouTube strategy is designed in a way to show the behind-the-scenes of your business, you can remind your viewers to check your Instagram account for more info on your products. Don't be afraid of sounding too salesy or pushy. Make it casual, and add it into a conversation. For example, in a YouTube video featuring the production process, you can say something like: Be sure to follow us on Instagram @instagramname to get a chance to win one of these in a Giveaway. Or invite them to ask questions in your Instagram Stories or suggest new ideas for YouTube videos.
Another way to include word-of-mouth into your social media cross-promotion strategy is to collaborate with influencers and fellow businesses. Influencers have been running Instagram marketing over the last couple of years, and the trend doesn't seem to be slowing down any time soon. 
Utilize the potential of influencer recommendations and get your profile discovered by new audiences. You can instruct influencers to mention your Instagram account in their YouTube videos. To get the most of this collaboration, make sure to check our guide on how to work with influencers.
Get creative
Once you've checked all the major points in your cross-promotion plan, it's time to let loose and add some original ideas into the mix.
Cross-promote in a creative way. Think of what your audience expects to see on each platform and deliver that, with a twist.
Think outside the box and create a list of ideas you can implement to create that wow factor and get a ton of new traffic to your Instagram.
Ideally, all of this creativity would get some validation from some hard data. Each time you decide to implement a new strategy, be sure to take some time to carry out one of the social media testing plans to determine what works best for your audience. 
And let's not forget another alternative (and much faster) way of growing your Instagram. Yes, we're talking about our unmatched growth service. Now you can get organic Instagram followers with Flock Social without as much as lifting a finger. Thousands of new, real followers specifically targeted to your needs, 100% safe. 
Looking for more Followers?
Takeaway
Social media cross-promotion can be a powerful strategy to grow your Instagram and improve engagement when done right. Make sure to follow the general rules and points outlined in this guide and remember to add a personal touch. Look for creative and more out-of-the-box strategies that would fit your audience best.
Whatever route you decide to take, don't forget to prioritize great content and impeccable quality.  As it is the single most crucial factor in getting your audience's attention.
Don't forget to check back for all the latest Instagram growth hacks and updates.